StockPair Continues to Innovate – Back to Being the Leader of the Pack?
It is a well known fact that Stockpair has been a long-time resident of our Recommended Brokers list and a trustworthy partner for millions of traders around the globe. Wait, what? You didn't know that? Well then, it's time for you to come out from under the rock you've been living and find a bit more about Stockpair – with their new and improved features.
StockPair Presents: New Features and Improvements For Existing Ones
Stockpair is one of the true innovators and pioneers of binary options, launched back in 2010 – for a broker, that's a very long time – and although they've always been at the top, lately the spotlight is shining brighter on others like Ayrex or 24Option. They're all great brokerages (hey, that's why they are on our Recommended Binary Brokers list) but Stockpair is set on regaining the Top Spot with the addition of a few new and exciting features. I think they'll succeed but the traders will be the Judges of that. Anyway, let's not give a verdict just yet and let's see what they've added:
Trading Central Signals
Stockpair now offers market analysis from Trading Central, which is one of the most respected organizations in this field, launched back in 1999. Some of the biggest Forex brokers collaborate with Trading Central, sending market updates to their clients, provided by Trading Central. It's very important to understand that I am not talking about a signal service that gives you hundreds of million-making signals per day, with 99.9% accuracy. Nope, they are serious investment research providers, well respected technical analysts on the Forex scene and I am very happy to see that someone like Stockpair is now bringing their insights to binary options traders.
Forex Light Platform
Stockpair clients now have access to Forex trading, without installing Meta Trader 4 and without downloading any additional software. Although Meta Trader is one of the best free charting packages available, it can be a bit difficult to use at first due to its complexity, especially for binary traders. That's why I agree with Stockpair's decision to offer Forex trading in a simplified manner, without all the snags that can arise from using a complex platform. Clients can also ask for an e-book, explaining the basics.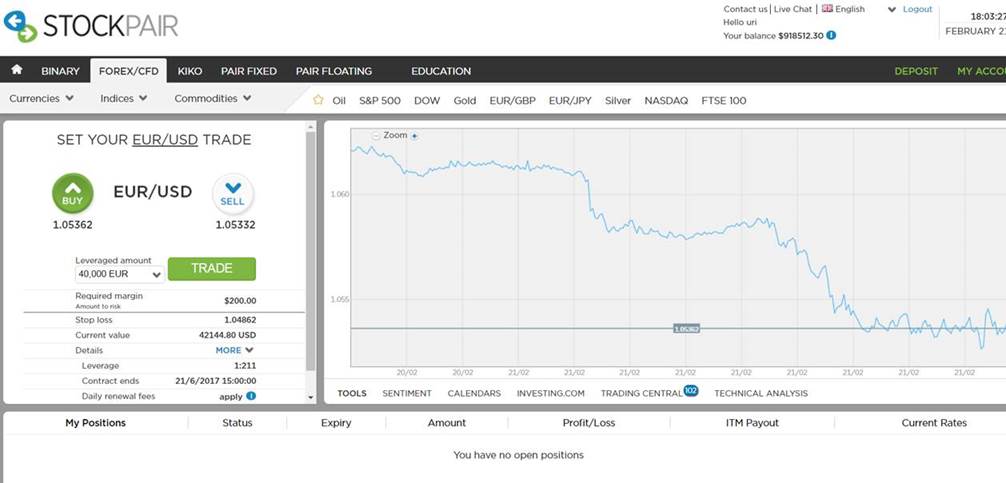 Improved Withdrawal Procedures
This is one of the biggest problems for all binary options traders: not only you have to deal with the market going up and down without apparent reason, but when you finally manage to "beat" it and make some money predicting the next direction, the broker doesn't pay you. You know that happens, I know it and everybody knows it. That's why it's very important to mention that Stockpair recently revamped their withdrawal procedures (they were fine even before if you ask me), to provide the best support and service to clients. So, if you want to withdraw, You can!
Economic Calendar
Sometimes the market moves without a clear reason – hey, nothing to do about that – but often times it moves because companies posted Earnings Reports, because a head of a central bank said they're thinking about a rate hike or because the NFP report posted a higher change than expected. To keep track of all these events (and more of course), you need an economic calendar. Now Stockpair offers an improved economic calendar, available right at the bottom of the trading platform. Sure, there are many such calendars online, but why go to another website when you can have right at your fingertips?
Other Tools
Part of Stockpair's revamping, they've also added analysis by Investing.com in the form of trading signals but also an improved chart, suited for technical analysis. Candlesticks, Bollinger Bands, MACD, different time frames – all are available on this new chart, which you will find at the bottom of the trading platform.
So… Is Stockpair Better Now?
Well, I've always respected this brokerage for their honesty, transparency and overall approach of binary options but I have to say, lately they lacked a little "spice" and things were getting a bit stale. The changes they've implemented are the right kind and the right amount of spice. It's still Stockpair but with a bit more colour and kick. I like it! Let's see what others have to say.
Continue Reading the Complete StockPair Review or