StoCycle Binary Options Trading Strategy – Good Way to Get Your Feet Wet!
Full Review of the Stocycle with I-High Low Middle Strategy for Binary Options Trading

The quest for a simple yet profitable strategy never ends so it's time to present you another one and let you decide if you find some value in it. At first I thought there's a mistake in the title and the author actually meant Stoch, but then I realized it's a merger between Stochastic and Cycle, hence Stocycle. I found it on forexstrategiesresources.com and it was submitted by Joy22. Let's see what's behind the name:
How does the Strategy Work?
As you might have imagined, this strategy uses two custom indicators: the first one is a cyclical Stochastic, represented on a chart different than a normal one, but don't let appearances fool you, it's still a Stochastic. The second one is called I-High Low Middle and it consists of three lines which envelop price. These versions of the indicators will only work on a Meta Trader 4 platform so you will need to get one for free from a Forex broker if you haven't already. Both indicators are available for download at the bottom of the page and once you have installed them on your Meta Trader 4, the charts should look like the one below: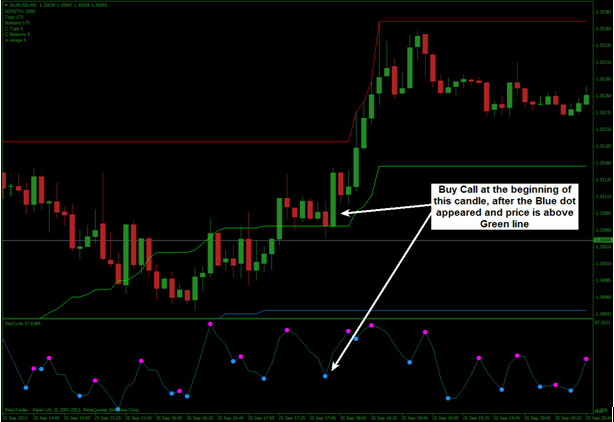 The I-High Low Middle indicator is a trend indicator which is used to filter trades. According to the strategy, the trend is UP if price is above the middle Green line and the trend is DOWN if price is below the middle Green line. Of course, we will only take Call trades if price is in an Uptrend and only Put trades if price is in a Down trend. Once we identified the trend with the use if the I-High Low Middle indicator, we wait for a corresponding dot to appear on the Stocycle and take the trade. My example above is cherry-picked so please don't believe you will only have trades as good as that one. Here is a summary of the rules:
Call Entry:
Price is above the middle Green line of the I-High Low Middle indicator
A Blue dot appears on the Stocycle indicator.
Put Entry:
Price is below the middle Green line of the I-High Low Middle Indicator
A Pink dot appears on the Stocycle indicator.
Expiry times suggested by the author of the strategy:
For a 15 minute time frame – 180 min expiry time
For a 30 minute time frame – 300 min expiry time
For a 60 minute time frame – 600 min expiry time
For a 240 minute time frame – 1440 min expiry time
Why does the Stocycle Strategy Suck?
Being a trend following strategy, it will get crushed in a ranging period. Price will move above and below the middle Green line and bad signals will be everywhere. On top of that, I don't really consider the Green line to be one of the best trend indicators. I'm not saying it's not good, but it could be better. Also, I believe there is need for a way to filter some of the dots of the Stocycle because if we trade all of them, it will lead to overtrading and a lot of Out of the Money signals. Maybe a good way to filter out some of the dots would be to only trade those which appear in overbought or oversold, but this is an idea which needs testing.
Why the Stocycle Strategy doesn't Suck?
I find it to be really easy to trade even by an inexperienced trader. I know that is not a gauge for a strategy's quality and "easy to trade" doesn't mean "profitable". That way of thinking would lead us to flipping a coin and trading Calls for Heads and Puts for Tails because… it's easy. So what I am saying is that it's easy to trade while still keeping a newbie on the right side of a trend thus increasing the chances of success. That makes it newbie friendly and I hope you agree with me when I say this is an easy strategy; if one cannot understand and follow just two simple rules, maybe it's time to go back to BOTS Binary Options Trade School.
Stocycle Strategy:  A Good Way to Get Your Feet Wet
While this is not the best or most accurate strategy out there, I believe it's a good way to begin someone's trading experience. It has just two easy to follow and clear rules and it keeps you on the good side of a trend. If nothing else, at least it will help you get some discipline and prepare you for other, more complex strategies. I would like to say Thanks the guys who coded the indicators and to Joy22 who initially shared/created this strategy.
 Downloads Available: