The April Scam Watch – LBinary, TitanTrade, TipTopOptions, GTOptions and More
The Monthly Scam Watch, Fourth for 2015 – April Complaint Report
Autobots, account managers who trade for you, centuries of experience… oh man, when is this going to end? Or maybe the better question would be: is it going to end? Nah, I don't think so. As long as people keep on believing stuff so easily, this is not going to end. Why would it? After all the scammers are the ones who make money constantly so why should they stop selling lies?
Our First Complaint is about LBinary – What a "Surprise"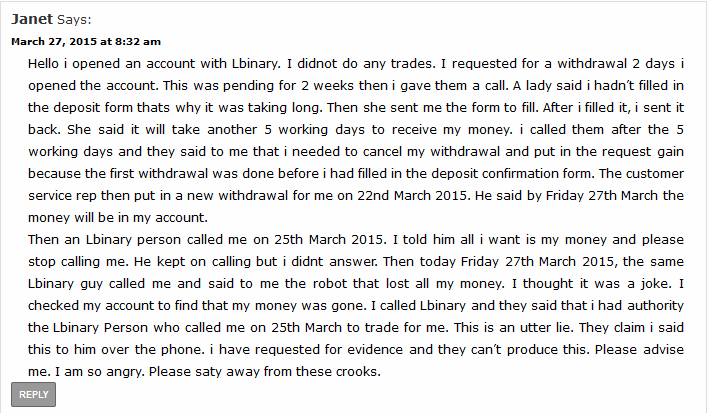 So you didn't authorize anyone at LBinary to trade for you? It seems this is the new "trend" among brokers: to lose your entire balance saying that you wanted them to trade for you and then trying to persuade you to deposit more. Sorry to say this, but do your research before depositing with any broker. Read our reviews… look at all the pages of complaints people have about this LBinary broker. Anyway, try contacting your Credit Card provider and ask about Charge Back.
The Guys at TitanTrade had a Good Start. I had High Hopes for this Brokerage but Lately it Seems they are Too Often Featured on our Scam Watch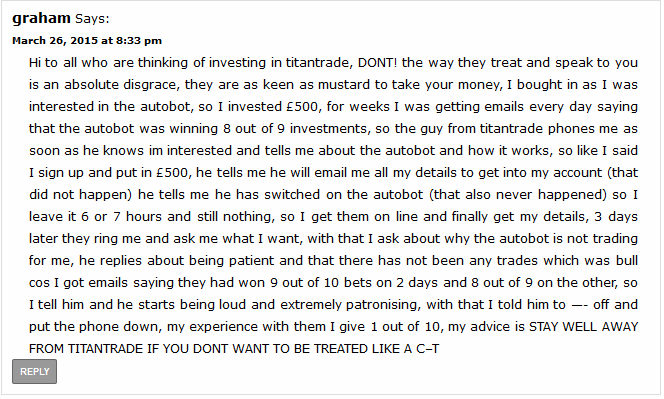 What do you mean by "… he tells me he will email me all my details to get into my account…"? So you actually didn't have access to your account? How is that possible? Also did he offer you this Autobot? Clients shouldn't even accept trading advice from most account managers and for sure not autotrading software. If it was the other way around and you came to TitanTrade after purchasing the autobot, then all I have to say is: avoid signal providers and autotraders at all cost. Learn to trade on your own.
TipTop Options – Best New broker. This is Getting Old. They Should at least use some Imagination.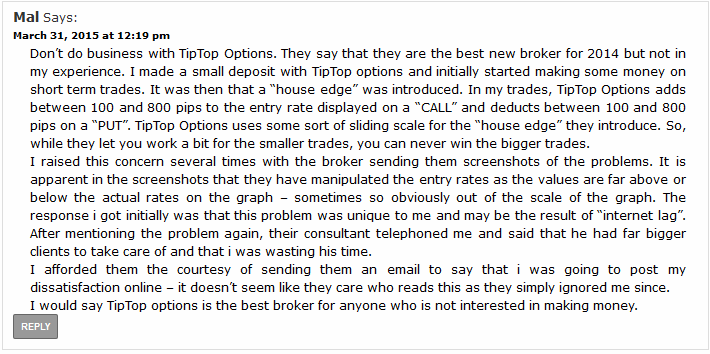 I've never heard about this brokerage. They say they are the best… well Mal, all brokers say that, but it doesn't mean you should believe everything you hear on the Internet. Price manipulation and impolite reps… just get out of there man. You say your deposit was small, so mark it as unscheduled expenses and move on.
OptionRally is Another Brokerage that had a Good Start but now they seem to Love the Popularity of being a Scam Watch Regular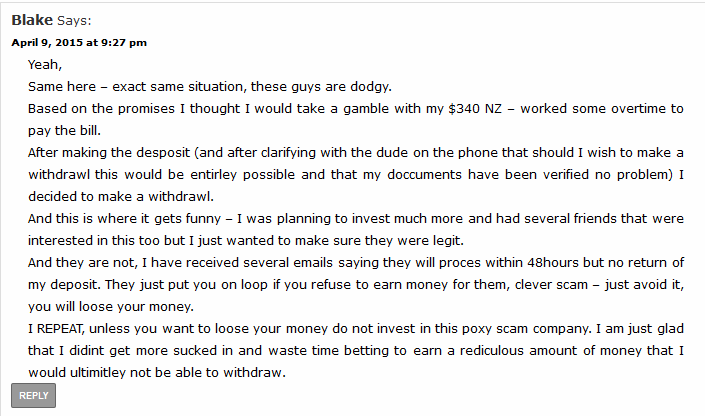 Yeah they all promise stuff: you will get your money in 48 hours, we are the best, our account managers have lots of trading experience and will trade for you, making you rich. Rule #1: never allow anyone to trade for you. Rule #2: do your research before investing. Anyway, like you said, you "took a gamble". At least it wasn't a big one.
Serah James from Netherlands is not very sure GTOptions don't suck. Well, neither am I.

Over 10,000 euros by the weekend. That statement alone should have been a BIG red flag. Then he "almost ordered" you to make a 1,000 deposit?!? Well, this is the exact moment when you tell him to go ef himself. Then he instructs you to double the investment. Why? Why do you listen to these guys? Don't you understand that all they want is for you to lose money? They win when you lose. It's that simple. Just stop taking trading advice from your broker. I don't know how I can say it differently.
"Anything not FSA Regulated in Europe is a Joke." How Right you are, my Friend (Although it's FCA Now).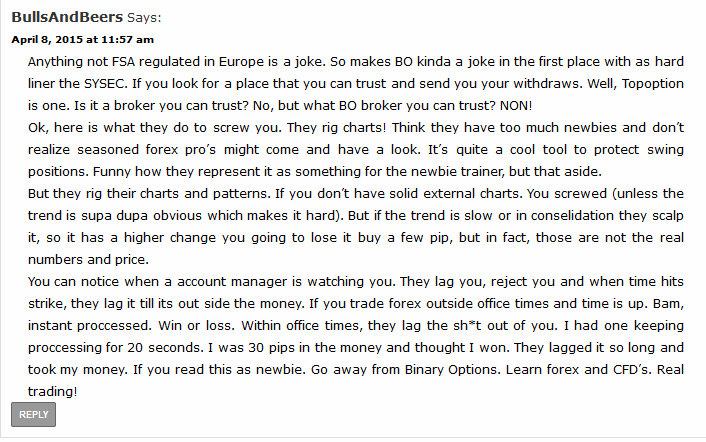 Actually, I wish you posted this on forums, not on comments section where it'll probably just collect dust. But I don't quite understand: do you like/recommend TopOption or what you are saying is they are the less bad out of all the bad brokers? Anyway, would love to see you on forums.
This Next One is not a Complaint but I Love how this Guy Hhinks so I have to Include it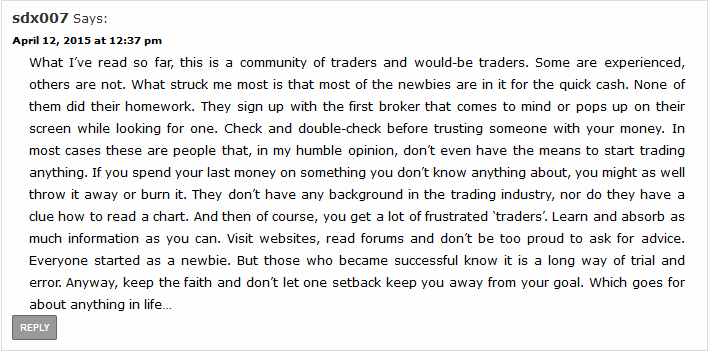 Yea most newbies are in it for the quick cash and these newbies are the easiest prey because, like you said, they don't take the time to even check something, let alone double check. Trading background… reading charts… man, most of them don't even understand that they have to trade not the brokers' representatives.
Here's a Brokerage we don't see too Often on the Scam Watch: BeeOptions

Good to know. I would have never bothered with them anyway since they are not a Trusted broker but hopefully other people can see your problems with them and think twice before investing.
Here's a Complaints Regarding Opteck: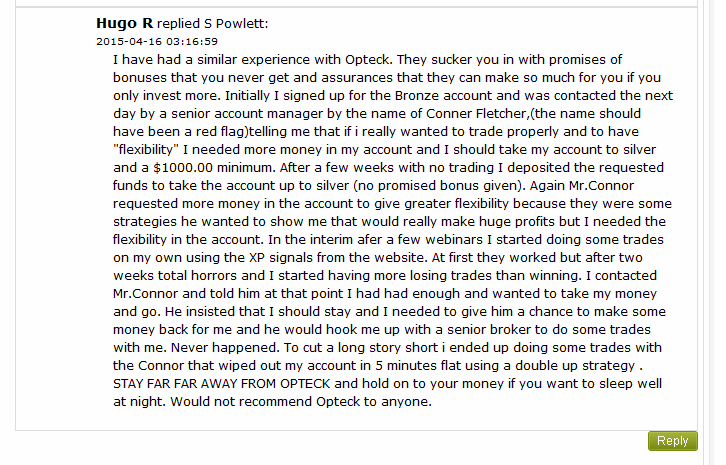 Same story, same story every time. Broker says he's gonna make you rich, you believe, then he says you need to deposit more, you believe, then balance reaches zero and you start complaining online. When are you going to stop believing?
GoOptions in the Negative Spotlight Again

Yes, that's about it. What can I say that I haven't said before? Oh, I know: Stop believing everything they say!!! Or did I say that already?
OptionBit and "Abusive Trading Patterns"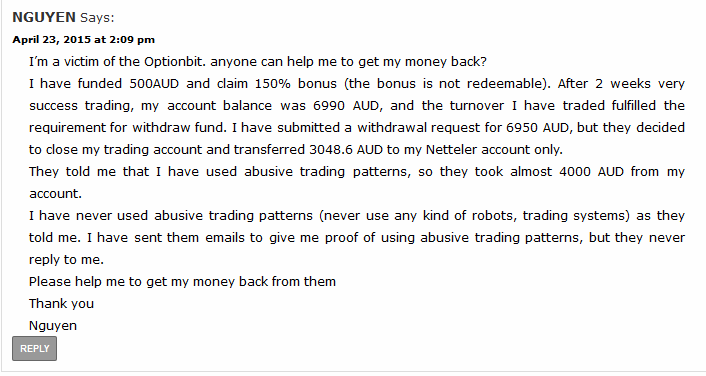 Oh my God, this is too much. They can just say "abusive trading patterns" and take 4,000 AUD from your account? What are these patterns? Are they stipulated in the Terms and Conditions? How did they come up with the sum of 4,000 AUD? Why not 4,500 or 3,500. Tell them to identify exactly the trades on which you used these patterns and to show them to you. They probably won't, but anyway, OptionBit is regulated by CySEC so file a complaint there. Here's the link: http://www.cysec.gov.cy/en-GB/complaints/cifs/
 Scam Watch Comes Again Soon!
That's for this week Scam Watch. We'll be here in 2 Weeks time, with more complaints, comments, feedback, or whatever it is you had to tell us, and we had to answer. See you around! Questions? Feedback? Suggestions? Leave a comments below, check in to our forums or contact us on Info(at)BinaryOptionsThatSuck(dot)com!