The Geek's Opening Bell Momentum Binary Options Strategy
This is a strategy that I employ from time to time with great success. I will be honest, it is not really based on any kind of normal technical or fundamental analysis but it does a great job predicting the future, at least for a few minutes. I began using this about a year or so ago when I noticed the way that index futures trading was affecting the general market and have found it to be quite reliable. One caveat, it is not a strategy you can use every day. You will have to wait for just the right time to use it but if it is part of your arsenal you too will find it to be the money maker I have.
The Geek's Opening Bell Momentum Strategy For Binary Options
This strategy relies on futures trading as an indication of where the market is going to go. It is a short-term strategy that I tend to use with 5, 10, 15 or 30-minute options. It is not based on any of the standard indicators, it does not utilize any type of fundamental analysis but it does rely on a strong indication of direction, as predicted by index futures. I suppose it is possible to use it on individual stocks but so far I have only used it to trade on the major indices and specifically on the S&P 500. This is how it works . . .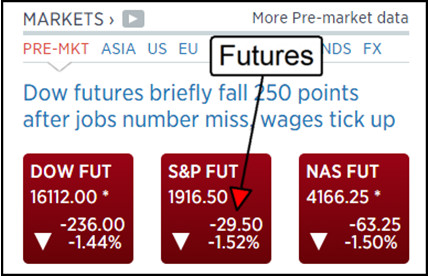 Index futures are a different asset than an index. They are a trade on where the market may be, at some point in the future, and often lead the broader equities market. Futures trade just about 24 hours a day but are the most active before and after the regular trading day. On a day to day basis the futures will typically trade a little up, or a little down, from where the index closed in the previous session and give an indication of which direction the market will move once the opening bell sounds. On an average day the futures will indicate a movement of only a few points at the open, usually less than 0.25%, but from time to time news or other events will cause the futures to make a significant movement, something in the range of 0.5% or more and can be in either direction. On these days we can be pretty sure there will be a lot of pent of buy/sell pressure that will be released once the underlying index opens for regular trading. What I noticed, and what this strategy banks on, is that it usually takes at least a minute, if not 5 or 10 minutes, for the market to catch up with what the futures are indicating once the market opens.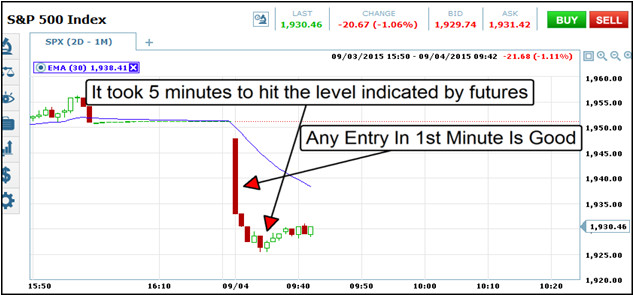 To get ready to make this trade you must check the news and the futures before the market opens. I use CNBC to get this information, they are really good about showing US index futures up to 3 hours before the 9:30AM open of trading. If the news is really good, or really bad, and the futures are indicating a significant move at the open you will make a trade. Look at the chart above. On 8/24 the SPX was indicated to open a little more than -.5% lower and we can see that in the open it did, but it took the index 8 minutes to reach that level, any entry within the first minute was a winner for the first 30 minutes of trading at least. For best results, I suggest waiting for days in which there is at least a 0.5% move indicated, other days could work but the big days are when you can be assured of profiting. The entry is to buy an option, trading in the direction indicated by the futures, within the first minute of trading with 5-30 minutes of expiry.
Call Entry
If futures indicate an up opening greater than +.5% then buy a call as soon as the market opens with 5-30 minutes of expiry.
Put Entry
If futures indicate a down opening greater than -0.5% then buy a put as soon as the market opens with 5-30 minutes of expiry.
Why This Strategy Might Suck
This strategy might suck for a couple of reasons. First, as I have already mentioned, it does not use technical or fundamental analysis. Second, it targets volatile trading days which could switch direction in a moments notice. Third, slow execution can result in poor results. Fourth, there could be days, weeks or months between days in which the futures move more than a half percent in pre-market action.
Why This Strategy Does Not Suck
This strategy does not suck, it is as simple as that. It is perhaps the most reliable strategy that I use and targets massive amounts of pent-up momentum waiting to be unleashed at the open of trading. I can't claim that is based on any holy grail, but I can say that my personal success rate is way over 75% and most of my losses are due to my own slowness. The caveat is that you can't use this every day, and when you do use it you must get into the trade within the first minute of trading or else wait for an additional signal.
My Last Words On The Opening Bell Momentum Strategy
I like this strategy. It is very reliable and has returned a lot of money to my account. What you have to remember is that it is not for everyday trading. Yes, you can use it every day but if there is no strong news and no strong indication of movement in pre-market action then you will likely find it to be more frustrating than not. What I suggest is to study what I say, put this strategy in your tool-box of successful ways to trade and then pull it out on those special days when it looks like the market is going to make a big move as soon as the opening bell sounds. For more information on this strategy and how to use it properly you can visit my forum thread here….Perfect Set Up, A Once A Year Opportunity. I call it a once a year opportunity but it usually happens much more often than that… just not every day.