The March Scam Watch – MasterOption, GTOptions, LBinary, OptionsXO and More
Monthly Scam Watch, Third for 2015 – March Complaint Report
As you are probably used by now, each month we bring in the spotlight some of the complaints of our readers. Account managers, brokers, magic software vendors, signal providers beware if you want to scam because people will expose you.
First complaint of the month comes from Lino: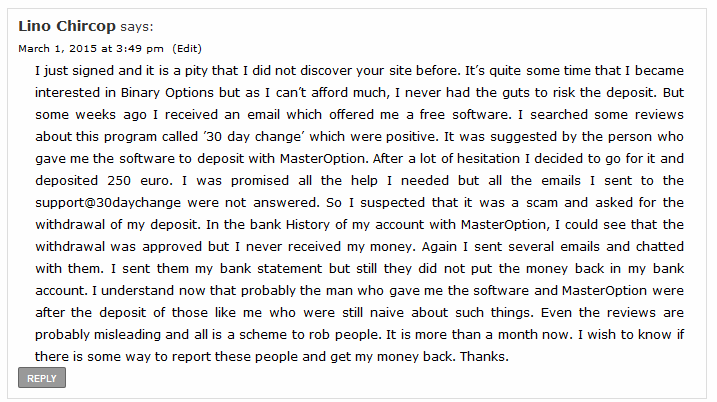 Lino, your last three and a half lines sum up the scheme almost perfectly. It's a very common pattern but unfortunately people still fall for it. I am just glad that you realized it after your first deposit and didn't continue to add money. As for getting your money back… well, you want to report them, but who are they? Do you have any information? I guess not, so consider this money a "naivety fee" and hope it's the last you ever pay. I assume they are not regulated so that means no regulatory authority will get involved. About going to the Police… now I do not know what country you live in but in my country they would probably laugh their a$$es off if I would walk in with this story asking them to get my money back. Finally, I am sure you don't know where their offices are so you cannot pay them a visit. So at least spread the word to prevent other people from becoming their prey.
This time GTOptions performs another well known scheme: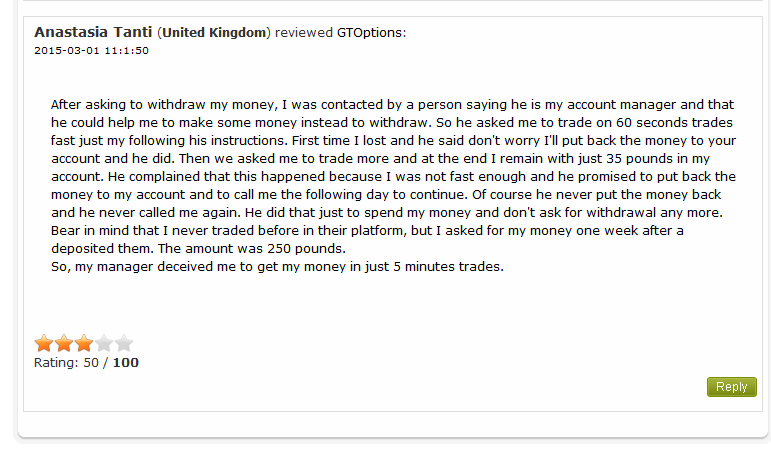 Anastasia, your account manager can NOT give you trading advice. Why would you follow his advice? Are you so confident about his trading skills that you are prepared to let him trade for you? To put your money in his hands? Did you ask him about his trading experience before doing that? No? Then unfortunately, this is what you get. I hope people stop believing everything they hear.
LBinary never misses one of our Scam Watch series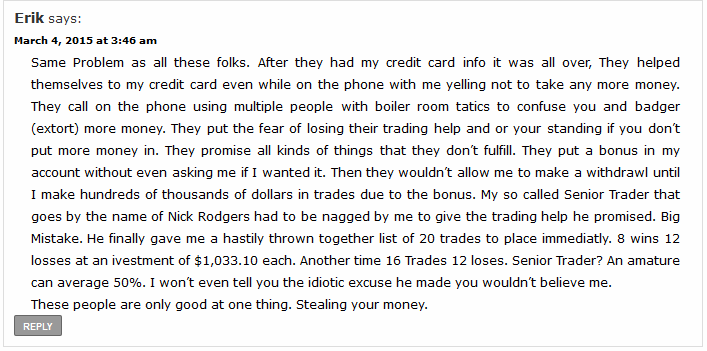 First, contact your credit card company and try doing a chargeback. Then read what I said above and stop believing that your account managers (or whatever they're called) can and will make you money. If these guys were really good at trading they would be sipping Margaritas on a sunny beach.
Lbinary slowly becomes the "hottest" broker in the Scam Watch

We recommend that people contact Erik and maybe together you will have more chances of solving the problems. I am sure there is no shortage of people who are not happy with Lbinary's service. The Bonus thing really sucks. Almost a million bucks in trading volume is Huge, doesn't make sense; there must be a way to cancel at least a part of it.
OptionsXO is up to no good according to Andrius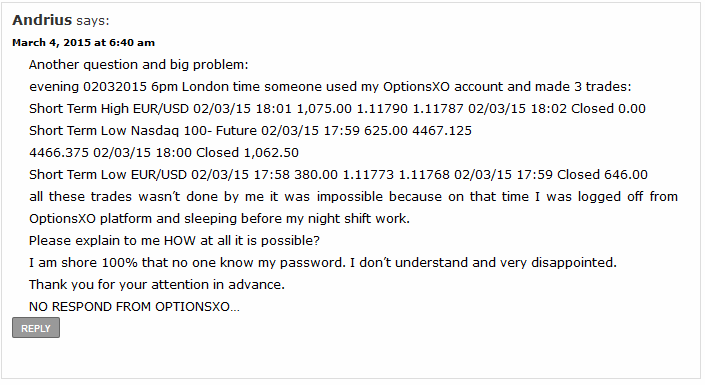 We cannot explain HOW this is possible, but make sure you are not registered to some sort of signal provider/autotrading software/bot that can somehow access your account. If this is not the case, it means that someone else has access to your account. Only you may know who that person is (yes, I know you said you are 100% sure nobody knows the password but change it just in case). Worst-case scenario: your broker has access to it. That is unacceptable and you should get your money out ASAP.
Bloombex… cool name but not so cool service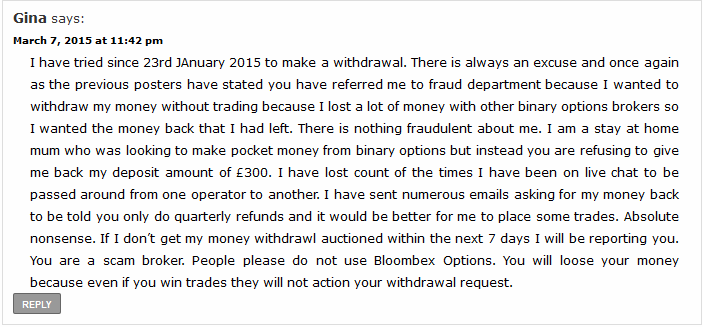 Well, Gina it would be great to do some research before you give someone your money. After the fact, you can only complain and not much is accomplished with that. As you can see, Bloombex is not trusted by us so that thing alone should have kept you away from them.
OptionRally joins the shame list? Hmm I though you are better.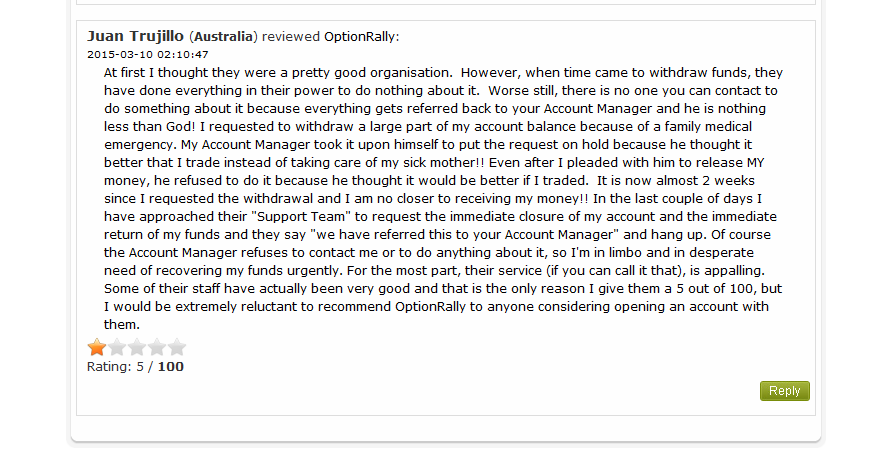 The part about recovering your funds urgently… sorry but I don't think it's gonna happen. So look for other ways to support your family. The fact is that most binary options brokers treat customers like you said and this is what makes the industry so risky… as if trading wasn't risky on its own.
Here's what Dr Odeh has to say about OptionsXO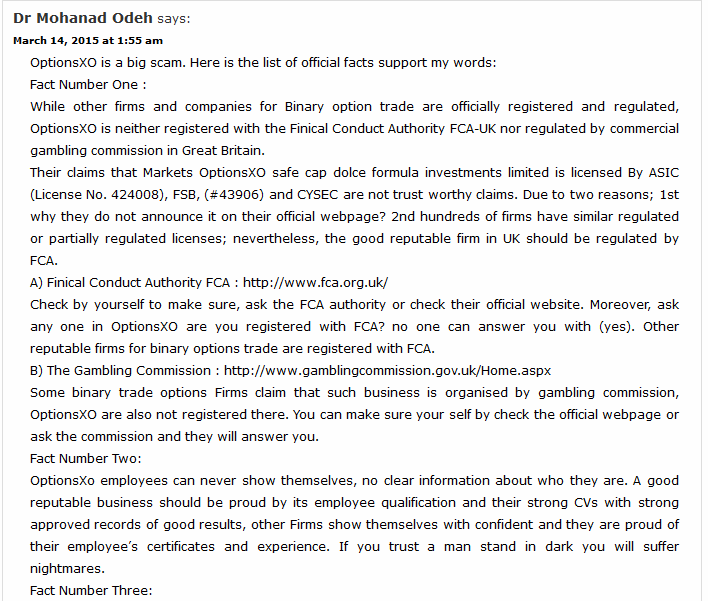 Read the rest of the comment on the 12th page of comments below OptionsXO's review https://www.thatsucks.com/review/optionsxo-suck/. Thanks Doc, this is really a detailed post. Your points are logical and I believe that anyone who wants to deposit with OptionsXO should read this comment.
Insured Profits?!? There is no such thing man.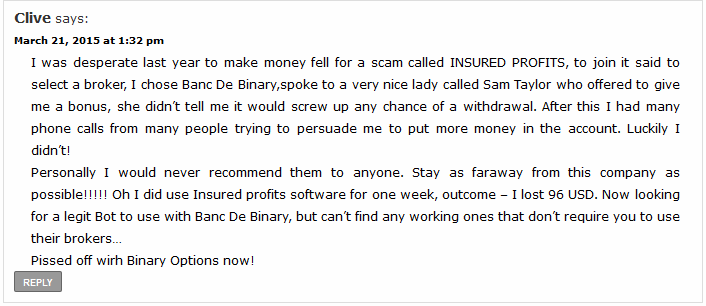 Look, some brokerages don't tell you that the bonus will tie your money to their platform but clients have a big responsibility for their own money. Come on, read before you throw money at them. Read the Terms and Conditions, read our reviews, learn to trade so you don't have to rely on your broker's trading advice. Now you say you are looking for a "legit Bot" to use. That means you don't know how to trade, right? So if you don't know how to trade, why do you trade? I don't want to be rude, but why do you guys trade if you have no idea how to do it? I don't operate on brains because… I don't know how.
OptionRally again? Better pay attention to these guys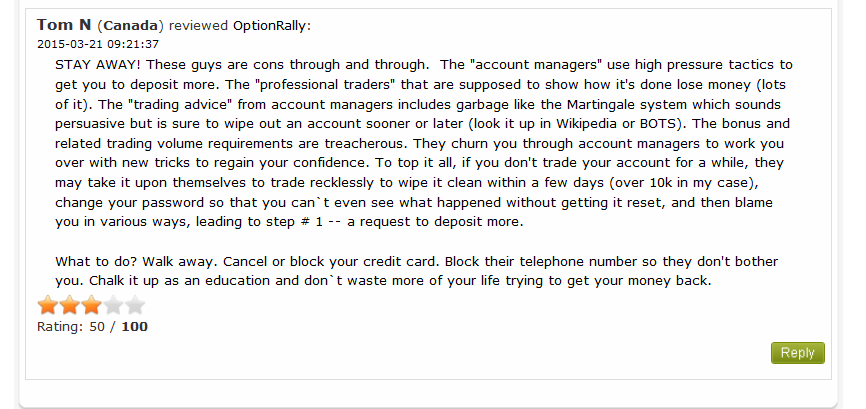 What you describe is textbook broker behavior. All they do is pester you with phone calls and promises of huge gains when in fact they have no idea about trading (well most of them at least). Read the last two lines of Tom's comment guys and do as he says. Oh and before investing with any broker, don't forget to look it up "Wikipedia or BOTS" J
RegalOptions – first complaint. Something tells me it's not gonna be the last.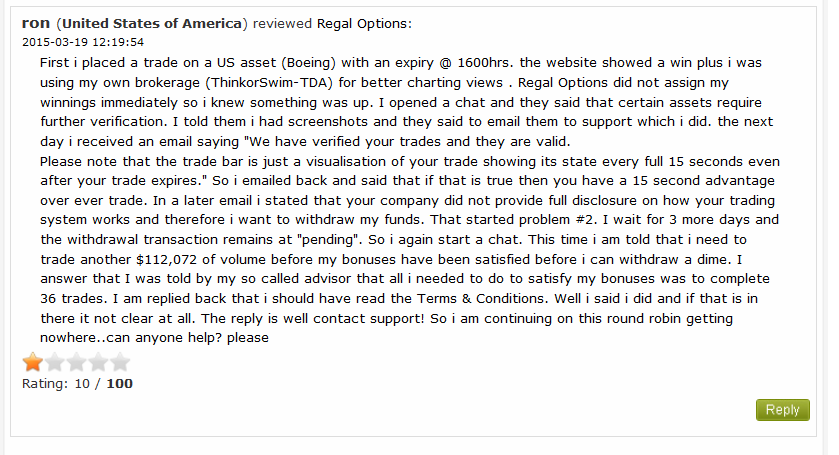 Good thing you've read their Terms and Conditions but if something wasn't clear why did you go through with your deposit? I mean isn't that the idea behind reading the T&Cs? If you know you are going to accept a bonus and the procedure surrounding the bonus (and withdrawal) is not clear, ask for further written explanations or better yet, find a brokerage where things are clear. RegalOptions – no royal treatment apparently.
Optionow

Advice? I don't know what to say. Ok, maybe I do: look for advice before giving them money. Where are their offices? Owning company…? Are they regulated? Who are you going to sue? A website? Maybe tomorrow the website will be inaccessible and they will be operating under a different name. I am sorry for your loss, try doing a chargeback and contacting a lawyer.
 Scam Watch Comes Again Soon!
 That's for this week Scam Watch. We'll be here in 2 Weeks time, with more complaints, comments, feedback, or whatever it is you had to tell us, and we had to answer. See you around! Questions? Feedback? Suggestions? Leave a comments below, check in to our forums or contact us on Info(at)BinaryOptionsThatSuck(dot)com!