Tweaking the Forex Amazing Crossover System for Binary Options Success
Full Review of The Amazing Crossover System for Binary Options Trading
Have you ever stumbled upon a strategy that seemed too simple to be profitable just to realize later on how foolish you were for not taking it into consideration? Well… I did. At the beginning of this year I came across one such strategy which looked so stupidly simple that I did not even bother to plot it on my charts, but as time passed I realized that a lot of hype started to surround it and found myself to be the only fool sitting on the sidelines. If you don't want to be "benched" just like me, let me tell you this system's story.
How to use The Amazing Crossover System
Right from the start you have to understand that this strategy was developed for Forex trading, but don't despair… like almost any strategy it can be transformed and made useful for Binary Options as well. The Amazing Crossover system make use of two old-school indicators named Moving Average and Relative Strength Index, if you're not familiar with these oldies, please stop reading this article and have the common sense to go through BOTS School (you'll find everything you want and don't want to know about this business). We're gonna plot on our chart two EMAs (aka Exponential Moving Average, in case you are stubborn and did not take my previous advice) with periods of 5 and 10 and a RSI (I hope you got this one) with period 10 and applied to Median Price: HL/2 with a level set at 50.
As the name of the strategy implies we are going to wait for the EMAs to cross but… we are not going to jump on every cross that occurs, we need RSI to confirm our entry. Let's take for example a Call signal: we need to see EMA 5 crossing EMA 10 from underneath and have RSI coming from the bottom and crossing the 50 level. At the close of this candle we will make our Call entry. Pointless to say that vice versa rules apply for Put entries. This strategy was initially developed for trading the one hour time frame, anything under is just full of market noise and the EMAs will cross frantically giving a lot of false signals and headaches. Some traders switched to higher time frames like 4 hours and had pretty good results, of course with a higher time frame we have fewer signals but that's ok if you have other commitments and standing in front of the computer is not your favorite way of spending your time.
Now that we established the basic points of this strategy, here comes the annoying part for all Binary Options traders: the expiry time issue. After a lot of chart staring and a bottle of eye drops I came to the conclusion that one candle expiry time could do the trick, meaning: if you trade on the one hour chart you should use one hour expiry time, but if you trade the 4H chart then use a 4H expiry time.
For better understanding of what I just mumbled above, take a look at the picture below: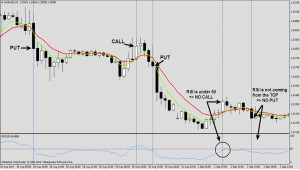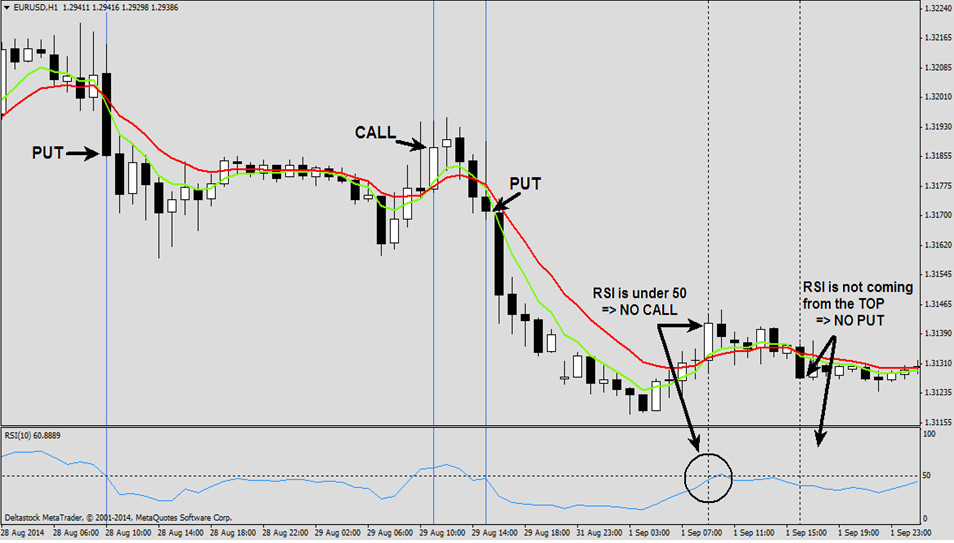 Some particularities that you should keep in mind:
Watch out for the SFS (slippery finger syndrome), EMA's tend to cross and uncross many times before a candle actually closes, so don't even think about opening your trade before your EMA cross is locked;
Don't trade during flat markets, they frequently give false signals;
Use the strategy only on majors, avoid trading currency crosses as they tend to have jerky moves;
Signals that are backed up by fundamentals (news releases) have a high success rate;
If you want a precise definition of tops and bottoms for RSI indicator, you can plot two extra levels on it: at 30 and 70 or wherever you feel comfortable.
Why does the Amazing Crossover System Suck?
My main dislike regarding this strategy is that more than often it makes you enter against the main trend of the market and we all know how frustrating it is to be the only dumba$$ who buys in a bear market or sells in a bull market. Combining this with the well know fact that all MAs are lagging is what made me a skeptic right from the beginning.
Why the Amazing Crossover System doesn't Suck?
Adding the RSI in the game seems like an adequate choice because it does a pretty good job filtering out the bad crossovers of the MAs. Another plus of this strategy is the time frame that it uses, one hour is quite decent and it cancels a lot of the intraday market noise.
How amazed am I?
To be honest… I'm still having a struggle with this system. Don't get me wrong the system seems ok if you're not looking for the Holy Grail, but amazing… not even close to it. Please, don't get discouraged by my lack of confidence; maybe this strategy fits you and your trading style like a glove, so feel free to plot it on your chart and see what you can make of it. If you want to go deeper into the system check it out on Babypips and also on our Forums Sections.