Weekly Binary Options Briefing 5/27-6/03/2013 – Stocks Turn Lower After Bernanke Speech
Binary Options Trading Recommendations for this week – Markets Information and Trading Tips
Investors start to take profits in stocks, as Bernanke signals phased-out stimulus.  Dollar broadly higher after Fed Chairman's testimony and weak Chinese data, creating bearish scenario for commodities into the summer.
Stocks Turn Lower After Bernanke, Weak Asian Data
The S&P 500 turned lower late in the week after posting another all-time high on May 22nd.   General volatility slowed in the early parts of the week, as investors waited for congressional testimony from US Fed Chairman Ben Bernanke before establishing positions.  Bernanke's comments echoed what is starting to be seen from a variety of FOMC voting members, essentially indicating that quantitative easing stimulus is not only becoming unnecessary but might actually be hurting prospects for economic growth.  On balance, this is a negative for stock markets, and a positive for the inversely correlated US Dollar, as this will reduce the amount of currency in the system and reduce the potential for inflation. 
        In addition to this, weak data out of China indicated a slowdown in manufacturing activity.  The May reading the Purchasing Managers' Index came in at its lowest levels in 7 months, and signalled contraction below the survey's 50-line.  This clouds the outlook for oil as well, with reduced demand now expected for energy products into the end of 2013.  On a side note, it should be known that Japan's Nikkei 225 had one of its worst trading days in 2 years (since the country's massive earthquake and tsunami), falling 7.2% in a single session.   The index is likely to continue to see volatility as positions are squared, something that is generally not expected for most of the other central stock indices as we head into the summer months.
The Week Ahead    
In the week ahead, US markets will be closed for the memorial day holiday and this should have a market effect on volatility in the early part of the week.  We are still trading at elevated levels in stocks and so it will not be surprising to sell the old market maxim "sell in May, and go away" take effect. 
My Trade Ideas (Trade also on CommuniTraders):
1. Euro strength was driven largely by a large move higher in the EUR/CHF (which pushed to new highs for the year).  A quick round of profit taking followed, however, and we are right back at the Fibonacci breakout point from earlier in the month.  I will look to get bullish again on the pair at current levels (just above 1.24) and use the latest weakness as an entry point for weekly CALL options in EUR/CHF.  The latest impulsive move to the topside was very encouraging for the pair's long term, so this trade can be taken on a monthly basis as well.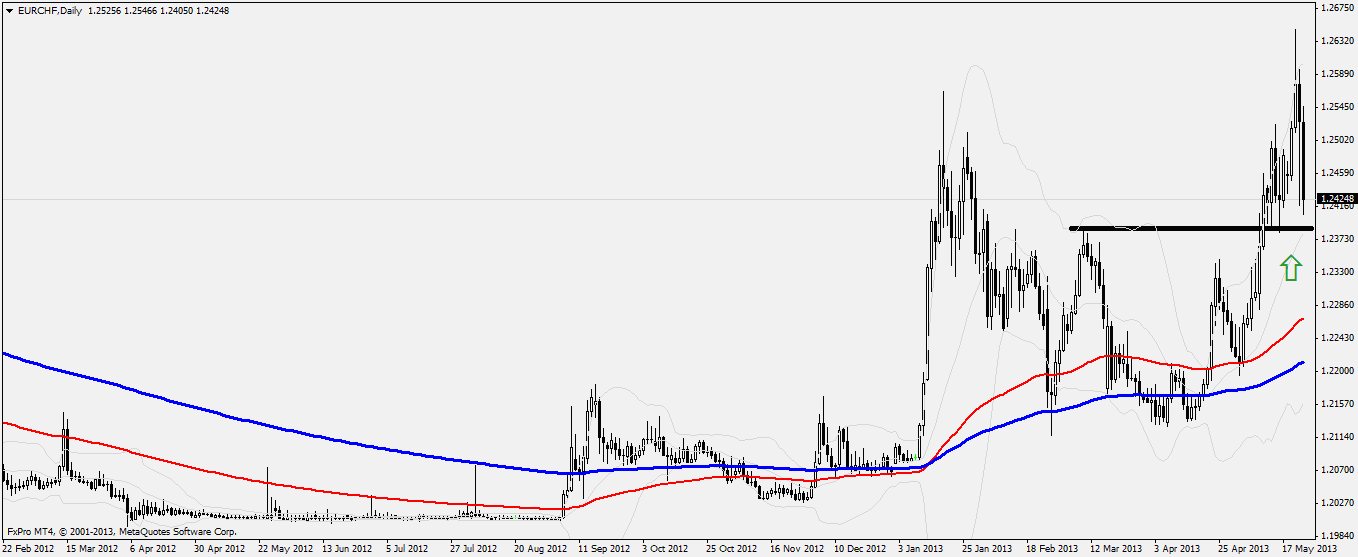 2. For commodities trades, I will look to play off of the Dollar strength generated by a changing Federal reserve policy stance, and the weakness in Chinese manufacturing data to get bearish on oil, which continues to hold near its yearly highs.  The series of lower highs since last September provides a technical basis for the underlying fundamentals.  I will enter into monthly PUT options in Oil at current levels (95.80), looking for a run back into the low 90s before a bounce can be expected.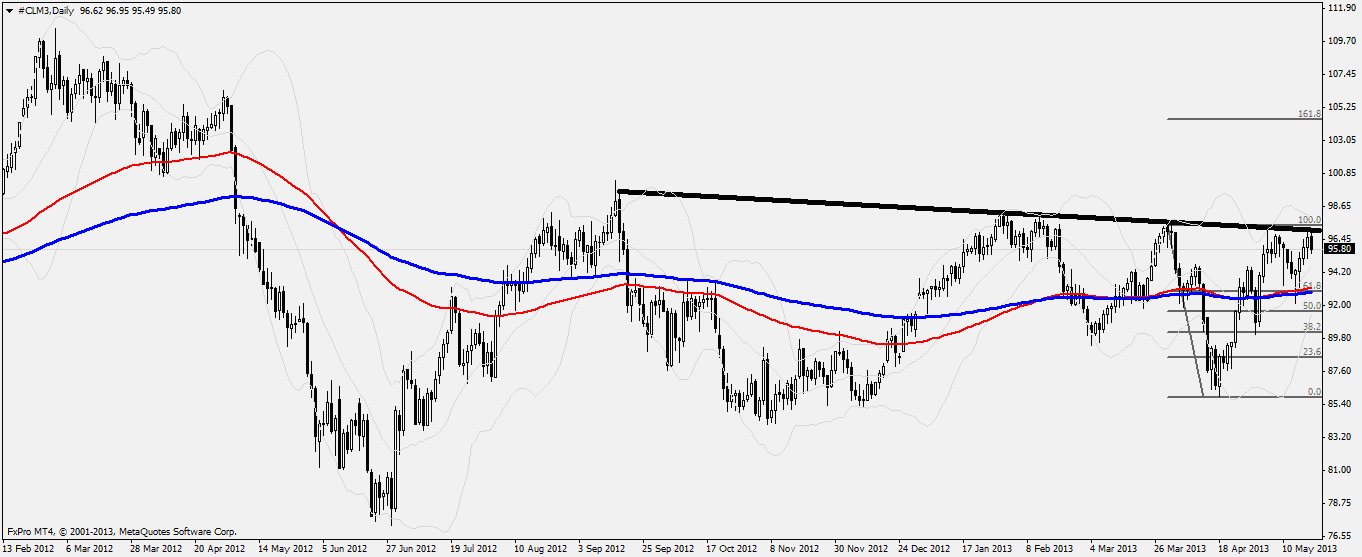 More Trading Tips by Richard on Forum!