Weekly Binary Options Trading Briefings 5-12/11/2012 – Employment Data at Center Stage as Modest Improvements in US Overshadowed by Weakness in Eurozone
Binary Options Trading Recommendations for the upcoming week –  Market Information and Trading Tips
Market attention has been centered in employment figures in recent weeks and this Friday's Non Farm Payrolls were an extension of this, showing a net addition of 171,000 workers for the month of October (a modest improvement from the 148,000 jobs increase that was seen in the month of September).  But while this improvement is a positive, it should be remembered that 150,000 jobs are needed each month just to keep up with population increases, so any long term rallies based on this data should be viewed with skepticism.  Analyst estimates were calling for a rise of 125,000, but this encouraging surprise was balanced with the increase in the Unemployment Rate, which came in at 7.9%.
Unemployment in the Eurozone Posts New All-Time Highs
The last of the major central macro stories for the month could be seen in the latest Unemployment Rate report out of the Eurozone, which showed that jobless rates reached a new all-time high at 11.6% (well above the region's historical average of 9.2%).  These disappointing figures have grown increasingly worse all year, and are now 1.3% higher than what was reported during the same monthly period for 2011.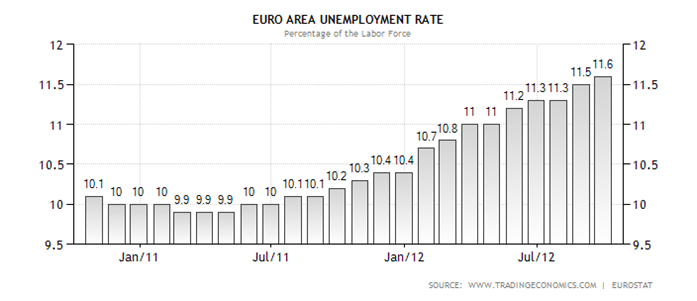 These negative numbers are being propelled largely by the economic laggards of the 17-member union, Greece and Spain, which are showing the weakest jobless rates in the region and are posting the worst results since this data started being recorded at the inception of the Eurozone itself.  The Unemployment Rate in both countries has, for the first time, surpassed the 25% mark, and this provides a stark contrast with what is seen in the member nations with the lowest jobless rates (Austria at 4.4%, and the Netherlands and Germany, both at 5.4%).
But while this might appear to be supportive evidence for the disintegration of the Euro-area as a whole, it should be noted that the overall trends here are clear, with 20 of the European Union's member countries seeing an increase in unemployment, relative to the same period last year.
My Trading Recommendations in 50 Words
1. The latest move higher in the DAX is creating some bearish opportunities and I will be looking to enter into weekly PUTS at the open on Monday.  Weakness in the labor market is likely to filter into other aspects of the economy and we are likely to start seeing failures at current levels.
2. Momentum selling in Gold could also present some opportunities next week but we will need to see prices fall into the 1630 area before weekly CALLS are established.  There is a confluence of historical and Fibonacci support in this area and risk aversion could lead to some safe haven buying and propel the metal higher.
 Find and Share more Trading Recommendations on our Forum