Binary Options Trading School 2.0 – Learning To Trade Just Got Easier!
ThatSucks.com (former BinaryOptionsThatSuck.com) Trading School 2.0 Here We Come!
Traders, Gamblers, gather round! The Chief has in important massage for you all!
Trading just got easier! I can't say that was an easy task, but I think it's safe it say we've made your wishes come true. Learning to trade binary options should be a fun and easy, that's why we've decided to update and re-organize our school section. Our previous school was, how should I say, too long and full of unnecessary classes. Traders today have more tools to get started trading, brokers have more options, and the whole industry has been through major changes. As the leading binary options community, we feel obliged to stay innovative, lead traders to better trading success and help the newbie trader as much as we can before he or she jumps into the rough water of binary options trading. We've tons of articles covering binary options from A to Z, but why frustrating newbie traders with complex methods? Why should newbie traders and experienced traders read the same instructions? We say, no more! Check in to our new trading school, if not for you, for me. Just so I could rest assure I did what I could to help.
Hold on! Before we start talking about school, here's our new video, share with friends!!!
CommuniTraders | The Man Your Man Could Trade Like
Trading School 2.0 – Keeping Up with the Markets!
What can I find on the new trading school? Well, everything actually. On our preschool section, newborn traders would find a complete set of article with everything they need to know about binary options and the binary options industry. Before you even think of depositing, preschool section would help you understand if binary options are the right thing for you. Now if you made the right decision and want to become a trader, tune in to primary school. The purpose of primary school is to make the newbie trader mentally and technically prepared for trading. Next stop: College, or "Become a Trader". Yeah, as simple as that. College will provide you the needed tools and strategies for trading binary options. This is the hardest part of school, so make sure you come prepared if you want to leave this institution ready for the real trader's life! Take some test to make sure you're in the right place. And finally, if you really love binary options and all you do all day is talking about binary options, I think you deserve a PhD in binary options trading. We have it too!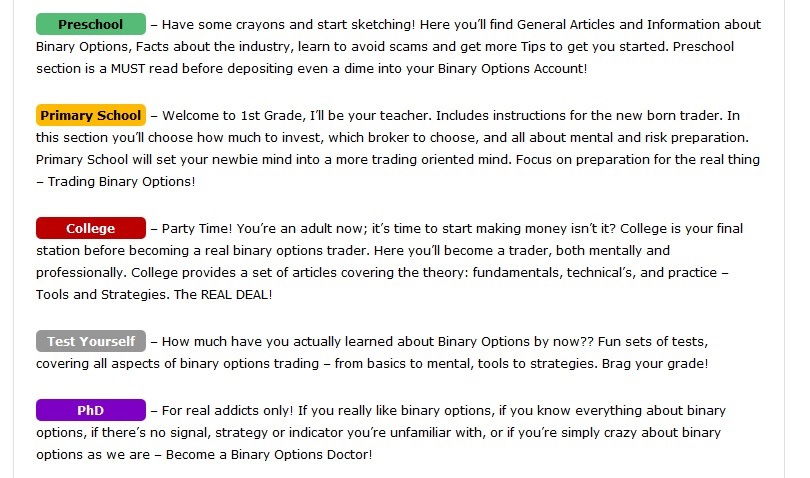 Don't Learn Alone, That's why you have Classmates!
When in class, silence please. Learning is a private and individual process, you simply can't read and understand the article you've just read if you're talking with the kid next to you. But you finish your tasks, the best way of expanding your knowledge is to talk about it. In case your wife, friends or father don't know what the heck you're talking about all day (happed to me…), check in to our forum section! Hundreds of fellow traders have already made CommuniTraders as their second home. So if you're learning binary options and feeling disconnected, and all you need is a little help or a tap on the back; join our forums community – now!
Start Your Trading Journey with the new and improved
ThatSucks.com (former BinaryOptionsThatSuck.com) Trading School Now!
*Notice: If this is not the first time you use our school, it is recommended to clear cookies and cache from your browser.