CommuniTraders PROS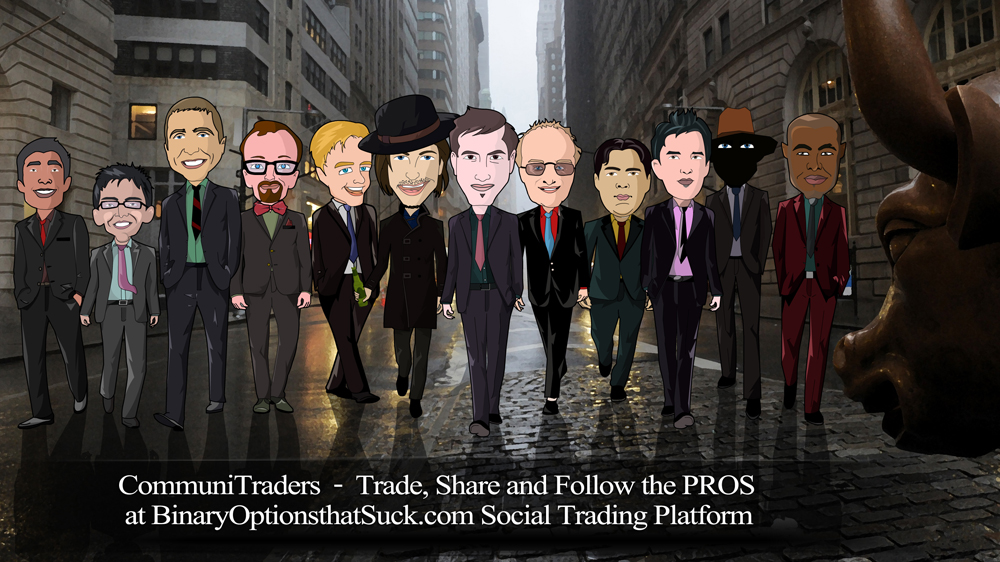 I Want to Trade, But Can I Practice First?
We all know the problem. We all saw the same ad, all heard the same rumor, we are all aware of the increasing popularity of Binary Options, we all really want to start trading, to convert our singles to Benjamin's as quickly as possible but due to a bizarre collective decision among almost all Binary Options brokers; there are no free demos and sometimes no demo at all. Not trading BO on a demo account before trading makes it almost impossible to succeed without losing respectable amount while learning. This absorbed situation cannot continue anymore. It's time to raise the glove, time for a real unique trading platform with no "deposit first" or "paper trading" bullshit, it's time for the Binary Options trader's community to get acquainted with the brand new ThatSucks.com (former BinaryOptionsThatSuck.com) Trading Platform!
Why Do We Need CommuniTraders?
So what's CommuniTraders? What's all the rush about? Well, let's start from the basics. Every trader needs to perfect his trading skills if he desires in high profits, now that's well known, but what about newbies? How come so many of them are losing their money? It all sums into poor training. Even if your fundamental knowledge is amazing, your technical skills require adequate experience before jumping into the turbulent streams of the markets. That is exactly what the CommuniTraders Trading Platform has to offer to newbies and experienced:
Newbies Could finally learn to trade Binary Options without worries of losing your money, practicing basic strategies and market trends and of course, learn from our PROS how to profit by following them.
Experienced Traders Could Master Advanced Strategies, but more importantly: Share and Discuss future trades with Fellow traders and BOTS.com Professional Traders.
Explore CommuniTraders: Trade, Share and Follow
As our Binary Options Traders Community got bigger, we've noticed that more and more traders are really looking for a simple platform to discuss trades with other traders, not just master their skills. Those are not newbies anymore; they are seasoned traders who have a lot to share with others and to teach beginners. Forum discussions might help as they provide a great platform for talking but even fresh traders know: there's nothing better than live charts. The CommuniTraders offers the first real solution to this problem:
Trade – Pick an Asset, Choose side and expiry and hit the TRADE button. Now it's your time to explain – why did you perform this trade and what strategy did you use. You can also view other traders profiles and trading history.- brag or learn.
Share –Now you can share your trading moves with other traders!  Just Press the Trade & Share button to brag on your successful trades, or complain about less successful ones.
Follow – Follow our pros and members tips and live trades; learn from their experience and mistakes. Don't just copy them; follow and decide accordingly.
Discuss- Ask our Pros for an advice, give others a tip, tell us about your strategy and let other learn from yours! Discuss your trades; two minds thinking are better than one.
Join CommuniTraders
So where can you find CommuniTraders?  on Forum! Join our community now free of charge, not now, not ever. All our services are free, just come join and enjoy. We do expect one thing: SHARE. That's the most important rule here, every trader has to share and discuss with others. After all, that's what community is all about isn't it?
 Check Out Our New PROMO!
Share this Video with Friends to Invite them to CommuniTraders!