Bloggers Wanted: Starting a Binary Options Blog on CommuniTraders
Trading Binary Options? We have a Place for your Blog!
Keeping a trading journal is one of the handiest tools I know and the first tool each trader makes for themselves. I know that I have benefited from my journal in many ways. For one, it helped me to become the financial and trading blogger I am today. For another, it helped me to clarify my thoughts, organize my ideas and grow as a trader. Check out Why Should You Start Writing a Trading Diary article for more details. I still keep my journal to this day, the only difference is that it is primarily on line and available for all to read. For the beginner it can be hard to get started. Where do you start and what do you keep in your journal. The best answer I can give is start at the beginning and put everything in it. Sooner or later you will reach a point where you become in tune with the market and reach a whole new level of trading success. 
Seriously though, your journal is like a diary of sorts. You don't need to put any of your deep dark secrets or desires into it but definitely keep track of what you learn. This is valuable information that other newbies will want to know. The most basic way I can think of to keep a trading journal is in a notebook. Each day or each week make an entry that sums up what you have learned, what the market did, what you thought it would do and how you will approach that situation again. As you gain more and more knowledge you can add more and more detail to your entries. In the old days, before computers and the internet, this was the only way traders could track the markets and their own progress. Now, there are a myriad of digital means by which you can keep a trading journal with Communitraders quickly emerging as the top contender.
So You Want To Be A Financial Blogger
Communitraders is a great place to keep a trading journal. The website is targeted to binary options but the strategies, tools, tactics and discussions are as relevant for forex, equities, futures and commodities as it is for it's main focus. The platform provides a forum, a profile and a social/demo trading account that combine to form a powerful tool. Getting started is very easy and totally free. All you have to do is register with the forum in order to get full access to all that is available. After that you will want to go over to you profile page, this is where you will be able to tell us about yourself. Once that is done a quick trip through the forum to see what all is there is not a bad idea but since this about how you can start your own trading blog, social trading network or journal we need to focus on just four rooms; Introduce Yourself, Communitraders, Daily Trading Tips and Introducing Binary Options Businesses.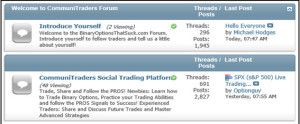 The first thread, Introduce Yourself, is pretty self explanatory. This is the first room that any new forum member, wannabe blogger or trading guru should visit. Here you can start a thread about yourself, not your business, I'll get to that in a minute. This is where you can let us know you are here, keep us updated on how you are doing and start making some friends. If you are also a business you can use the Introducing Binary Options Businesses room in the same way, but for your business. The remaining two rooms are my favorites and where the real action happens. The Communitraders room is where you gain access to the social trading platform. You can start a new thread with a trade of your own, comment or ask questions about someone else posted trade or join in one of the threads dedicated to trading a certain asset. Any time you make a trade, or have an idea about a trade or a new tool or strategy you can test it out here. If you choose to share your trade, you don't have too, the rest of the community will have the chance to learn and possibly follow along if you are able to produce profits.

Create Your Own Trade Log
The last room of real importance for those of you wanting to start your own trade journal is the Daily Trading Tips and Signals; Trading With The Pros. This is where you can actually start a journal. Use this room to start your very own thread, take your own notes, make your own analysis and give your own trading ideas. Each day or week add a new post to your thread, tie it in with your demo account and even include charts, graphs and other information. Other members of the community can check on what you are doing, ask questions and best of all, follow your success. When you are there, be sure to check out my trading journal and log, Trading With The Geek!

*Businessman?
Check out this article by our top blogger Okane, where he explains in details how to promote your own business on forum. See you around!