Custom Indicators – Full Review of Urban Towers for Binary Options
"Urban Towers" – Point me in the right direction
Since the first custom indicator that I introduced to you guys was so well received, I decided to bring you today a whole strategy coded into one indicator. The best thing is that this indicator points you in the right direction as dictated by the rules of the strategy by drawing UP/DOWN arrows…Awesome, I know!
How to use "Urban Towers"
First, here's a picture of how your charts will look like: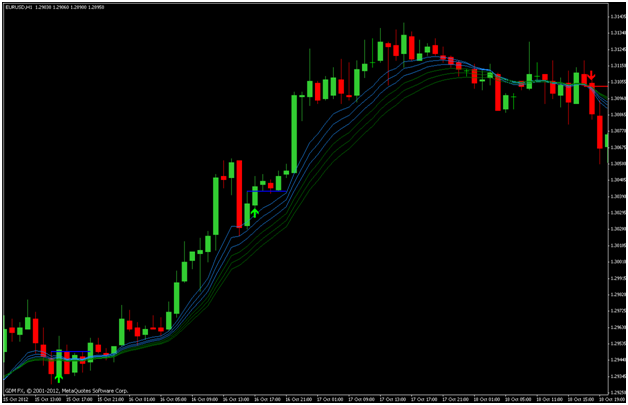 Notice the two green arrows pointing UP and notice how price…moves UP. Pretty cool; and I am sure you want to know how to quickly install the indicator on your charts and start trading right away. Well, I'm sorry but you have to put up with me and read a bit about the strategy itself. After all, if you would just place Calls and Puts according to the direction of the arrows without knowing the logic behind them…well, that would be just blind trading and that's not enough for me. So here goes:
The strategy is based on simple trend following and entering in the direction of the trend after a small retracement. As long as price is above the Moving Averages we will consider that we are in an uptrend and look only for Calls. Now, we must wait for a retracement towards the Moving averages. The strategy defines a retracement as at least three candles with lower highs. Don't worry, the picture is coming up. Once we have at least three of the described candles, we enter on the break of last candle's high. For a downtrend entry, everything is reversed.  Check the picture below to see a valid Call entry: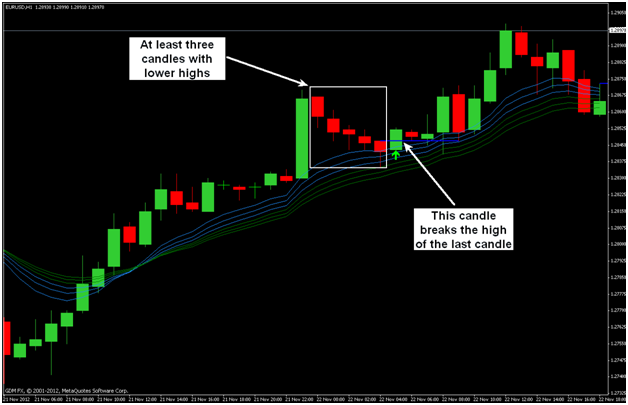 Here's a brief summary for a Call entry:
Price is above the Moving Averages
We identify at least 3 consecutive candles (more than three is good too) with lower highs
We enter at the break of the last candle's high
And the rules for a Put:
Price is below the Moving Averages
We identify at least 3 consecutive candles (more than three is all right) with higher lows.
We enter at the break of the last candle's low
That's it for the strategy itself, guys and of course the good news is that the indicator will do all the hard work for you, check if all the rules are met and print a corresponding arrow. But for that we need to install it on our Meta Trader 4 platform, right? So, more work ahead. Download the indicator and transfer it in your Meta Trader 4 "indicators" folder. For that, you need to follow the path C:\Program Files\The Name of your MT4 Broker\experts\indicators This path is valid if you installed MT4 on drive "C:\". If it's somewhere else, look for your "Indicators" folder and paste the new custom indicator there.
Click Here to Download Urban Towers Indicator for Binary Options Trading
Once you did that, close your Meta Trader platform, reopen it and follow these steps: click on Insert – Indicators – Custom – Urban_Towers. Now your chart will have the 6 Moving Averages on it and arrows will be printed when a Call or Put condition is met. Below you will find a visual representation of the steps described.
Why does "Urban Towers" Suck?
I have noticed that sometimes, even if the conditions are met, the arrow does not appear. That sucks, because I'll potentially miss some good trades. To overcome this disadvantage, we must make sure that we always look for trade setups ourselves and not rely only on the arrows. Also, when an arrow appears, check if all the conditions are met before entering. Being a trend following system, it's more likely to fail in ranging market conditions and give some bad signals, but then again, nobody's perfect.
Why "Urban Towers" doesn't Suck?
First and most important reason it doesn't suck is because it's a trend following strategy and entries in line with the trend are always more conservative and with more chances of success. Even better is that it gives me more than one entry in a trend, allowing me to increase my profits if the trend continues. I cannot help but mention the simplicity of trading using the visual help of the arrows. So we have a trend system and the arrows to indicate the entry. Simple and clean.
The clear conclusion
I like it! Yes, it's not the Holy Grail and it will give bad signals. But it's easy to trade and I get some extra confidence when I see the arrows agreeing with my opinion on a trade entry. Just because I like it, it doesn't mean you have to so install it and test it on a Demo account. Don't think I forgot about the fact that you still don't have the actual indicator. It is already available for free download on our Forums and at the bottom of the page. Enjoy!
Keep Discussing about Urban Towers Indicator with Bogdan and more Traders on our Forum!