False Millionaires Becoming an Internet Trading Sensation Over Night
This is yet another article about Scam… man, there's so much scam going around that it's almost not surprising anymore to hear that someone got scammed. However, there are different levels of scam and sometimes, even the guys who are supposed to expose it and to warn others, get duped into thinking it's a legit business and end up promoting it. You'll understand what I'm talking about if you keep reading.
UK Trader Become a Trading Sensation
The simplest way to make someone believe that you are successful is to show them how much money you have so the first thing a scammer would do is to flash his belongings in your face. And that's exactly what a guy called Robert Mfune is doing. Don't jump at me just yet, I am not saying he is a scammer, I am only saying that he is showing off his Gold Bentley.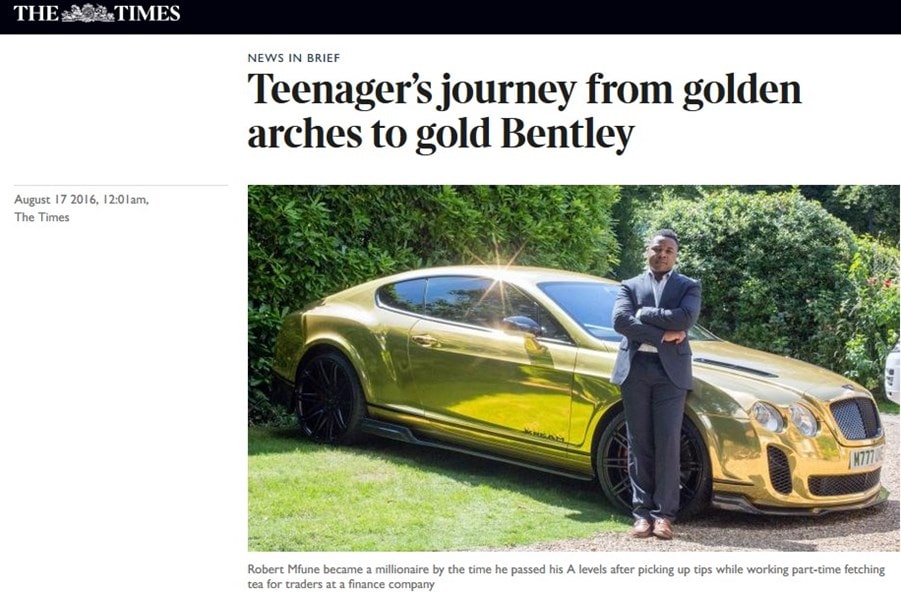 Ok, so we have this guy who allegedly made a ton of money trading Binary Options (and he has his car to prove it). According to him and several British media outlets, at age 16 he was working part-time at McDonald's and was also running errands and fetching tea for traders at a finance firm. At this firm he picked up tips and tricks and decided to start trading on his own… yada… yada trade… bla, bla… binary options…. Boom! Millions! Then he gets involved in funding a trading consultancy (www.dcttradinggroup.com) to help beginner traders achieve success similar to his…. then he creates his own website (www.tradewithrobert.com). Both websites are offering trading signals, basically working as affiliates for binary brokers.
The Problem And The Effect
I don't believe for a fraction of a second that this guy made a huge amount of money trading binary options. Sorry, that's me, I'm a sceptic. Maybe I am wrong and he is a natural born trader, maybe I am just salty because he is younger than me and he already made more money from trading than I did. Maybe this, maybe that but that's not the actual problem so let's get to it: several British publications, such as The Times (The Times, man!!!), The Daily Mail, The Sun and the Metro took his story and spread it around the internet as if this guy was the next best thing since Buffet, Soros and Livermore (well, maybe not quite like that, but you get the idea).
In their hunt for clicks and readers, these otherwise respectable media outlets forgot to verify their sources and didn't think to dig deeper into the matter. Is this guy a legit trader? Do we have any means of proving his claims? Nope, none of that… his story went viral and most people believed it, leading them into the "loving" arms of offshore binary options brokers, without proper regulation and shady practices. According to a financial crimes specialist at City of London police, in just 3 months Action Fraud has received 245 complaints/reports related to binary trading. The average loss is 20,000 GBP and the total is around 12 million GBP this year (so far). Of course, not all of these losses are due to the stories I mentioned earlier, but surely they had an effect on people looking for a quick fix to their financial troubles.
Someone Cared Enough To Investigate
Nope, it's not BOTS and I cannot take credit for it. The guys at Finance Magnates took the time to ask the right questions and to reveal the truth. Here's an overview of what they've uncovered (for the full story, read this article): Mr Mfune's Gold Bentley is a 2004 model and its cost ranges online between 25,000 and 33,000 Pounds. Sure, it's an expensive car… but not that expensive (oh and by the way, it's not made out of Gold). He allegedly crashed a BMW M3 while he was having his car painted gold and claimed that he wasn't very upset. Also, this gold car trend is starting to pick up as recently more "traders" are using it, starting with stories about a gold Lamborghini in January (also featured in UK tabloids) and a gold Rolls Royce… oh and they all crashed one of their cars at some point and claimed they didn't care much.
Finance Magnates representatives even signed up for Mfune's signals and asked for a free trial, which he agreed to, but only after they deposit with one of his recommended brokers (of course) When asked about his trading and whether he is authorized to provide investment advice by the U.K. Financial Conduct Activity, Mfune ceased all communication… it figures.
The Golden Conclusion
I often say that traders are too gullible, believing the lies of an account manager or a guru signal provider, but it seems like even journalists who are supposed to check their sources are easily tricked into writing about gold Bentleys and overnight millionaires. Maybe they don't believe the story either but they have to publish something that draws in readers and clicks…. Yea, maybe they have their reasons but by selling the story as true, they make people join shady brokerages and services like Mfune's or others like him. That leads to blown accounts and lost money and all that translates into a bad name for binary options so I think the golden conclusion is that you should stop believing success stories that seem too good to be true. Cheers to the true journalists out there!