July Trading Tips Results – Geeking Out On A Good Month!
Trading with the Geek Recap of July Trades – 27% Return of Investment!

After a string of only so-so months here at Communitraders Binary Options Trading Social Platform I hit a hot streak. July brought 5 Mondays and 25 trades for my Geek account, not counting the bonus trades I made each week. Be sure to check into my CT account to keep up with the bonus trades. Out of those 25 trades 5 are still open and only 5 others closed out of the money. This means 15 of my tips for July profited, leaving me with a 66.6% win rate for the month based on my tips. Because many of my tips expire outside of the month in which I place the trades there were a total of 25 trades closed in July.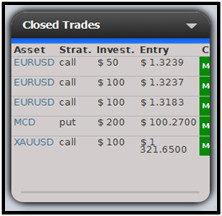 July Financial Recap – CommuniTraders Results

 Communitraders makes it easy to keep track of your monthly financial position. All trades closed in the month are listed by the date they close. Because of this I am changing the way I report my monthly win/loss ratio and profitability. From now on I will be providing all financial information based on what trades closed in the month, instead of on the tips for the month. Following the financial recap you will still find the usual recap of the monthly tips.
So, in July there were a total of 25 closed trades. This includes trades initiated in June that did not expire until July. It also includes all the July trades that closed in July. Out of those 25 closed trades a total of 17 were profitable. That is a 68% win/loss ratio. Two of the trades were half sized speculative positions, one winner and one loser.
Total cost of trading was $2400. Average return through CT is 85% with no rebate on losing trades which left me with a net return of $3052.50. Profits for the month equal $652.5, or 27.2% of investment.
Total Cost Of Trading = -$2400
Total Return On Winners = $3052
Net Profit/Loss = $652 (+27.2% return of investment)

The July Tips Recap – One by One

 July was a hot month for stocks, indices and currency. Taper fears, QE, economic data and earnings each added their own subtle twist to my analysis. The long term trends are still up in world stock indices and that is how I traded this month. I made a total of 5 tips for the SPX last month with one still open. Out of the four closed trades I profited on 3 and lost on one. This is a 75% win streak for closed trades.
DAX – Still Open
The DAX presented some interesting entries last month as well. I made a total of 3 tips on the DAX with two still open. The one close trade was a winner and the two open trades are currently in the money.
Japan Yen – 50/50
The yen trade was another hot mover in July. The USD/JPY breached the 100 level and then fell back sharply. Abenomics is working but how well it is working is still in question. Not only that, the resolve to see the plan through to the end displayed by Abe and Kuroda is also in question. I made a total of 5 tips on the USD/JPY with one still open. Out of the 4 closed trades 2 were profitable and 2 were losers.
Euro – 66.6% Win Rate!
The Euro made a big move in July as well, after breaking out of an apparent short term range. I tried my hand at a boundary option with the EUR/USD Binary Options pair and failed miserably. However, I made two other directional plays on the pair and both of those were winning propositions. I had a 66.6% win rate in this pair for July.
Gold – Great Pick
Gold was one of my better picks for the month. The long term bearishness displayed by the market helped to pinpoint some good entries. I made a total of five tips on gold in July with one still open. Out of the 4 closed trades 3 were profitable. August has seen a change in the gold market, volatility is back, and more trades in this commodity are on the way.
Apple – Going Up
I stepped back into the Apple market this month and finally redeemed myself. My long term love/hate relationship with the stock paid off. I played two call positions this month as the stock began to rise above the $400 level, both were profitable. The market is moving in this stock again so I will likely try my hand here again soon.
Stocks
I made one tip on Bank Of America. The banks are one of my favorite sectors and they made a big move in the June/July period. June saw some profits for me in JP Morgan, I followed it up with another win with Bank Of America.
 Follow the Geek's Trading Tips LIVE on CommuniTraders Social Trading Platform!