May Trading Tips by the Geek Results – Low Volume Month
Trading Tips from the Geek Recap – Low Volume Month
I don't mean the market, although trading volume is relatively low compared to historic levels. I mean the number of trades that closed in the month. There were 4 Mondays so I made 20 tips but I only had 17 trades close. This comes down to the combinations of expiry I used during May and also in April. There were not a whole lot of trades carrying over into the month of May and there are a few trades that did carry over into June. One thing that I want to point out is that going into the first week of June I had a streak of 12 profitably trades. Not my longest streak but a nice one none the less. So, what was my success rate for May? 70.5%. Out of the 17 trades that closed in the month 12 were profitable giving me a win ratio greater than 70% and much better than the 54% generally accepted as necessary to make money trading binary.
What happened in April, or should I say over the last month? Market fears alleviated, just like David Tepper said in an interview on CNBC. Fears alleviated and the markets returned to trend. The equities markets returned to rally and the gold market returned to decline. Currency markets were a little weird as the BOJ stood firm on policy, the ECB hinted at new policy and the FOMC kept on with their taper policy. All that really matters is that I made some money this month and that is a good thing. So, my total cost of trades closed this month was $3400.  My return on trades was $4400 for a net gain of $1000 or very nearly 30% ROI. This doesn't happen every month but it happens enough for my profit and success averages to be positive, high and on the rise.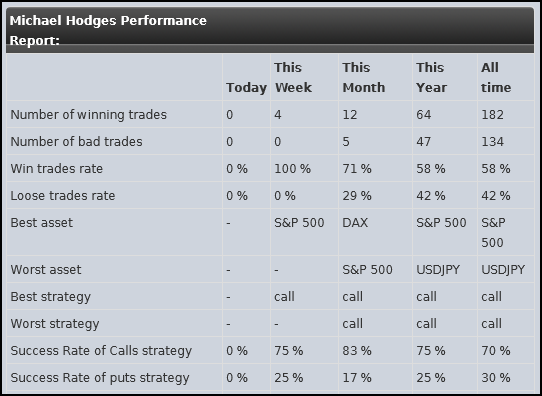 Total Cost Of Trades 17 X $200 = $3400
Total Return On Trades 12 X $370 = $4400
Total Profit = $1000
Recap Of May Tips
May itself was a pretty good month for trading. Not only did I have a high number of trades close in the money longer term trades made in the month, and the first trades of June, are all looking very good. As I said, I had a winning streak that carried into June with 9 profitable trades for the current month and a portfolio of positions that is about 80% in the money as of this writing. Three of the currently open trades are carry overs from May.
Week One – The Odessa Entry
This week the Ukraine was still in focus. It was just after the helicopter was shot down and the global markets were in retreat. I took the opportunity to fade the situation and produce some good results. This week as in fact one of the key weeks for setting up the streak of wins I have already mentioned. I traded monthly calls on the SPX and DAX that both profited as well a put on Gold that also profited. The remaining two trades, USD/JPY weekly call and Apple weekly call were a mixed bag. The USD/JPY failed on BOJ comments and Apple profited on earnings and stock split news.
Week Two – The Bulls Are Back
This week was marked by a strong rally on Monday morning in US and EU stocks. The Ukrainian referendum/vote was over the weekend and went off without much fanfare. Also, economic data was on the rise and reinforced by housing data released during this week. This is also a week contributing to the aforesaid streak; two monthly trades closed in the money, the USD/JPY call and the Nasdaq 100 call. Other positions included weekly calls on the SPX and DAX; SPX loser due to a dip at the end of the week and the DAX a winner. The last was a put on gold that was also profitable.
Week Three – Economic Dip
This is the week following the surprise retreat to support that cost me a trade on the SPX. A slew of data, some mixed but mostly good, was somewhat to blame. The dip however provided entry for a number of trades including a call on the SPX that profited as well as weekly calls on the DAX and oil. Oil prices were up on Libyan violence, gold prices down on data which provided a win with a weekly put.
Week Four – What Do We Do
This week met the markets with new highs and the question of what to do. Obviously the answer was to trade with the trends. I made five weekly trades that all profited and were a major contribution to my winning streak. Weekly calls on the SPX, DAX, and USD/JPY were all profitable as were my puts on Gold and Oil.