The Period Converter Script – A Tool for Endless Time Frames Possibilities
I'm sure that by now most of you have figured out a way to conduct proper technical analysis on free charting packages and disregard the hilarious ones provided by your Binary Options broker. If your package of choice is MetaTrader4 then this article is a must for you, but please be advised that if you are not quite familiar with this platform you first need to learn its basics here.
How does Period Converter Work?
Some Binary Options traders have strategies with different than usual expiry times like 2 minutes, 45 minutes or 6 hours. These traders usually complain about not having the possibility of conducting their technical analysis on charts with time frames that correspond with their expiry times. Well… little did they know that MT4 developers have thought about this and added a scrip named Period Converter which is intended to create nonstandard time frames. If you look at your MT4 platform in your "Navigator" window you'll see at the bottom a "Scripts" folder, double click on it and it will expand showing the Period Converter script.
Now let's say you would like to create a chart with 45 minutes candles, here are the steps you need to follow:
1. first thing to do is open a chart of your desired symbol and switch it on 15 minutes time frame;
2. then drag the Period Converter scrip over it and a dialog box will open;
3. on "Common" tab check "Allow DLL imports";
4. on "Inputs" tab you will have to enter how many times do you want this time frame to be multiplied by. In our example you should write "3" because 15*3=45;
5. click the "OK" button;
6. go at Files -> Open Offline – a small dialog box with a list of offline charts will open, here you'll also find your newly created 45 minutes chart, double click on it and the chart will appear on your screen.
Check out the pictures below, the fog will be lifted and you'll notice that it's not rocket science: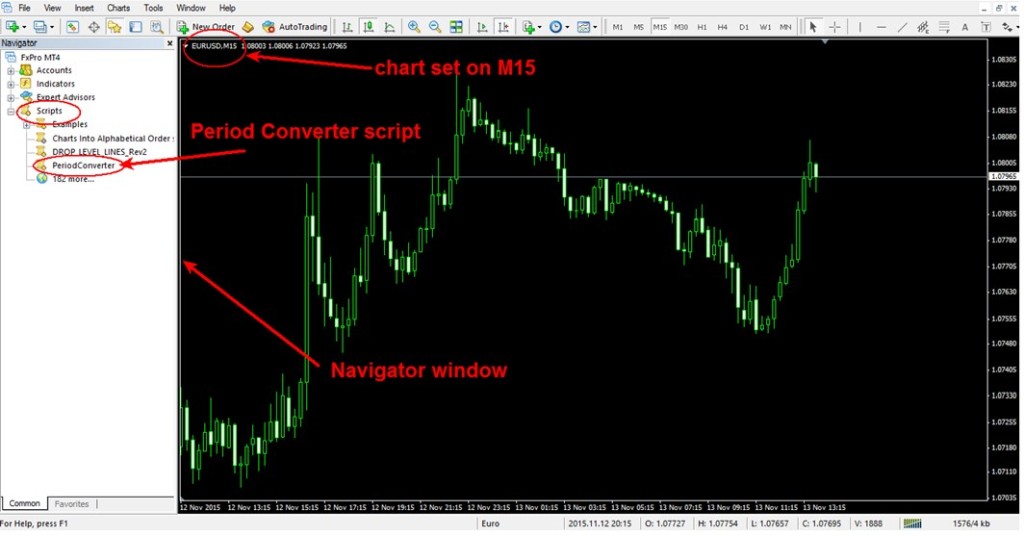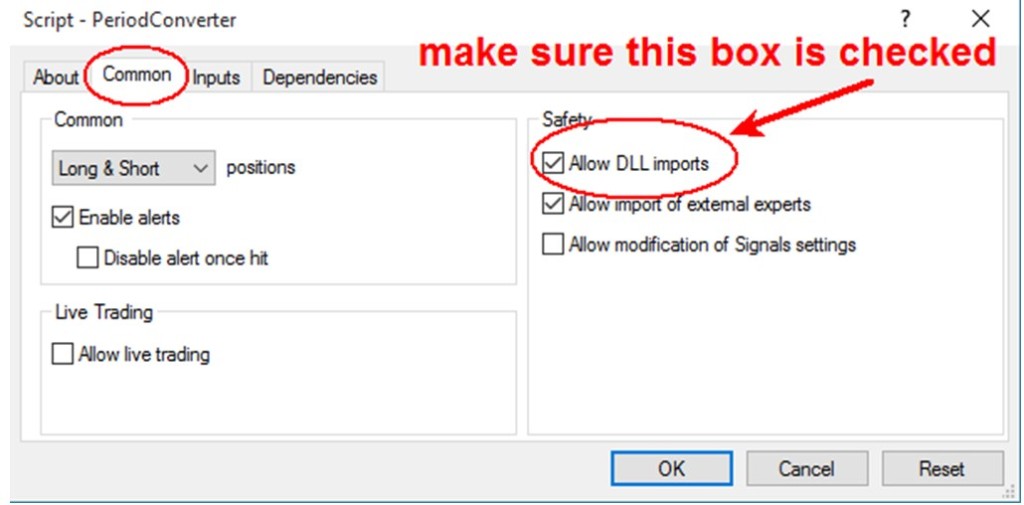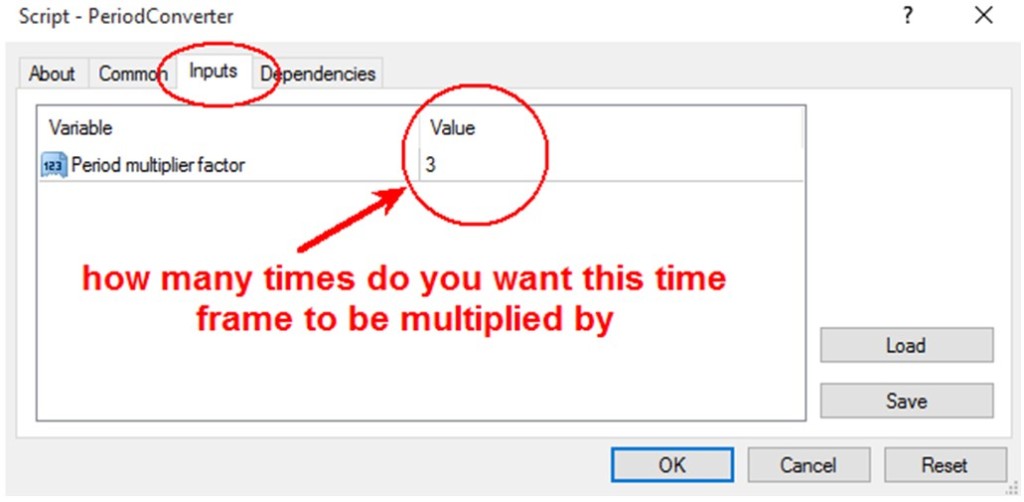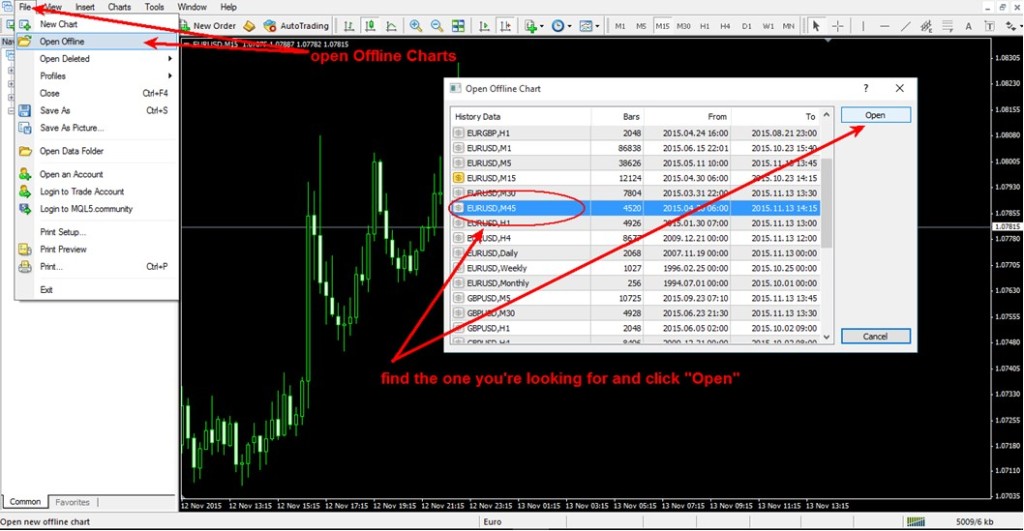 For any non-standard time frame you create you would have to follow the same steps as above and only make a few adjustments at points a) and d). For example, let's say you want a chart with 2 minutes candles: at point a) you'll need to open a 1 minute chart and at point d) set the variable value to 2 (because 1*2=2). Same principle with a 6 hours chart, at point a) the chart should be set to 1H time frame and at point d) the required variable is 6 (because 1*6=6, duh!). Of course you can complicate things and set the 6 hours chart also by opening at point a) a 1 minute chart and set the variable at point d) to 360 (because 1minute*360=360minutes and 360minutes/60minutes=6hours) but I'm pretty sure that you do not want all this math head ache… do you?
These offline charts will refresh every 2 seconds and the cool thing about them is that you can attach all your favorite indicators and they'll work the same as on a standard time frame chart. Don't believe me? Have a look for yourself: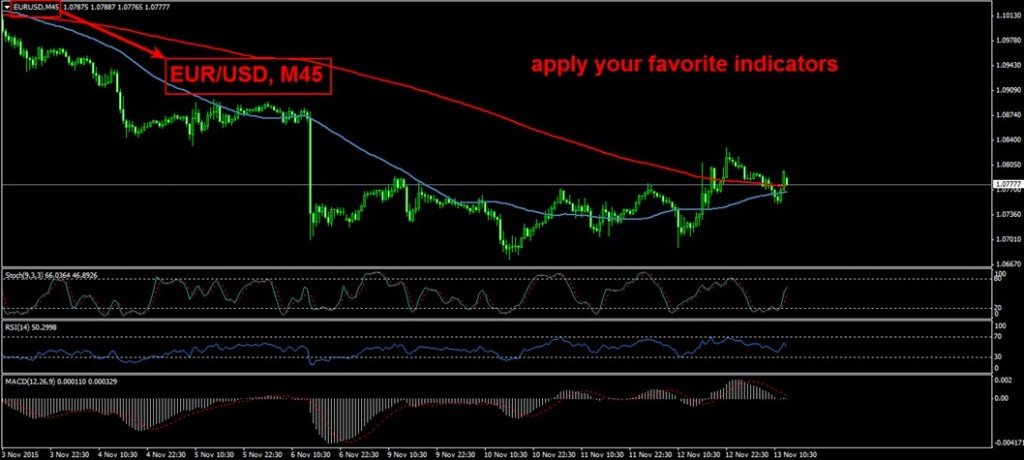 An important thing to remember is that you have to keep both online and offline charts open. If the chart opened at point a) is closed, the script and the offline chart will be disabled and you will no longer receive live quotes on your new cool chart. Also keep in mind that when you close your MT4 platform the same thing happens, so at every new log in you'll just have to reload the script on the online chart by following steps b) to e).
Why Period Converter doesn't Suck?
This script is a very cool tool to play with because it gives you the opportunity to test your trading ideas on a huge variety of time frames. Basically any time frame you can think of is a multiple of 1 minute so this means that you have endless possibilities of creating charts on which to conduct technical analysis.
Why Period Converter Sucks?
The only nagging problem that I found about this tool is the fact that you have to reload the script if you have previously closed your MetaTrader4. Just imagine that you have 10 symbols under your watch and every morning, before you can start looking for trade signals, you must repeat 10 times all the steps from b) to e). This can be a bit irritating, especially in those dizzy mornings when you overslept.
The Overall Conclusion: Is It Helpful?
If you have read what I just mumbled above you got a pretty good idea of how cool and helpful at the same time this tool is. It's the end of limited/standard time frames, with the help of this script you can go wild and test strategies on all kinds of time frames, who knows maybe you'll find something interesting on a 7, 66 or 100 minutes candle chart. Keep in mind that we appreciate any feedback from you so tell us on our forum what interesting facts have you uncovered. Cheers!