The Weekly Scam Watch – Fighting Scams Together
The Weekly Scam Watch – Second Edition – 10/1-15/2014
Today we continue our "Scam Watch" series with a few other comments posted by our readers. Yep, we actually read the "Comments" section so share your thoughts so we can fight scam together.
Sali Learns an Important Lesson on Trading Robots: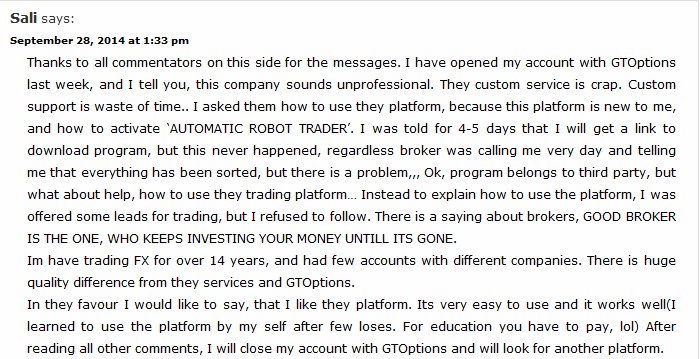 My friend, if you have been trading Forex for 14 years, I am sure you don't need any Automatic Robot Trader and that you could teach their so-called account managers a thing or two – thumbs up for not following their leads. Yea, it's laughable that you need to pay for education, but again, after 14 years of trading Forex… what could they teach you? Probably nothing that you don't already know. And anyway, if you are looking for a good source of UNPAID, FREE Binary Options Education, we have all you need in the BOTS Binary Options School.
To be honest, this guy Michael (or Alison…) confuses me when he talks about Cedar Finance: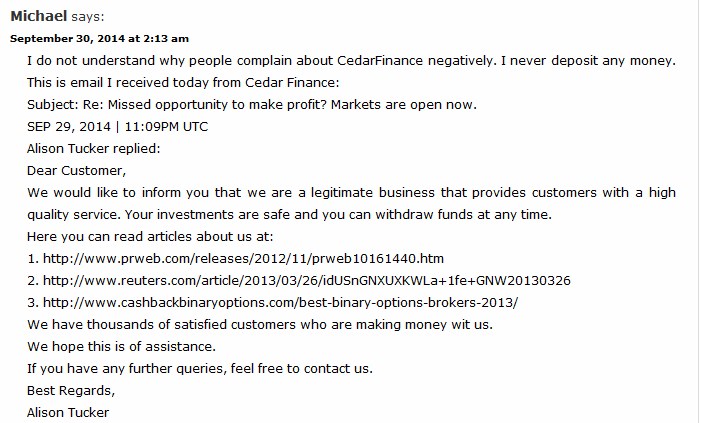 First of all he doesn't understand why people complain about Cedar Finance… and he never deposits any money. Does that make sense to you? So Cedar is a good brokerage because he (Michael) doesn't deposit money. I still have to digest that because I really don't understand how a broker can be good because someone doesn't deposit any money. Then he shows us that e-mail which is more of the same nonsense. The links are from PR websites and anybody can pay to be there so I don't see how that can mean the broker is top notch. What I have to say is that if Mr. Michael, or Alison (I guess he/she forgot what's his/hers stage name) is an affiliate to Cedar Finance, and not doing a great job. If he is a trader like all of us… how can he trade without depositing money?
We have our first Comment in the "Scam Watch" section, coming from Roger Willis: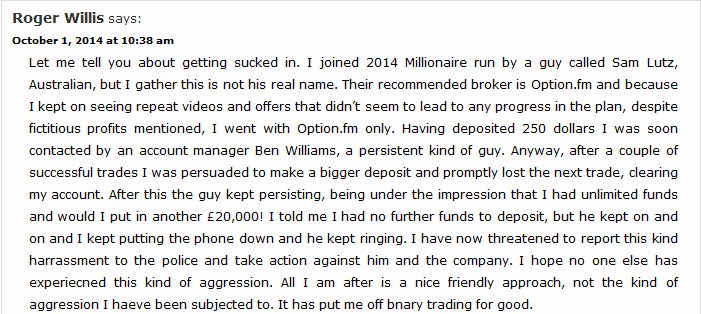 I think you should run away whenever you come across a "club", trading room, software, etc. that has "Millionaire" in the name. As for the broker, Option.fm… sounds like a radio station so it's better to go for well established brokers (check our recommended list). Account managers are supposed to make you deposit more because that's their job, not giving you extremely accurate signals. Remember, if you win, the money comes out of their pockets so don't expect them to be very keen to make you win. The story sounds familiar because pushing you to deposit more money is that most brokers do so just learn to say "No" and keep sending us stories to help others.
Next we have another guy unhappy with the signals provided by the account manager and with the fact that his money cannot be withdrawn:

So this individual broker you talk about works for Trader XP or is he a guy you met online? He promised you 10 thousand Pounds per month profit and you believed him? Why? You liked his voice? Sorry to say this but haven't you learned already that you shouldn't believe everything you hear online? Ok, then you tried to withdraw whatever was left in your account and they refused. It's time to contact the Commission/Agency that regulates this broker… oh, wait, I don't think they are regulated. Depositing with an unregulated broker is like asking for trouble. Did you try to contact them? What did they say?
 Scam Watch Comes Again Soon!
 That's for this week Scam Watch. We'll be here in 2 Weeks time, with more complaints, comments, feedback, or whatever it is you had to tell us, and we had to answer. See you around! Questions? Feedback? Suggestions? Leave a comments below, check in to our forums or contact us on Info(at)BinaryOptionsThatSuck(dot)com!