Trading With The Geek Recap – Looking Back At 2016
Looking back on 2016 all I can say is that money management and risk control is still the name of the game. The markets were largely range bound, if a bit volatile within those ranges, and trading for us longer term directional swing traders was a bit tough. A trade firmly in the money could easily see a swing out of the money before expiry while otherwise strong and reliable signals fizzled out in the face shifting fundamentals. What this means for me? That I got to do my trading, I did it without worrying over any one trade, was able to suck up losses as they came, moved on to the next trade and turned out another profitable year. Bottom line, I still don't have a real job and expect to keep on trading for a living on into the future.
I did make one major change to the Geek Account and Tips From The Geek; I've included NADEX tips to go along with the weekly trade set ups. The NADEX trades are posted each week in my trade diary and mimic the spot trades I've been posting all along. These trades are directional in nature and often take advantage of the leverage only NADEX can provide. The out of the money calls can return as much as 200% when purchased for $33 or so, easily 100% and much better than the average EU style broker. The ITM shorts (put position) credit as much as $65 to $70, depending on the underlying and strike etc.
Recap Of 2016 Trading
Honestly, when I went to count up my numbers for the year I thought I did much worse than I did. I seem to remember a number of losing months, 3 to be exact, and 1 that may as well have been, up +1.75%. What I forget about were the months when my win rates were 80%, 72% and a couple of others above 60%. This is how it breaks down. The total number of trades made in the Geek Account is 223, tips and a few extra and bonus trades. Of those I won 15 of them for a stunning win rate of 69.5% for the year. My total cost of trading was $111,500 (wow, that's a lot of trading) and my total return was $143,375 for a net profit of $31,875. That is a net return on trading of 28.5% for the year, we still have December to go, pretty kick ass for a hobby right? Oh yeah, and I'm going into the end of the year ranked 4th over the past 30 days.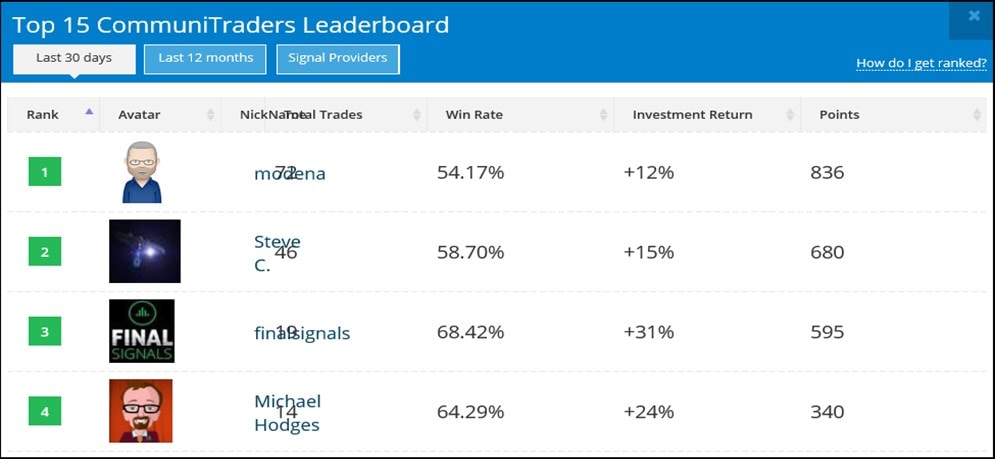 My Outlook For 2017
Looking back at my recap of 2016 it is scary how accurate my forecast for the year was. My target for the SPX was reached, not quite in my timing, and we are well on the way to higher highs. My forecast for the dollar, back to its old highs and maybe higher, and lower prices for gold, were both spot on. Check out this quote from last year.
"Equities markets are likely to rise. My upside target on the S&P 500 is above 2,200 and that may be reached by early summer. The dollar is also likely to rise back to its high and higher as the FOMC increases interest rates and the ECB and BOJ remain dovish. This will in turn lead to lower prices for gold, the potential for parity with the euro and the USD/JPY and new highs. Oil prices may stabilize near $35 but are likely not going to see much of a rise over the next year, bad for oil companies but good for the global economy, which leads back into corporate spending, labor, consumer spending and my targets for the S&P."
What's ahead for us in 2017? A continuation of the global secular bull market. The Trump election, while coming with many caveats, is win for the world as he unlocks the US economy and unleashes growth potential not seen in decades. The SPX will continue to rise, 2200 will be a number we see in the rear view mirror, gold price will bottom when inflation sets in and oil prices may rise with global increases in GDP. Nonetheless, gold prices will remain low relative to recent highs and oil prices will struggle to remain above $55 until later in the year, year end target near $65.