Behind the Brokers: The Binary Options Technology Providers
The Platforms Behind The Brokers – Who's on Top and Who Needs Work
It is a well known fact that many, if not most, binary options brokers are built on a white label platform. This means that a lot of the brokers you run into are exactly the same as another, in terms of trading at least. Some platforms are easy to spot, take SpotOption for example, as they are a prolific provider with hundreds of representative broker. A recent article and infographic posted on FinanceMagnates illustrates the point and more. There are dozens of platform providers, so many that a few top names were left of their list and a few names they mention were new to me. This is a quick peek at the top names, according to BOTS, and their influence in the binary options industry. Other platforms do exist but these are top names.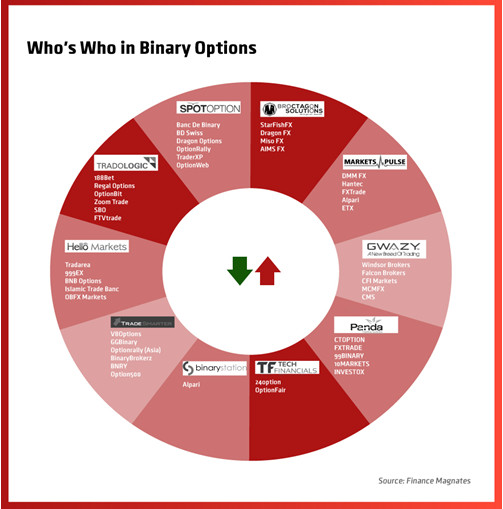 AnyOption And StockPair
These are two, independent, brokers built on proprietary technologies. They are also two of the longest running and most trusted brokers on the market. These two platforms operate in the unique way of being unique, there are no others like them, there are no white label versions lurking about. If you want to trade 0-100 you have to go to AnyOption, if you want incredibly versatile expiry you have to go to Stockpair. Both are incredibly good brokers and could easily choose to white label their platforms, they just don't. Each supports short and long term trading although StockPair has the best range of the two. Asset lists are full and include more exotic styles of binaries not found on the "average" broker.
SpotOption
SpotOption is another of the longest operating and most well known trading platform providers. This platform is also the basis for more brokers than any other platform on the market, spanning the range from ultra shady off-shore brokers all the way through well respected fully regulated brokers. On top of its large presence in the industry it is also the most versatile platform, offering total turnkey operations that include all types of binary, copy trading, CFD's and forex. Proprietary features available on this platform include iFollow Copy Trading (also called Spot Follow) and Ladder Options which provide enhanced opportunities for traders. The asset list is full and representative of all classes with expiry ranging from 30 seconds to 6 months.
TechFinancials
Is a leader in more ways than one. The platform provider is the name behind top brands like 24Options and Option Fair and is the only binary company currently traded as a public company. This business is in the business of trading and that is clear, they operate brokerages and white label the platform. There are a few brokers built on this platform but not so many you find them everywhere you look. Their operation as a public company helps ensure honest and fair dealing for new brokers as well as traders, along with CySEC, MiFID and FCA regulation, which may impede the opening of new brands. They have a full asset list with an emphasis on forex and support short term, intraday and swing trading. Options include high/low, touch and boundary with expiry ranging from 30 seconds to several months.
PandaTS
PandaTS first came on the scene in the form of broker CTOptions and has since expanded its presence. The platform is geared toward forex day traders but supports a full asset list and longer term trading. Options include high/low, one touch and range with expiry ranging out from 30 seconds to 3 months. Demo accounts and copy trading is also available. The Binary Replicator allows traders to follow 5 or more traders and copies their trades directly into their accounts. PandTS is one of the newer platforms but promises to be a long lived player in the market.
Tradologic
Tradologic has been on the market for a while but not always as a white label. It first started as a stand alone a broker and has since converted to offering turnkey white label binary options platforms. Now it is available on nearly 100 broker sites spanning the regulated and non-regulated world. Tradologic is focused on both European and Japanese regulation so can be found globally. Features include Binary 100, Ladders and their patented Multi-Trade system that allows up to nine trades at once, enabling traders to capture movement among correlated pairs. Tradologic also has Knock In options, options that include pending orders based on preset stop levels in order for them to function.
Tradesmarter
Tradesmarter is a newer platform to enter the market and yet another turn key operation for brokers. It doesn't have the broadest range but several dozen brokers are built on this one and the number grows each quarter. It features all the standard options; high/low, above/below, touch/no touch and range/no range. It also takes advantage of the growing trend in social trading with a charting feature that displays trades as they are being made. Other features include StratigiX, a tool that allows traders to adjust strike prices for above/below, touch and range options in order to maximize profits and for brokers to retain traders.
Keystone
Keystone is the platform behind names like EveryOptions and 24Winner. It come to us from forex provider Markets.com and features all the standard binary options. Although it has been around for several years it does not have the same presence as many of the other platform providers. One reason may be the trading interface, which is elementary compared to today's cutting edge brokers. An only average asset list as well as limited expiry is another reason it has not captured the minds of traders.