Binary Options Regulatory Update: OptionBit and OptionsXP Receive Regulation
OptionBit and OptionsXP are Now Regulated by CySec
OptionBit and OptionsXP, the leading Tradologic operated brokers, have now received full regulatory approval from the Cyprus Securities and Exchange Commision, CySEC. CySEC approval is recognized throughout the European Union and allows the brokers to operate in those countries. Now that CySEC has given the stamp of approval both brokers will be able to resume full operations in Europe and most importantly in Italy where trading had been halted. Italy is one of the toughest EU nations on the point of binary options and is requiring all brokers to meet with CySEC approval.
"CySEC regulation stamps it as a fact (that OptionBit and OptionsXP are trusted brokers) – we are here to provide traders with the best platforms and the best services in the most honest and reliable manner. Our mission is to continue to be the main player in the binary options industry." says company CEO in a press release following the approval.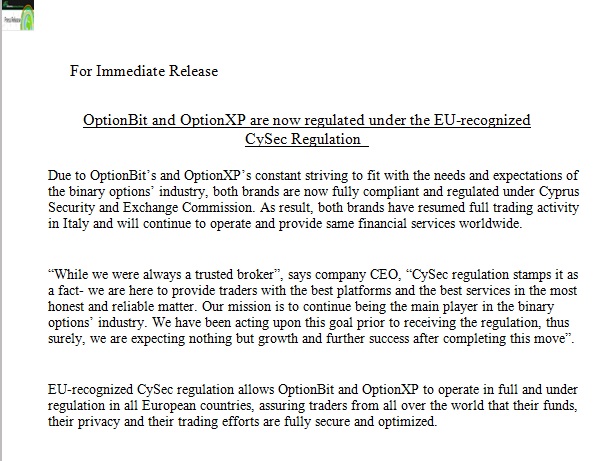 OptionBit and OptionsXP PR
Regulation Makes Trading (Slightly) Safer for EU Clients
CySEC approval has many advantages for traders and only one major drawback. CySEC regulated brokers do not accept US traders but offer the safest and most reliable binary options on the market. Compliant brokers must maintain client confidentiality, keep trader funds segregated in separate deposit accounts, operate with transparency and are subject to third party oversight among other requirements. Once approved, regulated brokers are also subject to sanction and other penalties for non-compliance with regulations. Once approved CySEC brokers gain access to all EU markets through the EU Financial Passport as provided in the EU charter, supporting and amending documents.
While CySEC regulation is improving the binary options market it is also helping to precipitate the industry into four categories with that lines that are becoming increasingly difficult to cross. These are European/Cysec binary options, US CFTC binary options, Japanese FSA binary options and then everybody else. A fifth group, binaries offered by established forex brokers, is also on the rise.