Binary Options Robot – Free Auto Trading Software Review
Robots, robots everywhere. Some promise you 1K per day, others 5K per week. Hmm, sort of the same thing, but the problem is that most of them fail to deliver. So what's the deal with Binary Options Robot? Is this the next best thing, the next hype-train? Nope, the software we are going to talk about today is free and is not a Crystal Ball type of thing. It simply copies a signal right on your real binary options account. How that signal is generated and how it works exactly is what we are going to find out next. Don't know what is a binary options robot yet? Better read this article above first.
Is the Binary Options Robot a Scam?
Well, from what we saw so far, it seems like a fair product. Looking at the results, I don't see anything too good or too bad, but at least it doesn't promise you the world. They don't sell the usual "get rich quick" dreams and apparently they base their signals on trading experience and market analysis. The website is not filled with tens of obviously fake testimonials and our assessment so far is positive but as always, keep your eyes open and don't invest more than you can afford to lose.
How Does Binary Options Robot Work
First thing you have to do is go to their website and create an account. This is free and doesn't take a lot of time. Once you've done that, you will be automatically connected to a broker operating in your country. I'm not sure which of these brokers you'll get assigned to,  so feel free to do your own research (browse through all binary options brokers review here) and take your pick. Once you've registered you will also gain access to a bunch of features meant to customize your experience with this software: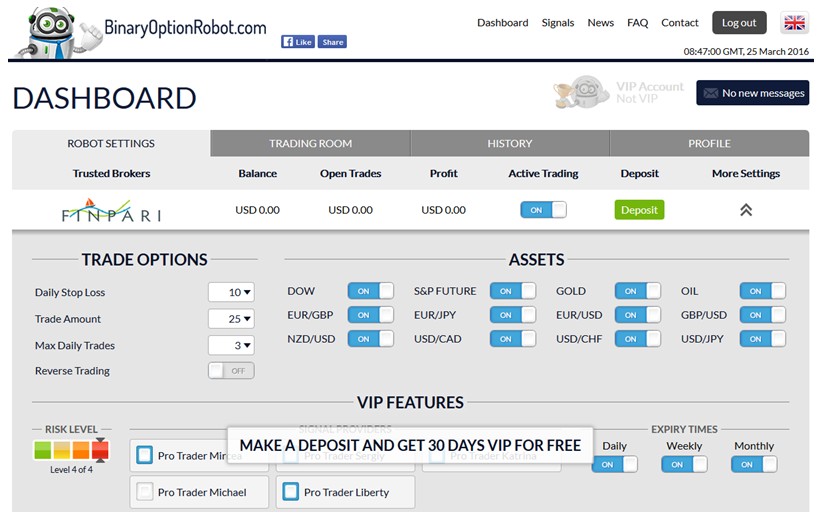 On the left side you will see the Trade Options which allow you to keep your risk under control:

Daily Stop Loss – here you will specify the maximum amount you are comfortable losing in one day. Hopefully it doesn't come to this but since the software is automatically trading your real money, it's safe to place some limits.
Trade Amount – this is the amount the robot will use for each trade. Of course a bigger sum will bring a higher profit but will also increase the risk so choose wisely.
Max Daily Trades – here you set the amount of trades that can be executed during the course of one day.
Reverse Trading – If you believe the signals generated by the robot are not profitable, you can choose to trade the opposite direction with the use of this feature.
To the right of Trade Options you will find the Assets. This section is self-explanatory: if you want the robot to trade a certain asset, leave the slider to "ON".
Below all that, you will find the VIP features which will be available once you make a deposit. You can select between Daily, Weekly or Monthly expiry times, choose your risk level and also choose which Pro Trader to follow. And this brings us to the signals and the way they are generated.
Binary Options Robot Signals and Algorithms
Their VIP signals are generated by professional traders Mircea, Katrina and Sergiy but on top of that, the signal service Avangard has been added in January 2016 and also the Liberty signal algorithm is available. According to the website, they "compare an indefinite amount of trading data from the previous years to predict the market changes". Once the signal is generated, the Robot automatically transmits the trade to your binary options real account according to the parameters you specified earlier (trade amount, daily number of trades, etc.). In order to get VIP account status you don't have to pay extra but instead you need to refer a friend and you will get 2 months free VIP. Referring more friends can get you years of VIP status so start making some friends.
Additional Costs and Expenses
As mentioned before, Binary Options Robot is free but you have to deposit with one of their recommended brokers and the amount differs from broker to broker. If you already have a binary options account with a broker (even one of their recommended brokers), you will have to open a new one through the Robot site because they make their money from affiliation links. Hey, this is not a humanitarian association, it's a business so they have to make their money from somewhere. At least they don't get it from you but from the broker.
Bottom Line – Does This Robot Suck?
It's good for newbies to have someone more experienced watch their backs so it might be a good idea to try it although it's not my cup of tea. Also, if you are a busy person and don't want to go through all the hassle of learning and then analyzing price movement on a daily basis, you can open an account (or more) with one of their recommended brokers and let them do all the work. Ultimately, you will be the judge of whether Binary Options Robot sucks or not but if you are looking for unattended and automated binary options trading, this might be the thing for you.