Cedar Finance Education Review: Fresh Face, Nothing New on Education
Full Review of CedarFinance Binary Options Education
Cedar Finance is a SpotOption powered binary options broker located in Cyprus. Cedar Finance is a part of growing chain of brokers powered by SpotOption. You can find the full CedarFinance Review here. I was surprised when I first logged on to the website; it was not what I expected. Any of you who are already familiar with SpotOption powered brokers will know that they are all very similar. Yes SpotOption is white label and yes each broker brands their site to their own brokerage but in the end they all look, operate the same. For the most part they also all have very similar educational resources. Of all the brokers in this category I have reviewed AnyOption remains the top choice for trader education.
My first impression of Cedar Finance was wow! This sit has got a really good look, a really professional feel and appeal that other brokers are lacking. Based on this first impression I was ready to dig into their educational tools, hoping to find they had followed through in this department. At first glance I easily found their contact info, links to live chat and the standard 1-2-3 how to trade binary options. They listed 6 separate phone numbers, I guess that is good. They also offer personal account managers and 24/7 access to the help line. What I did not find were any easily recognizable resource tools for traders. This does not mean they are not there, they just were not easy to find.
Cedar Finance Educational Resources Do Not Live Up To Claims
It turns out that Cedar Finance does have a long list of available resources they lump into what they call "training". The bad news is that none of it is very easy to find.  I only came across the information because I went to every page on the site. There are no links, ads or other information leading traders to these tools. Included in the training program are binary options information, site tours, seminars, 1-on-1 education, live chat, telephone tech support and a free e-book. The e-book was listed on the front page but was mislabeled as step-by-step. If I was looking for the e-book I would probably not have found it. As for the rest, I don't think it is anything other brokers do not have. Information on binary trading is flooding the web daily; we don't need any more of that. Site tours are good but are not really a trader resource; this is just an introduction into how to use the website, not how to trade successfully. The seminars were interesting but there is no listing of what is available or any kind of schedule. I clicked the live chat and was surprised by the response I got. My operator said they do not offer seminars, which the website clearly says they do….. I had to include a screen shot in case they change the website before you read this review.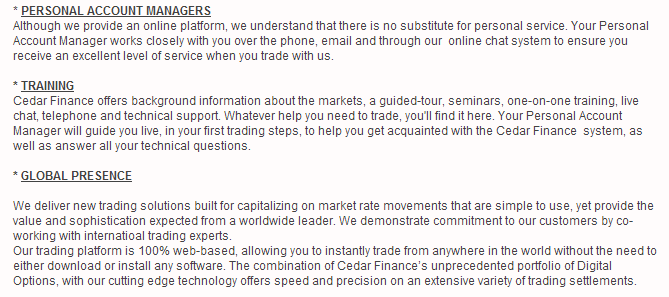 It Might Not Suck After All?

There are two parts that I do like. They have a free e-book that is very well put together. The only problem with it is that the information is barely more than the general info you can gather on your own through the websites; about us, binary options, one-touch, 60 second etc. For a newbie it will be great, it is a nice assembly of the information they will need. It offers nothing for more experienced traders. The other part of the site I like is the market updates. Cedar Finance has a daily and weekly market update that is free to read, requires no account and is actually up to date. I have found some other brokers with similar updates that either require an account to access or are last week's information.
My Last Word on CedarFinance Education

I think that Cedar Finance is sorely lacking in the educational resource department. The website is great and I think the broker can be trusted although I have not used them. They do not seem too interested at this time in educating traders on much more than the basics of how to trade binaries, which is really the basic on how to use this site and lose your money really fast. Not to mention the lack of seminars. Some actual classroom type activity for traders that goes beyond picking up or down is what will mark the next generation of binary options brokers. Until then Cedar Finance is not the best choice for continuing education.