Approved for Advanced Traders
FX Trend Binary Options Strategy – When Simple Gets Profitable
Full Review of the FX Trend Binary Options Trading Strategy

Looks like finding a Binary Options strategy is becoming harder and harder. Or better said: finding a good strategy is hard because just finding a strategy is easy. I've noticed that lately more and more binary strategies appear but there's no information about how long the creator used it or how well it performs. Just throw some indicators together and Presto! You have a strategy. After a lot of searching I came upon the strategy that I'm going to review today. Not the best, not the worst but certainly easy to use.
How to use FX Trend Binary Options Strategy
This is one of the simplest strategy I encountered in a long while and at first I thought it sucks big time, but then it occurred to me that many strategies use 4, 5 or even 6 indicators and sometimes the signals are so mixed that you cannot read a clear one and when you do it turns out to be an OTM. So why not go for a strategy like FX Trend which can be used by anyone who is not color blind. For this one we will only use one indicator; it's called FX Trend, duh. It is a custom Meta Trader 4 indicator available for download at the bottom of this article and it's used the following way: when it turns Green on a 5 minute chart, switch to a 15 minute chart to see if it's Green on that time frame as well. If that is the case, then buy a Call. For a Put you need the indicator to be Red on a 5 minute chart and Red on a 15 minute chart. That's it! Check out the picture below: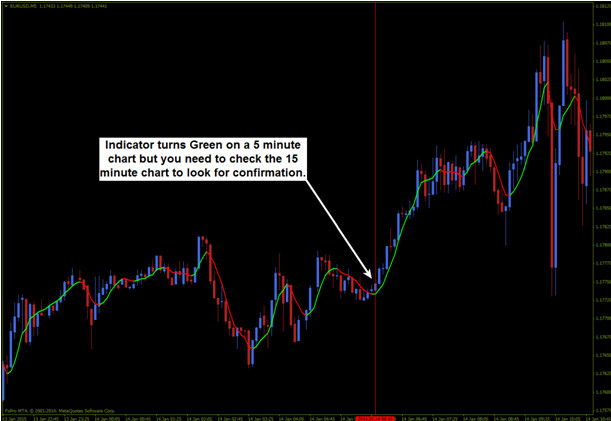 Ok so on the chart above is 5 minute and we still need to see if the FX Trend is Green on a 15 minute chart. Here it is: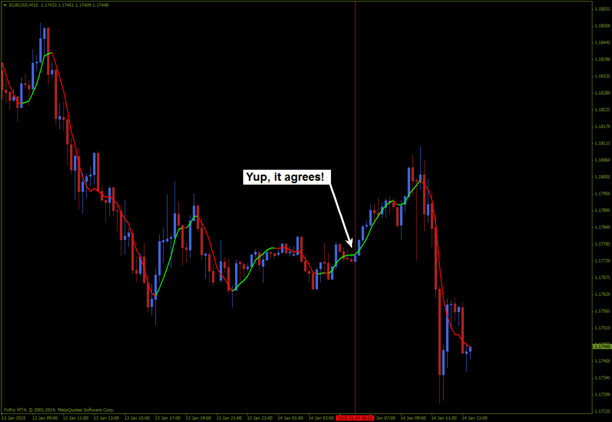 If the FX Trend on a 15 minute chart is also Green, you just found a Call trade according to this strategy. For a Put you need to see the indicator turn Red on a 5 minute chart, then switch to a 15 minute chart and see if it is Red as well. So to sum it up: you wait for a color change on the lower time frame then check the higher time frame for the same color. If they agree you take the trade, with a 15 minute or longer expiry time (this is recommended by the creator of the strategy but he mentions it's a discretionary rule). Piece of cake! I don't think the strategy needs further explanations because it's pretty straightforward so I am going to use this opportunity to give you a little tutorial which I am sure many of you will find useful:
How to install indicators on Meta Trader 4
(Download Indicators at the bottom of this page) If your indicators are archived (with extension .zip or .rar) you will need to download WinZip or WinRar which are available for free on the Internet (or at least their trial versions). Extract your indicators from the archive. If you don't know how to do this, Google it or unplug your computer and go read a book. Ok, assuming you managed to unpack the archive, go to your Meta Trader 4 platform and click on File – Open Data Folder. In the newly opened window you will see a folder named MQL4. Open it and inside you will find a folder named Indicators. Open that as well and copy there the indicators you unpacked previously. Close and re-open your Meta Trader 4 platform and go to Insert – Indicators – Custom – Name of the Indicator you want to attach to a chart. That should do it. Now let's get back to our strategy.
Why does the FX Trend Binary Options Strategy Suck?
I believe its simplicity is the reason why it could give mixed performance. In a choppy, sideways market, the indicator will change colors all the time even on the 15 minute chart so it would be a good idea to avoid trading when the FX Trend line is flat. If you can't stay away from trading is such conditions, at least use another indicator for confirmation.
Why the FX Trend Binary Options Strategy doesn't Suck?
Although it's simple, this strategy makes you trade with a higher time frame trend. By making sure the 15 minute chart always agrees with your trade direction, you are actually trading with the trend and this is almost always better than trading against it. Also, its simplicity might appeal to new traders who are just getting their "feet wet".
The simple conclusion
This strategy might not be a money-making machine, but then again, what is. I think it needs to be backtested and probably improved, but it's a good starting point, a good foundation for a more complex and possibly more profitable binary options strategy. Thanks to the people at forexstrategiesresources.com for sharing the strategy and thanks to the guy who coded the indicator.
Downloads Available: