July 2016 Scam Watch – GTOptions, UBinary and RBOptions
Bad brokers, scams and high pressure tactics, these will always have a place on our Scam Watch. Remember, the main goal of the Scam Watch is for you to see how low some brokers can go and to eventually stop giving your money away so easily. Sure, even the best brokers suck sometimes, because everybody makes mistakes but some of them are flat out hunting your money. Read and avoid at all costs.
Some harassment from GTOptions to kick off this month's Scam Watch

I hope this type of behavior from the broker's part deters you from giving them any money. It's pure harassment so you can only imagine how they would behave if they would get a hold of your money. Best thing you can do is open a Skype phone, get a number and use it for broker registration or any other type of contact with the brokers in the future.
UBinary is still up to no good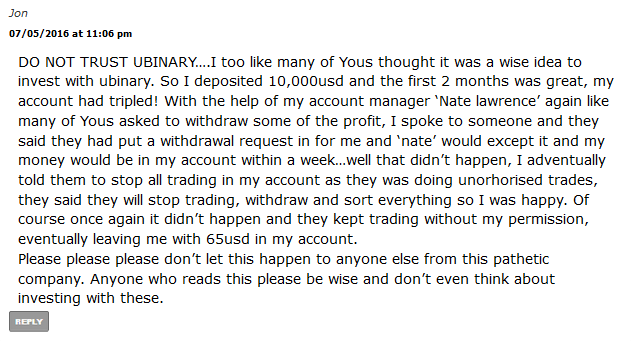 For quite a while now, UBinary has been working hard to drive their reputation through the ground. It seems that more and more people are having problems with them. Anyway, I believe it's a bad idea to give 10K to someone you don't know. Maybe start with a lower sum, make some withdrawals, test their honesty, and work your way up from there. Of course, I don't know your financial situation – maybe 10K is not a lot for you – but for me and many others, it certainly is. The best advice I can give you is to learn to trade and not rely on unknowns to make you money.
RBOptions – bonus trouble

Whenever you receive a bonus you will have some strings attached, otherwise everyone would deposit 100K, receive 100% bonus and withdraw 200K the next day – easy money. So it's very normal to have to reach a certain trading volume before being able to withdraw the bonus. However, I believe that client's money should be available at anytime! The broker should cancel the bonus if you want to withdraw and give back your deposited funds. On another mater, please read the Terms and Conditions in the future, or at least the FAQ and because you say your account is idle since January, please go right now and read the last paragraph on Section 4 of their Terms and Conditions. You might be owing them money…
365BinaryOption – somebody's not happy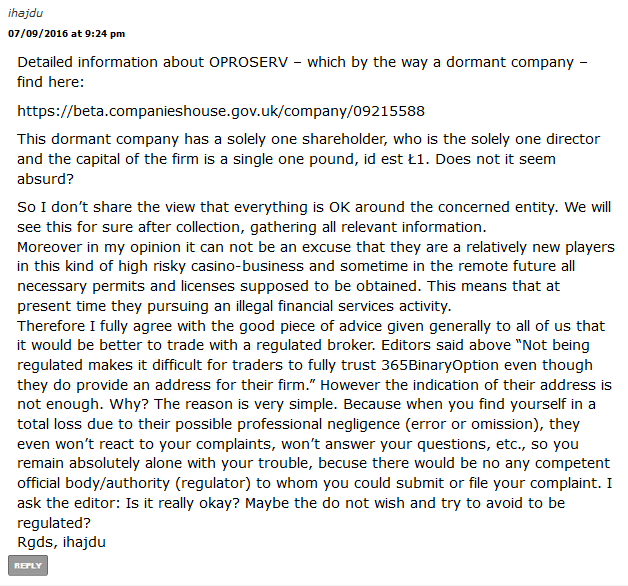 The indication of their address is not enough, I agree with you, but it's more than others are giving. You say you don't share the view that everything is OK around the concerned entity – are you under the impression that that is our view? Because we clearly say: "Overall, they are still new in the business and we need more information and preferably a regulation before we can be 100% sure 365BinaryOption is okay". Them being new is not an excuse, agreed, but makes us say: We don't know how good or bad they are, YET, hence the editor's clear opinion "… it's too early to judge" and recommendation: "unless we see an authority monitoring 365BinaryOption, trade with a regulated broker!"
Opteck is a gambling site according to Bernie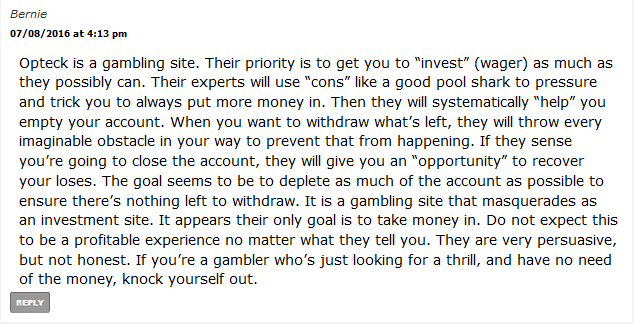 Don't expect to be profitable with any brokerage if all you do is trust their account managers to make you rich. That's just wishful thinking and will get you zero money. Everything is gambling if you treat it as such. If you drive a car without knowing how to, then car driving becomes gambling. Learn to drive, learn to trade and it won't be gambling anymore.
PWRTrade – Not all advertising is true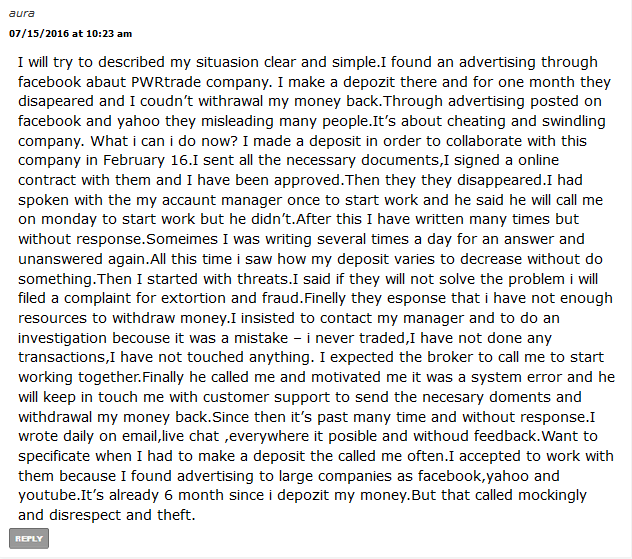 You say you've decided to invest with them because you saw their advertising on large companies such as FaceBook and YouTube? Guess what, these are big companies but almost anyone can advertise there. Just being on FaceBook or YouTube doesn't mean they will make you rich or that they will behave totally professional. In the future, please look for hard facts like regulation, read their Terms and Conditions, read what other clients have to say about them.
OptionRally becomes a regular of our Scam Watch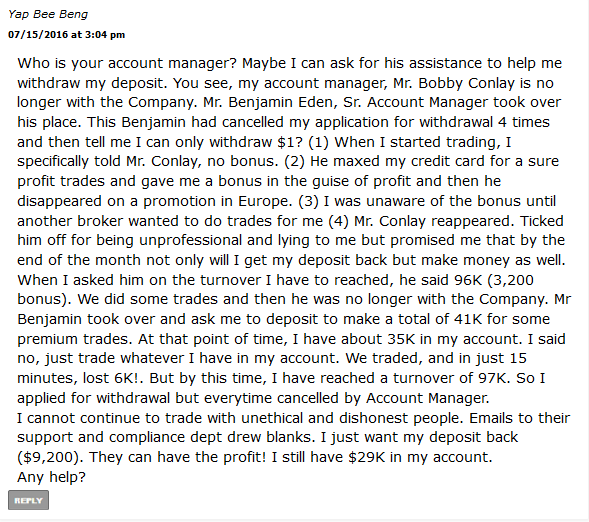 These are typical shenanigans pulled by brokers to make you deposit more and then to hold on to your money. One account manager promises something and then he disappears… As for the help we can give you: go to the CySEC and file a complaint because they are their regulatory authority. Inform the broker about your intentions and present everything as detailed as you can. For further information, please read this article: Introduction to Binary Options Regulation
Don't fall for autotraders!! Magnum Options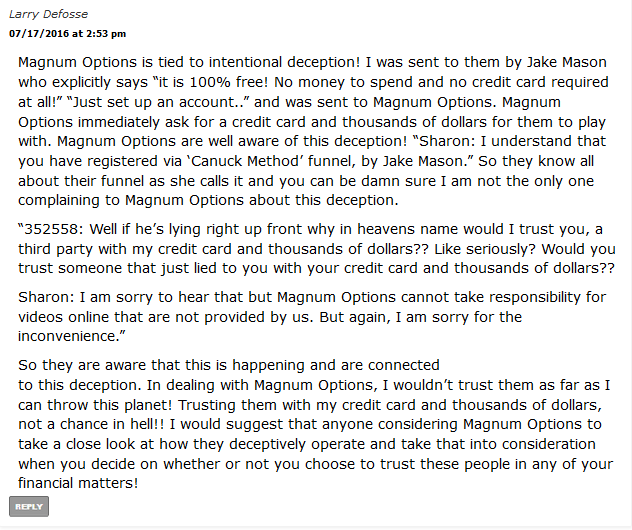 Look, I agree that brokers should not tie their name in anyway with third party robot sellers because if the autotrader/robot turns out to be a scam, surely the broker's name will be stained. That being said, I don't believe that Magnum Options can be considered a scam just because an autotrader directs you to them. Just avoid autotraders, robots and easy money making methods. Learn to trade for yourself if you want to be a trader.
UBinary and fully managed accounts – a big NO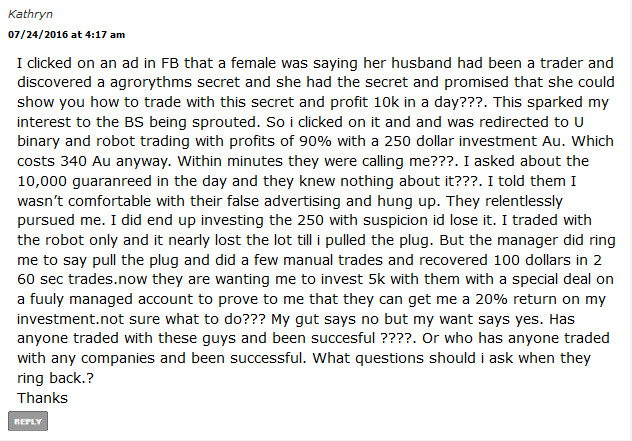 Wait, first you don't believe their BS and then you let them convince you? Please don't. A fully managed account is not a good idea and investing 5K is a disastrous one. Maybe some profits will be made in the beginning but not in the long run. About what to ask when they ring back, here are some ideas: ask for proof about the trading experience of your account manager (or of whoever will trade your account), ask for his credentials and whether or not he is a certified financial advisor. If he says, Yes, ask for his papers. Ask for his full details (personal ID copy, home address, utility bill) – after all, he has your details AND your money; isn't it normal for you to know who you are dealing with also? Ask for a written contract that will clearly stipulate his attributions, obligations and boundaries (how much is he allowed to lose before ceasing all trading, what is the biggest position he can open, how many trades he can open at once, etc., etc.). Ask about his risk management strategy (what will he do in case trading doesn't go as planned, how will he scale position sizes, etc.). If they present you with such a contract (highly unlikely), have a lawyer look at it.
Scam Watch Comes Again Next Month!
That's for this week Scam Watch. We'll be here in 4 Weeks time, with more complaints, comments, feedback, or whatever it is you had to tell us, and we had to answer. See you around! Questions? Feedback? Suggestions? Leave a comments below, check in to our forums or contact us on Info(at)BinaryOptionsThatSuck(dot)com!