May Recap – The Geek Is Creeping Up The Leader Board!
 Trading With the Geek Recap of May Trades – Now on CommuniTraders
Just one month after switching to Communitraders I have begun to make my way up the leader board. It has been a little tricky using Communitraders because the expirations are a little different than what I had been using on Anyoption. Even with the additional headwinds this month was another good month for me with a net gain to show for my trading. I made a total of 19 tips this month, weird I know but when reviewing the articles I only offered four trades the week of May 13th, an error on my part. Out of those trades three have yet to expire and will be reviewed in next months recap.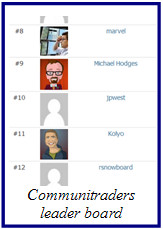 How Did I Do?
In total I made a total of 19 trades this month with 12 winners. This is a 63.15% winning ratio and an improvement over the past two months. Total cost of trading was $1900, total return on winning trades was $2220 for a net gain of $320 or 16.8%. This is not my best month but it is up there. One thing to note is that my average return is up using Communitraders even though there is no rebate on losing trades.
Total Cost Of Trading = -$1900
Total Return On Winners = $2220
Net Profit/Loss = $320(16.8% return of investment)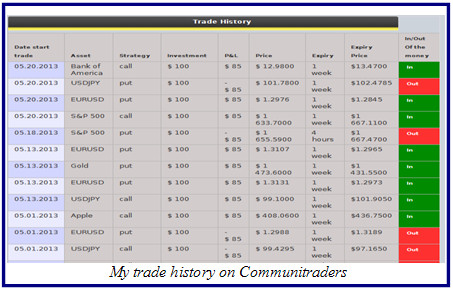 S&P500
My best asset was the S&P 500. I made a total of 4 trades on the index and won 3 of them. Even though I am bullish on the index I did not only trade calls last month. I made one put play going into the end of the month and it payed off. Cost of trading the S&P 500 was $400 and returned $555, a gain of 38.75%.
North American Stocks
After the S&P my best trades this month were on Bank of America and JP Morgan. I was bullish on the banking sector and used these two assets to trade it. I made three trades on the two banks and profited on all three of them. Total cost of trading $300, total return $555.
Japan
Next up is the USD/JPY trade. I also traded this asset four times this month, currently two were profitable and one is yet to close. The long term trend in this pair is still up so I think the last trade will close in the money as well. Cost of trading the USD/JPY was $400, so far it has returned $370.
EUR/USD
I was not so fortunate with the EUR/USD. This trade has been a roller coaster ride over the last few weeks with me a step behind much of the time. I made four trades on this pair and only profited on two of them. Total cost of trading $400, return $370.
European Markets
I ventured back into the European markets this month as well. Well, I made one trade in that sector anyway. My call on the DAX was met with success and yielded a win. Long term trends look positive for this market but the view is still murky at best. I may make a few more trades on the DAX in June but I will wait for after this round of data is out. Total cost of trading was $100, total return was $185.
Gold
Gold was my bane this month. My analysis is good, direction and trend is good but market fluctuation kept my out of the winners circle. I made four trades on gold and only managed to profit on one of them. Total cost of trading was $400, total return was $185.
Follow the Geek's Trading Tips LIVE on CommuniTraders Social Trading Platform!