New Binary Options Products and Features – Don't Miss Out!
There are new binary options products and features you may want to check out. The industry is evolving just as the regulators are changing in order to protect us better. But what is new in the world of binary options trading? We have been doing research in order to find an answer to that question and we found a few interesting developments. The main focus is on SpotOption and Techfinancials which are both about to introduce the new platforms and products with regulators and traders in mind! The question is, is this stuff really new or just good old binary options repackaged to sell better?


SpotOption – one of the largest white label platform providers.
Digital Contracts – New Regulatory Compliant Product
Digital Contracts is the name of the new and regulatory compliant product from SpotOption. This new type of trading reminds you of Nadex and is an expanded, enhanced form of SpotOptions ladder options. Digital Contracts are offered with transparency thanks to real-time prices and come with various advantages to the trader. For example, you cannot lose more than your investment and there is no margin trading, leverage or commissions reports Financemagnates, and the best part, trades are matched so market pressures dictate pricing.  Furthermore, SpotOption announced on their website that: "Digital Contracts are approved trading instruments by major regulators world-wide". SpotOption promises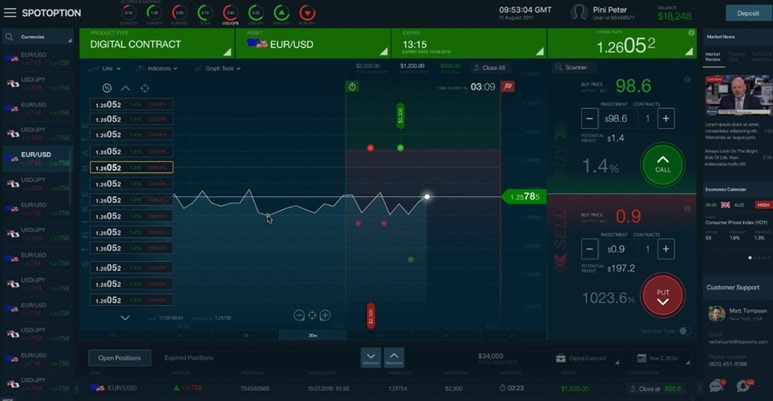 Spot5 platform illustrating Digital Contracts
Spot5 – SpotOption Focuses on Automation
Spot5 is the latest technology and platform from SpotOption which will also include the above mentioned Digital Contracts. The focus is on automation – both for the broker and the trader. On the broker's side of things, the automation is meant to cut down on the need for call centers and to automate sales and marketing while on the trader's side; Spot Algotrader is meant to help traders form strategies based on their analysis and skills. The trader will also have the opportunity to share or sell them!
This is an interesting approach but we already know how difficult it is to create a working autotrader platform, IQOption tried it and had a lot of issues with it, and that strategy normally require lots of experience in order to work well in the long run. On the plus side, once on strategy stops working, the trader may be able to just buy another one. Perhaps this new feature will become the competitor to all the robot/autotrader scammers out there today! Now, with strategies for sale directly inside a regulated and regulatory compliant platform, who needs to spend money on a random website offering a "fool-proof strategy"? It's too soon to draw a conclusion, for now, we can only speculate.
Techfinancials – Automated Funnel Engine
Techfinancials is also focusing on automating sales campaigns, management and products very similar to the Spot5 when it comes to sales and overall brokerage management. Another new product is PEAX by Techfinancials. It is much like the Digital Contracts and offers the "familiarity of binary while presenting the regulatory characteristics of Forex" according to Techfinancials.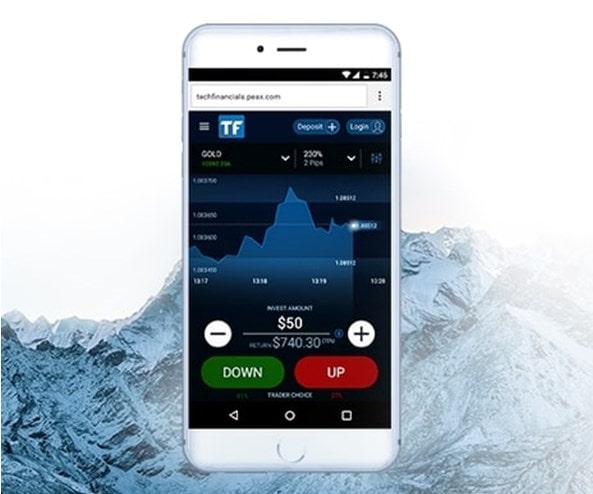 PEAX – new mobile trading product from Techfinancials.

PEAX will give the trader 3 outcomes, in the money, out of the money and at the money. The latter means that the trader gets his investment back if price neither goes up nor down.
Digital 100s – New Name Same Product?
Digital 100s is a product offered at IG very similar to Ladders, Digital Contracts and NADEX. These are pretty much rebranded binary options. Apparently, IG wanted to distance itself from binary options due to the bad publicity binary options have been receiving during the recent periods. On the plus side, you can close your position at any time and therefore don't need to wait for the expiry which is normally the case with many regular binary options providers.
Exciting Futures – Will it Satisfy Everyone?
This article focuses on the two giants, Techfinancials and SpotOption, but there are many other platform providers so it remains to be seen what kind of new products they will all come up with! There are also proprietary platforms unique for certain brokers and there could be new products being produced as we speak. Both the SpotOption and Techfinancials platforms look fresh and exciting but will it really become a game changer for traders and keep the regulators happy at the same time? There are many players to please and I guess we will just have to wait and find out for ourselves!  No matter the outcome, these new trading styles are a boon for traders and something I hope sticks around for a while.