September Scam Watch – TopOption, Opteck, GTOption and More
The Monthly Scam Watch – Scammers Can't Get Enough, We As Well!

Bad Brokers, account managers and people who think trading binary options means giving your money away for others to trade – all these are realities of the trading industry nowadays. Will it change? Probably, but don't hold your breath.
Topotion… once at the top

Spread for binary options? How does that work? Please explain. Anyway, a spread of 0.1 (or in excess of 0.1 but lower than 0.2 or otherwise you would have said 0.2) does not make trading very difficult, at least in my opinion. How can you have a 61% accuracy and lose all your investment? You traded a bigger amount on the losing trades? Did you double up on your losers? Bad money management? So many questions, but if you had poor risk management, how is that the broker's fault?
Wow Helen, this is quite a novel on Opteck (to read the rest of the comment please head to page 18 of the Opteck Comments section)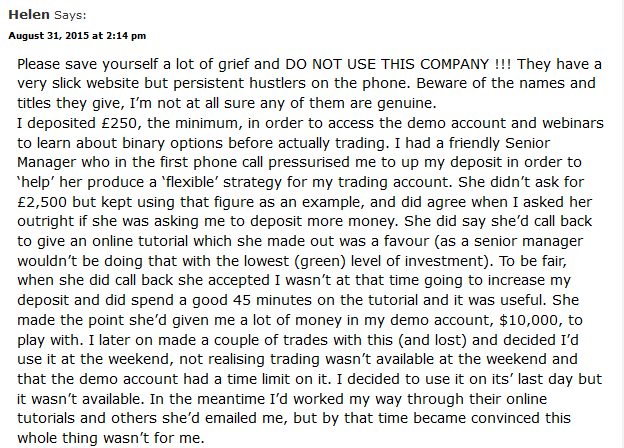 Well, you're right: if you want to get your money back you shouldn't need to explain anything to a broker's representatives. You want it and that's that. Your friend is also right: it's a cheap lesson. Just make sure you don't make the same mistake twice.
GTOptions is rushing clients to deposit more and more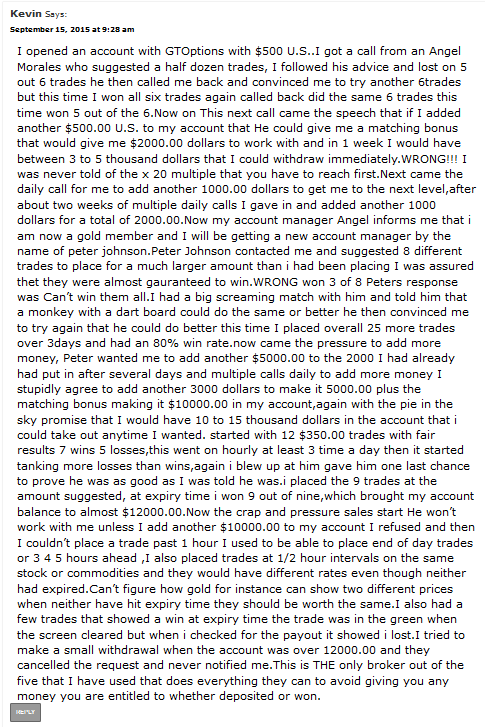 I've said this many times before and I will say it as long as it needs to be said: do not let brokers play mind tricks with you and never deposit because they give you a good sales pitch. You wouldn't buy a refrigerator if you've just bought one the other week, right? Now why would you deposit more and more? Because of the pressure they put you under? Yea well when they pressure you, that's the first sign you need to take your money someplace else. Oh and did I forget to say AGAIN that you shouldn't let your account manager to trade for you?
For the next complaint we stay with GTOptions (to read the entire complaint head to the 7th page of GTOptions comments)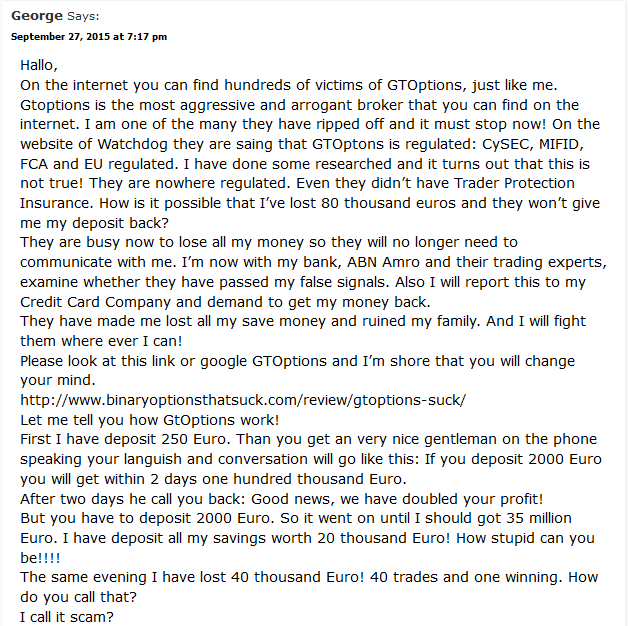 I don't understand. Sorry, but I don't understand how you got from wanting to deposit 250 euros to depositing 20 thousand euros. Not only to deposit, but to let others trade for you. Do you know their credentials? Did you ask for performance proof for the last 2 years at least? Did you ask for how many years the guy was trading? What is his experience and what markets is he better in? What is his money management plan for your portfolio? You didn't ask? Then what can I say…
CedarFinance hasn't visited our Scam Watch in a while but they can't stay away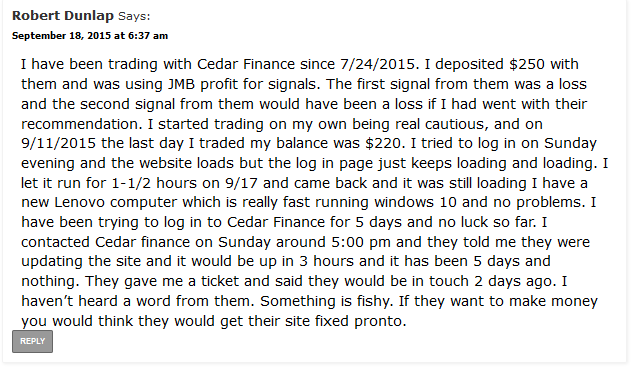 Call them on the phone and tell them you want to make a withdrawal because their website cannot be used. Maybe that will speed things up a bit. But anyway, if that doesn't work, it means they've made money even without having a working platform so in this case the last sentence in your comment is not so accurate.
Bloombex and their "professional" account managers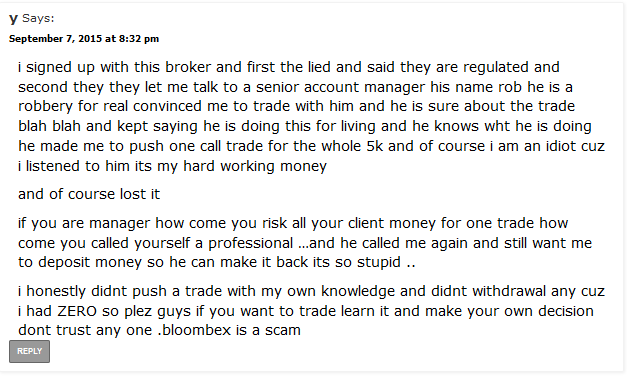 What brokers are doing – lying about regulation and trading in your place – is wrong, no doubt about it but you, the client, must stop listening to them. Come on, your account is 5K and some unknown dude says Put it all in one trade and you listen to him? Because… that's what trading is about…
UK Options and weird bonus requirements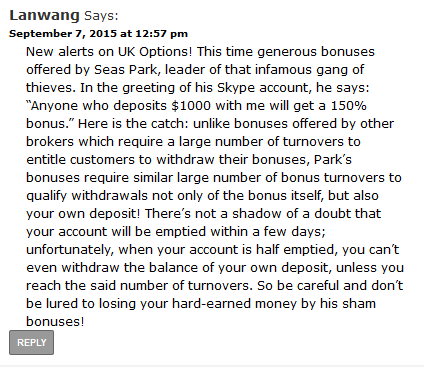 I know it sounds crazy for brokers to limit YOUR access to YOUR money but unfortunately it's a reality. The best way to protect against such idiotic conditions is to read their Terms and Conditions before depositing. Don't get lured in. Not all brokers operate this way but a few bad apples still do.
MarketsWorld clarification from one of our readers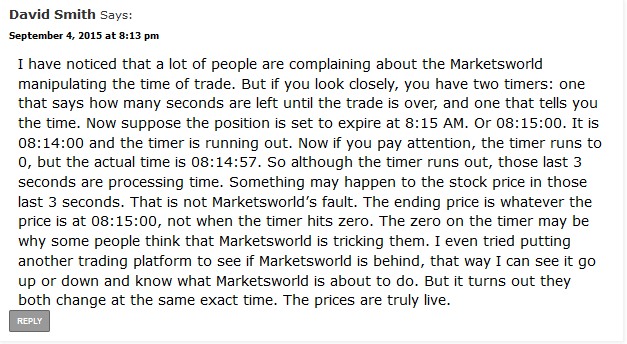 Ok, thanks for clearing that up. Now everybody knows. Anyway, I believe that the trade should expire when the expiry counter reaches zero, not three seconds after. If I trade 30 seconds options, three seconds is 10% extra (that's a lot). On 60 secs it's 5% more – still much.
Next we have a complaint about… difficulties to contact us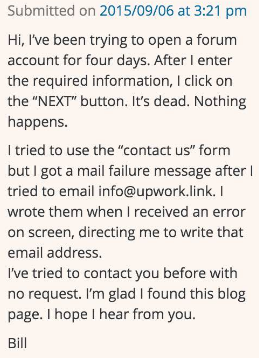 You do know that we have a "Contact Us" page, right? It's a few centimeters to the right of the page you posted on. Can't miss it if you already know where the "About" page is. About forum registration not working: try a different browser and try clearing your cookies and that other thing you can clear… or email support (Contact Us page); they'll know what to do.
OptionRally up to the same tricks as most others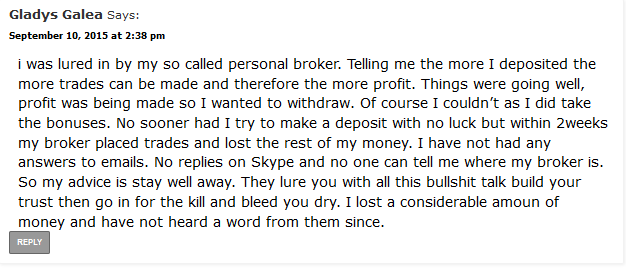 Protect yourselves as best as you can. At least do something as simple as reading Terms and Conditions before depositing. Or google the company, or read a review, or read what other clients have to say about that company on forums. Just a tiny effort will get you a long way. Yes, they block your money until the bonus turnover is reached – that's BAD – but did you read the T&Cs? If they say that in there and you agreed to it… And about your personal broker losing all your money: why is he/she even touching your account? You should be trading, not someone else.
Scam Watch Comes Again Soon!
That's for this week Scam Watch. We'll be here in 2 Weeks time, with more complaints, comments, feedback, or whatever it is you had to tell us, and we had to answer. See you around! Questions? Feedback? Suggestions? Leave a comments below, check in to our forums or contact us on Info(at)BinaryOptionsThatSuck(dot)com!