The 5×5 Simple Binary Options Trading Strategy
Full Review of the 5×5 Simple System for Binary Options Trading

This is a simple forex strategy that was posted on forex-strategies-revealed.com by Edward Revy. It's a simple system that only uses two indicators. I like simple strategies that only use a maximum of two indicators. No messy charts, not too many rules to keep on your mind, just as easy as; 1, 2, 3 Trade! Another good thing with choosing a simple strategy is that you can always add another indicator/rule that you like without overwhelming yourself. This strategy uses only an SMA and RSI, both running on period 5. Hence the name 5×5. I tried tweaking the strategy to fit Binary Options trading and I've some suggestions on how you can improve it! First, let's see how it works.
How Does the 5×5 Simple System Work?
This strategy uses only two indicators; 5 SMA and 5 RSI. Add those to your chart and set only a 50 horizontal line for the RSI. We are supposed to use it to monitor a daily chart on any currency. First, a daily candle must cross above/below the 5 SMA. When this candle is closed we have to wait for a new candle (next day candle if it's a daily chart) to open and move 10+ pips above the previous high or in the case of a put; 10+ pips below the previous day's low. For calls, our entry is valid only if the RSI is above the 50 line. For put options, our entry is confirmed if the RSI is below the 50 line. Take a look at the following picture: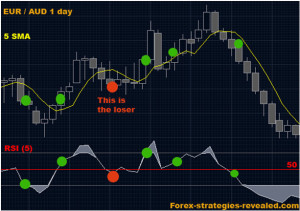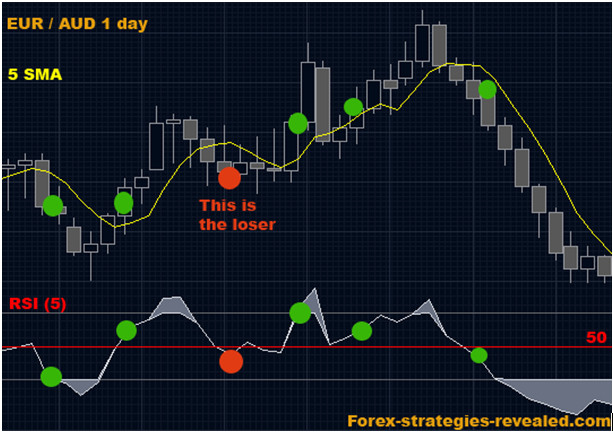 Some of the valid entries are marked with green circles. The loss (red circle) in the picture could've been avoided.
Find out how, keep reading!
Entry Rules
Call Option: Wait for a daily candle to cross above the 5 SMA and close. The next day, the new candle should move 10+ pips over the previous day's high and you will only enter if RSI is above 50.
Put Option: Wait for a daily candle to cross below the 5 SMA and close. The next day, the new candle should move 10+ pips below the previous day's low and you will only enter if RSI is below 50.
To avoid more of the losing trades, it is recommended that you trade in the direction of the trend. It is also wise to use support and resistance lines to see whether an important price level is going to hold or not, or produce an otherwise unforeseen hurdle. Keep in mind that discarding non trend following signals would have kept you out of the one losing trade pictured above!
Why Does the 5×5 Simple System Suck?
Yes, I'm with you on this, the waiting is just painful. I have to watch an entire daily candle to close above the SMA only to go and take a nap and come back next day hoping the next daily candle will close 10+ above the previous one and THEN I can trade! I know patience is good but this takes it a bit too far, at least for binary options. Another issue is obviously the fact that once you've waited for such big moves to occur you might end up entering just as a retracement is about to take place.
I could add that the strategy ignores the trends but I think it's up to you to not trade against any trends so it isn't really a drawback of the system itself.
Why Doesn't the 5×5 Simple System Suck?
This is a user-friendly, understandable strategy and you can quickly memorize all the rules that you need to follow. If you trade with the trend, the strategy actually gives you good signals in the direction of the trend since it is using a trend identifying indicator (SMA). The RSI is a great tool too and gives the extra confirmation you need. The 5×5 strategy is a good template if you want to add your favorite indicator for improvement.
Start Simple, Finish Advanced!
You don't need to have a complex strategy with all of the MT4 indicators installed on your charts to make money. In fact, that would be among the stupidest things you could do. Keeping things simple is often the best approach. The 5 SMA and 5 RSI are good enough but I strongly recommend taking my advice on adding support and resistance lines to your charts! This method will improve the 5×5 Simple System and lead to more winning trades. Another tool I can recommend to those of you still not able to draw S/R-lines is the Stochastic Oscillator. It'll help you find the support and resistance areas much easier. Try it!
Having to wait a day or two just to get a signal might have already scared away a few you out there. Don't worry, I've checked the lower time frames and it looks like we can pull this off with lower expires as well. There's only one problem; waiting for a 10+ pip move before we enter could mean disaster if we are trading less than 4 hour expires. I know for myself that most of my trades end somewhere between a few pipettes up to, at best 10 pips away from my target before the trend completely reverses on me. So I wouldn't want to wait that long before entering. Therefore, the next best thing to do is to wait for a candle to close in the direction you want to trade in. Pay attention that in the picture above, using S/R-lines you can clearly see how previous lows have become resistance for the following high. We are still obeying the rules of the 5×5 strategy, the RSI is below 50 for our three puts and candles are beneath the 5 SMA. As a third rule, I've added the S/R-lines you see in the picture above. Plenty of confirmation to enter the trades!
Continue talking about the 5X5 Strategy on our forums!