The August Scam Watch – Opteck, Cherry Trade, RBOptions and More
Monthly Scam Watch, Eight for 2015 – August Complaint Report
The binary options industry is full of bad apples. Some of them are scam, others are just scum but we don't need any and we bring them to your attention so you can avoid them. Here's what our readers have to say about some binary options brokers and service providers:
Opteck is the first on our list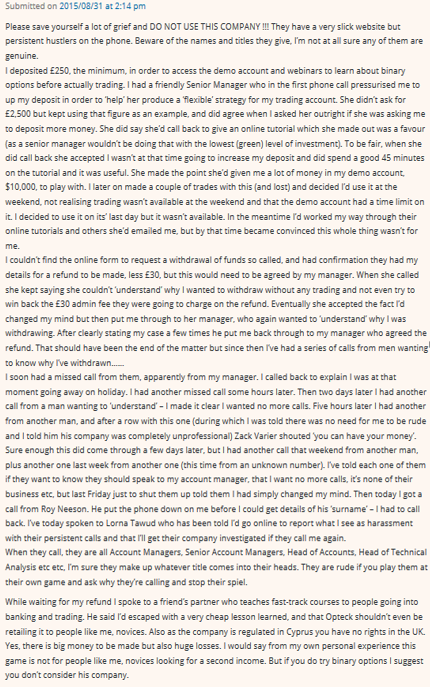 Helen, welcome to the binary options jungle. What you describe is common behaviour from second rate brokers. They keep calling and calling and always want you to deposit more as if money grows on trees. Also, I am surprised that their CEO didn't call you… after all, 250 Pounds is a sum worthy of a CEO's attention and all other upper management staff called you from what you are saying. Anyway, I agree with your friend's partner that this was a cheap lesson but it shouldn't keep you away from binary options; you just need to pick better brokers.
The next one is a bit weird. I don't have a lot on info, but here goes: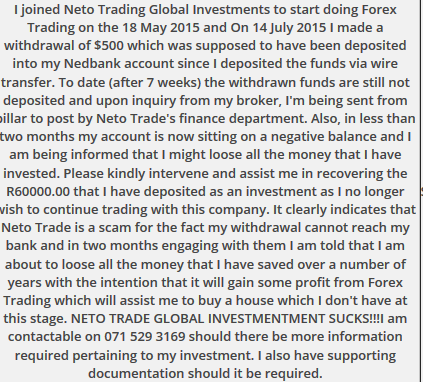 Look guy, whose name I don't know: I've never heard of Neto Trading or Trade or whatever but, if you deposited with a Forex broker with the intent of trading Forex, thinking that you will buy a house with profits made from Forex, we cannot help. We are not some sort of authority in the field of financial trading, we are not the police or judges. If you have proof of their misconduct, as you say, then go to the police, go to their regulatory authority. Think ahead, Think BEFORE depositing!
Cherry Trade… wasn't there a signal provider nicknamed Cherry Trade just before Chery Trade (the brokerage) was launched? Hmm…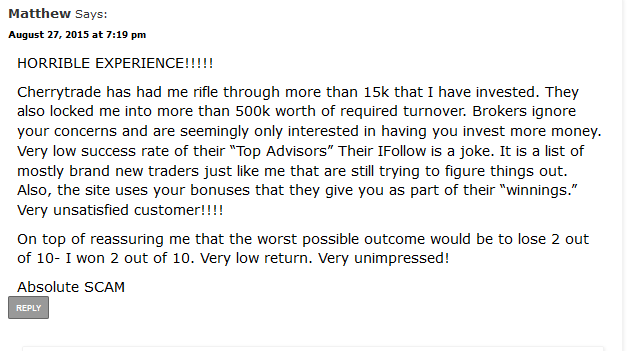 How? How did you manage to "rifle through" 15K??? Did you let them trade for you? Or traded yourself based on their advice? Either way, at some point, when you see the results keep disappointing, why didn't you stop? Was the "rifling" done quickly? If that is so, it means the amount per trade was huge. It also means you trusted complete strangers with big amounts of your money. Anyway, thanks for letting others know your experience. Maybe they will not make the same mistakes, although I highly doubt it because this is one of the most common mistakes around.
A complaint… or something about Banc de Binary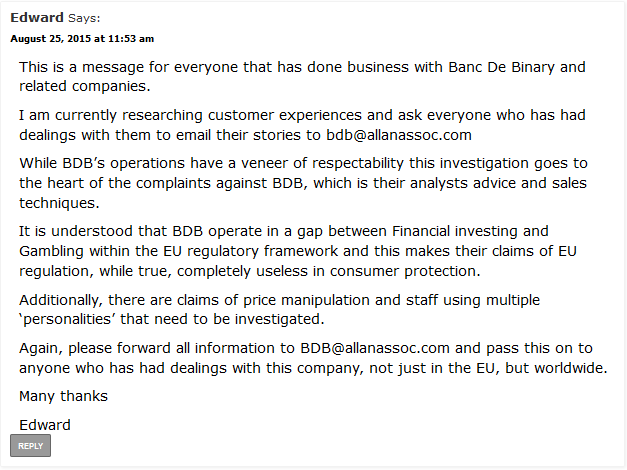 Sorry, what's your point again? Have you been scammed? "Multiple personalities" yeah right, everybody does it… unless you think George White, John Johnson or Bruce Waynne are the real names of people employed by brokers from Cyprus or Belize…
RBOptions – let's give them our money to trade and then complain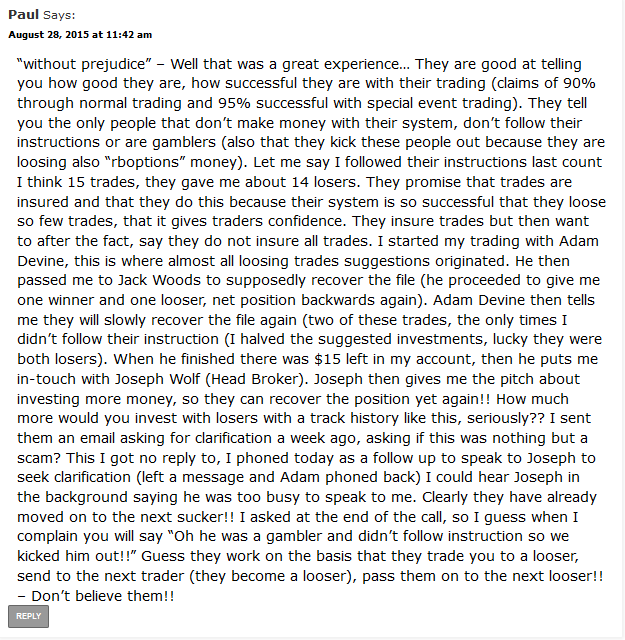 Paul, did you like fairy tales when you were a kid? I liked them a lot but guess what: I stopped believing in them when I was about 5 years old. I cannot understand why people believe that trading binary options means giving your money away for others to trade. What makes you think that these people have your best interest in mind? Look, I am sorry you lost money, but come on people, open your eyes. One more thing: RBOptions is owned by Zulutoys Limited located Marshall Islands. The ethnic groups there are 92.1% Marshallese, 5.9% mixed Marshallese and 2% others (according to Wikipedia) so I am sure that names like Adam Devine, Jack Woods and Joseph Wolf are very popular there… Yeah, real names of real people…
Bigoption: playing Big with other people's money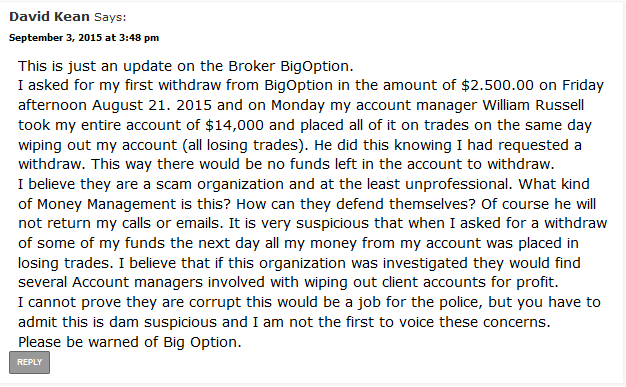 If you notice, BigOption is not regulated by any agency or authority so I don't know who will investigate them. Your broker cannot have access to your account. Only you should be able to open/close/modify trades. Anything else is unacceptable
The bees are buzzing – BeeOption is attracted to clients' money like bees to honey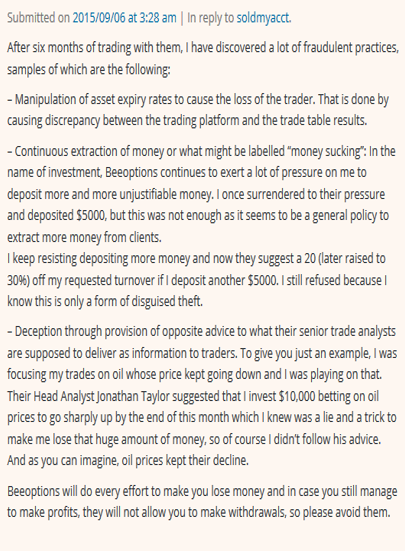 I think 99% of binary options brokers pressure their clients to deposit more money, but that doesn't mean you should do it. At least it's a good thing you didn't listen his advice about trading. That's a start.
Our last complaint comes against GTOptions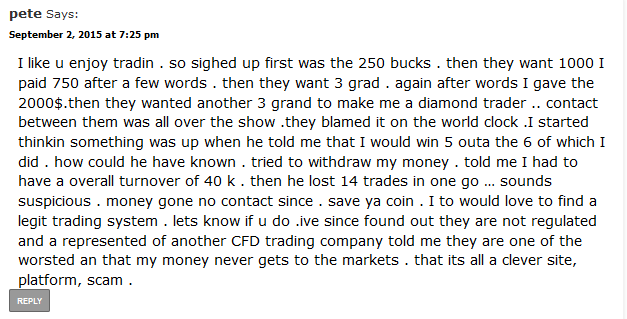 Dude, you are hard to follow. Slow down. What I understand from your comment is that you wanted to deposit only 250 bucks and they made you deposit 3 grand? Wow, they are good salesmen! And of course, they traded for you and lost it all. Oh, what a surprise. Never heard such a thing before… And only then, AFTER giving them your money, you thought about checking if they are regulated… WOW again. One last thing: you say that you enjoy trading, just "like u" (by "u" I suppose you mean me and others on this website), but let me say it straight: you and I, we don't enjoy the same kind of trading simply because you don't trade, you give away money for others to lose.
Scam Watch Comes Again Soon!
That's for this week Scam Watch. We'll be here in 2 Weeks time, with more complaints, comments, feedback, or whatever it is you had to tell us, and we had to answer. See you around! Questions? Feedback? Suggestions? Leave a comments below, check in to our forums or contact us on Info(at)BinaryOptionsThatSuck(dot)com!