The March Scam Watch – UK Option, TitanTrade, Tradorax
Monthly Scam Watch, Third for 2016 – March Complaint Report
Scam! I hope we see the day when the word "scam" and binary options have nothing in common. I don't expect it to happen anytime soon because – although it's better than 5 years ago – brokers are still up to no good, stupid autotraders still exist and people still use them. Well, what can we do? The least is to make these scams public and maybe this way people will stop making the same mistakes over and over again.
UK Options – not very noble…
Unfortunately this is one of the oldest tricks in the Scam book – make you deposit and then place stupid trades with your money. Unless they had written consent from you (which obviously is not the case), I believe what they did is illegal (although I am not familiar with legislation in all the parts of the world). The problem is that you don't really know where they are located (they might have an address on the website but chances are they are not really located there). All I can say is that I hope you get your money back (somehow) and in the future, investigate the company/broker more before giving them money.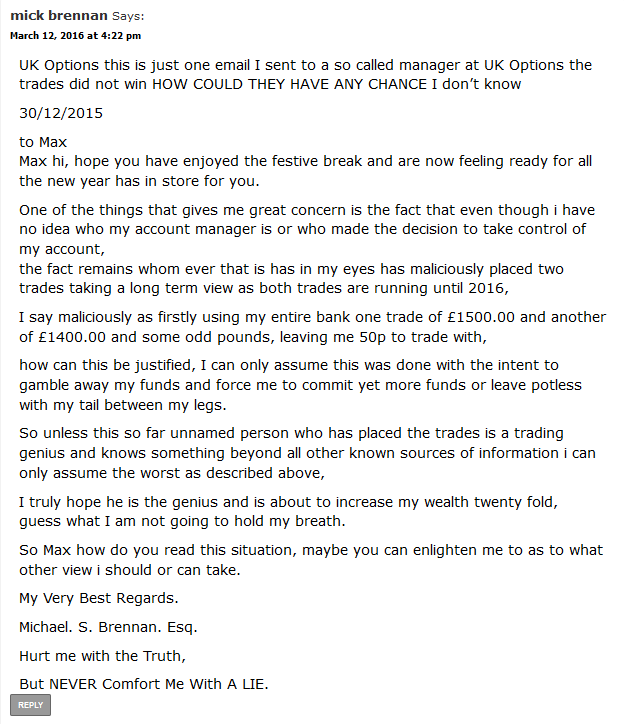 Titan Trade doing a Titanic mess
It would be great if next time you would post comments about Titan Trade in the section reserved for Titan Trade (on their review page) . Anyway, moving on: "We were trading BGP/EUR OK easy win" – that pair doesn't exist (EUR/GBP does) so it shows that you don't know anything about trading, do you? Why be involved in trading then?!? Just because you received an email then another, then another… Stop believing what people say. "I'm gonna make you rich" come on, do you still believe in fairytales? That being said, taking money from your credit card without your consent must be illegal I believe (I just hope it is, otherwise please someone stop the Earth because I wanna get out). So if it's illegal, go to the Police!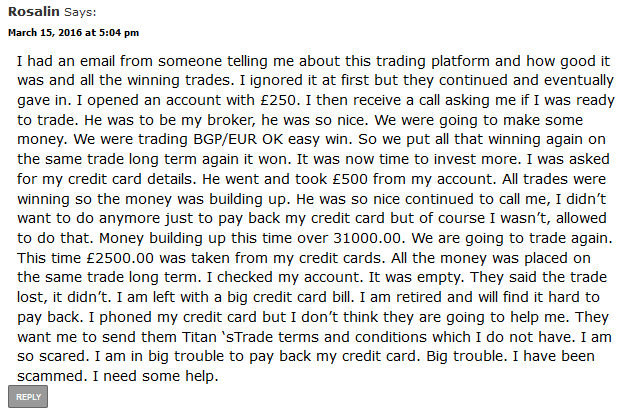 Autotraders and their "awesome" success rate
I am sorry but it's a bit hard to understand the exact problem. Also, do you mean Virtnext? In any case, stop using bots/autotraders that promise you the world. If they were that good, the owners would just use them for their own benefit. Anyway, I see that a Bloombex representative replied to your comment. Use the info he/she provided, contact them and keep us informed.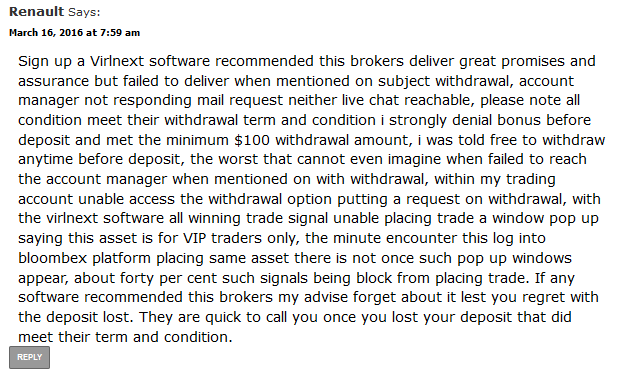 Free bonuses, extra bonuses, unwanted bonuses – result: Withdrawal from Finpari is a No-No
Just as is the case with the above comment, I cannot understand completely what you are saying but I assume you received some unwanted bonuses and now you cannot withdraw. Ask them to remove those bonuses immediately and stop trading because if you are still trading they will say they cannot remove the bonus because it is being used by you. Ask for your money back or else file a complaint with their regulatory authority… if such authority exists.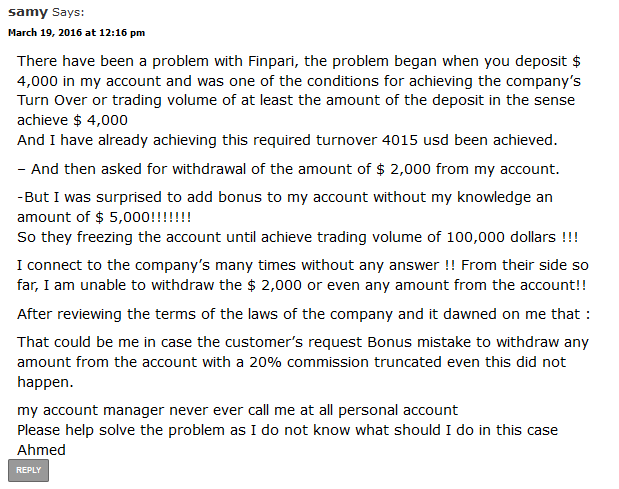 Tradorax and Copy Buffet – a match made in heaven?
I agree with your belief that either Tradorax or Copy Buffet (or both) are playing tricks on you. That being said, you are putting your trust in a software that allegedly trades how Warren Buffet trades, it copies his trades… so Warren Buffet must be trading binary options everyday, several times a day?!!?? Doesn't he have anything better to do? And he allows you and thousand other people to trade exactly as he trades… *cough* bulsH2t *cough*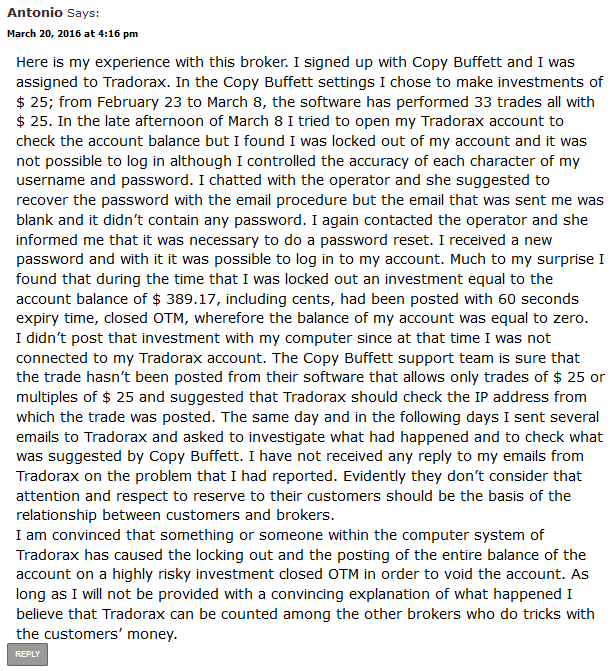 BigOption – Think Big, Lose Big
There are no free lunches in this business! If your trade is "insured" it doesn't mean you will get the money back in case of a loss. Do not let your account manager trade for you! If you don't know how to trade, don't trade! Don't invest money you cannot afford to lose. I am sorry about your dream (photo studio) going up in smoke. Don't trust people so easily and don't give in to what the next account manager/broker will promise you.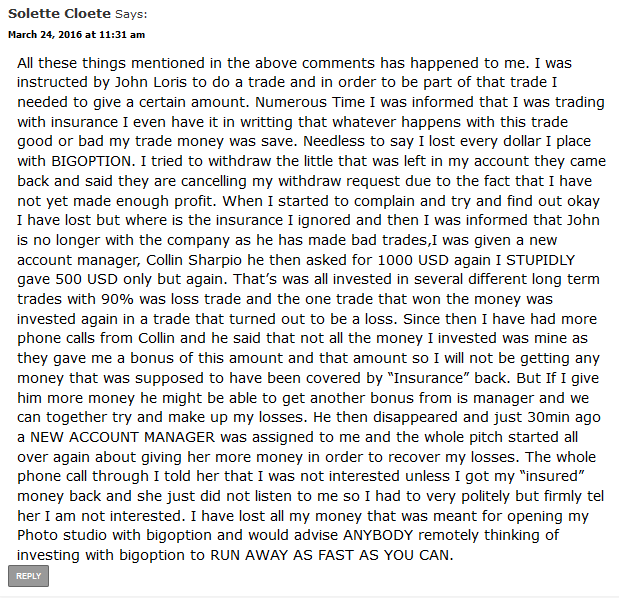 Scam Watch Comes Again Next Month!
That's for this week Scam Watch. We'll be here in 4 Weeks time, with more complaints, comments, feedback, or whatever it is you had to tell us, and we had to answer. See you around! Questions? Feedback? Suggestions? Leave a comments below, check in to our forums or contact us on Info(at)BinaryOptionsThatSuck(dot)com!