The Monthly Scam Watch – Cedar Finance, TitanTrade and EZTrader Complaints
Monthly Scam Watch Begins 2015 – January Complaint Report

It's a new year but the scams are old. In fact some are so old that I would think people stopped falling for them. Apparently not. Here are some of the complaints our readers sent us:
One of the last complaints for 2014 comes from Jelle and it's about Cedar Finance: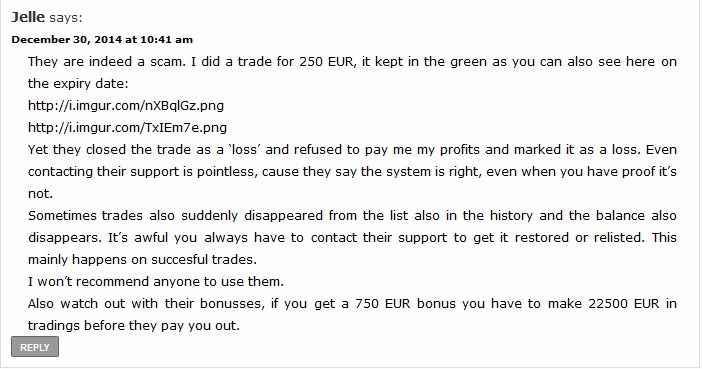 I think that people should be a lot stricter about the brokerages they trade with: as soon as you see they pull out shenanigans like the ones described by Jelle, take your money out and move to another brokerage. Using one of our Recommended Brokers would also keep you out of some trouble. As for the Bonus: it's well known that all brokers require you to trade a certain amount before you can withdraw the bonus. I find it fair and normal. What I don't find fair and normal is them blocking access to your deposited money. I don't know if that's the case with Cedar though.
TitanTrade… hmm, we expected better from you…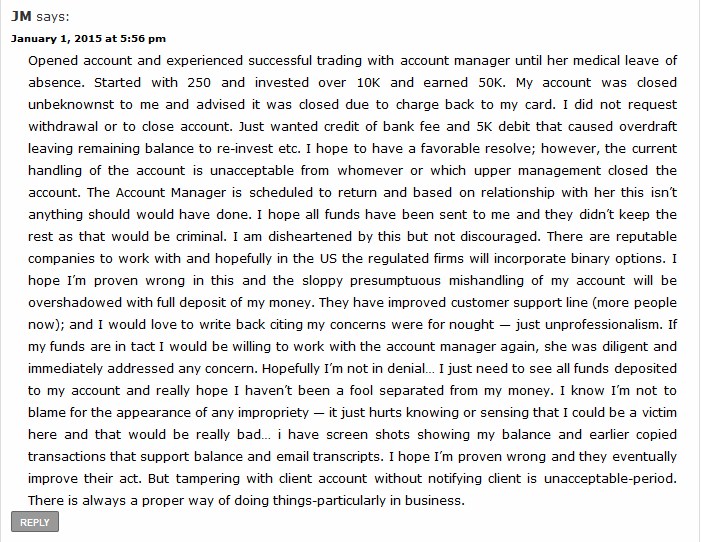 JM, brokers don't like successful traders. Sorry, but it's a fact and it creates a conflict of interest, hence all the troubles they make you go through. I agree 100% with what you said: "… tampering with client account without notifying client is unacceptable-period" but more often than not (I don't have clear statistics), the clients' money/account is restored if they make enough "noise". So, keep us informed, open a thread on the forum and share the story.
EZTrader – not so EZ to get your money out?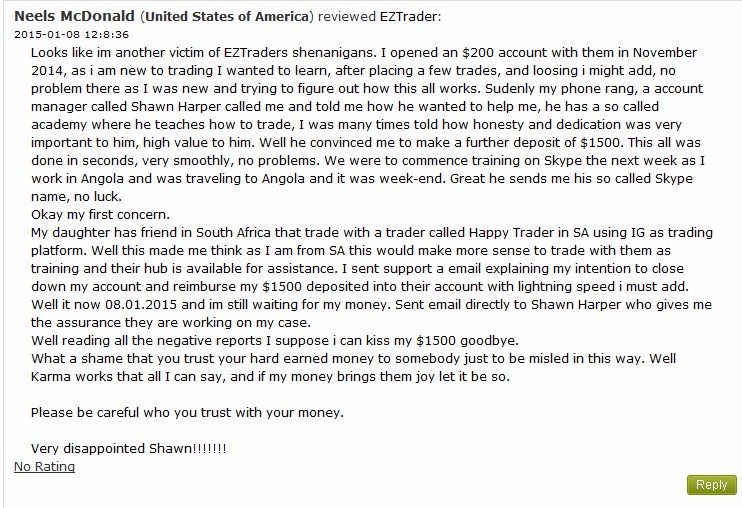 Well, Neels, as you can see you are not alone and a lot of other people are complaining about not being able to get their money out. But I think you shouldn't just "kiss your $1,500 goodbye" and accept defeat. File a complaint with the proper authorities and regulatory bodies. As for IG, they certainly look interesting and respectable.
Robots… beep, boop, beep *smoke coming out*… ah, it's my money going up in smoke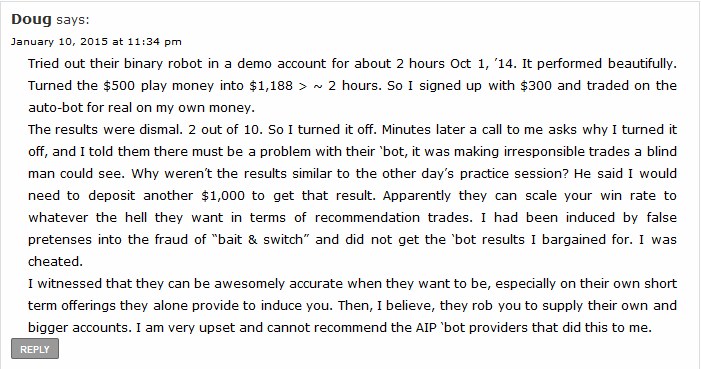 Doug, I can't read minds and as far as I know, none of my colleagues do either. You say you "Tried out their binary robot" but what does that mean? What robot? Who are "they"??? Don't get me wrong, I think all binary trading robots are cr4p, but let the other guys know which one you are talking about, eh?
This next complaint is about Titan Trade, but that's less important than what the complaint is about:

What? Whaaat!? You have kids to feed and you invest food money in trading? And let me guess: you don't know a lot about trading, do you? Can't say anything else because I'd risk becoming rude…
This next comment is not a complaint, but I feel the need to answer it: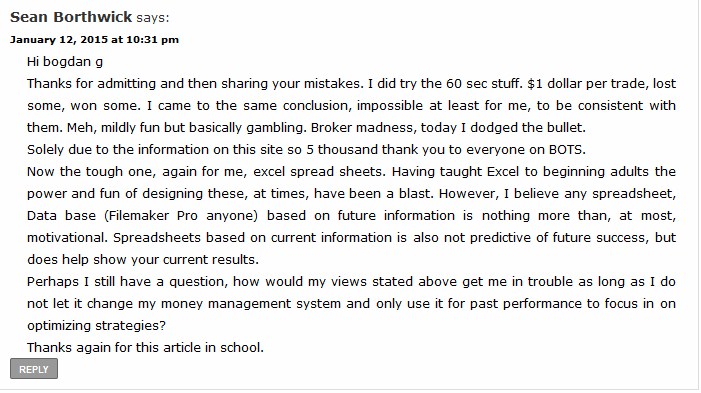 First of all, thank you for your kind words and for reading my rants J As for your question, I think a spreadsheet cannot hurt your trading as long as you maintain a down-to-earth approach, but you seem to know that already. My personal opinion is that your views on the "spreadsheet" would not get you in trouble – of course, as long as you don't think it has any predictive value. I stopped tracking my performance with a spreadsheet a while ago but now that I think of it, I was more disciplined when I was using it. I had a column where I wrote the honest reason why I took the trade and that made it easy for me to go back and see if I was trading emotionally or cold and calculated. Join our Forum, there are some "spreadsheet" threads there.  
Easy target…

Hey Lorna, don't just post your telephone number on the Internet. That will make you an easy target for scammers and wannabe trading gurus who will just call you to offer their immense knowledge and to make you truckloads of money. Don't be naïve and don't believe everything people say. Come on, someone says "Give me 250 bucks and I'll make u rich" and you believe that…? Besides, why would you even invest a dime in something you admit you know nothing about? If you need lessons, check out our school. It's free!
If you lose, everything is fine, but if you win, things change. LBinary in the spotlight again: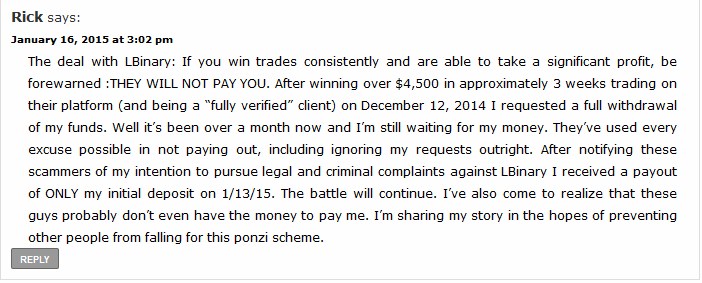 Thanks for sharing your story. Unfortunately you are not the only one who is treated this way by LBinary and others. Well, at least there's an "improvement" in the industry – if I can call it that. Now more and more pople get their initial deposit back; a while ago all your money was sucked in the scammers' black hole. Something I'd suggest is giving EmpireOptions or Nadex a try since I see you are based n the U.S. You seem a good trader if you managed to make $4,500 in 3 weeks, so don't stop, find a better broker.
The optionbots are planning a hostile takeover of our trading: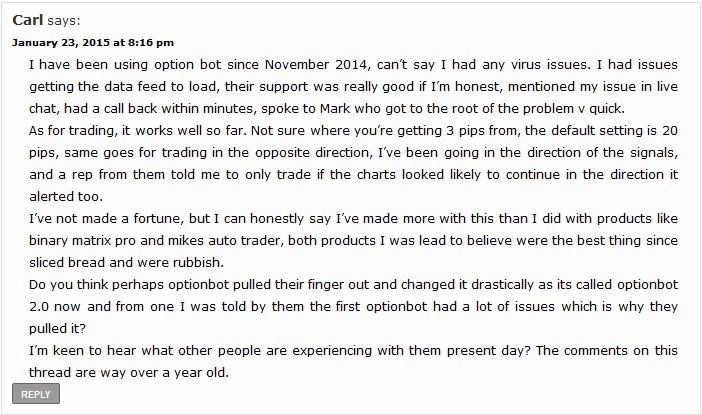 Maybe the comments are old because nobody uses OptionBot anymore. I don't know. Anyway, I wrote the review on OptionBot late in 2012 and a few years passed so I don't know how it performs now or if it even exists anymore. This applies to the 3 pip move as well: at that time that was their presentation. If they decided to change that to 20 pips, fine, but I still don't see why somebody would trade – no matter what direction – just because price moved 20 pips. About my virus issues: I said in the review that it could be a false alarm and that I didn't want to take any chances. I'm not saying it's a virus, just reviewing it based on my experience with it. Maybe the 2.0 version improved some stuff, but I wouldn't use it anyway – personal choice – I don't use any trading bot.
OptionRally gets some bad customer reviews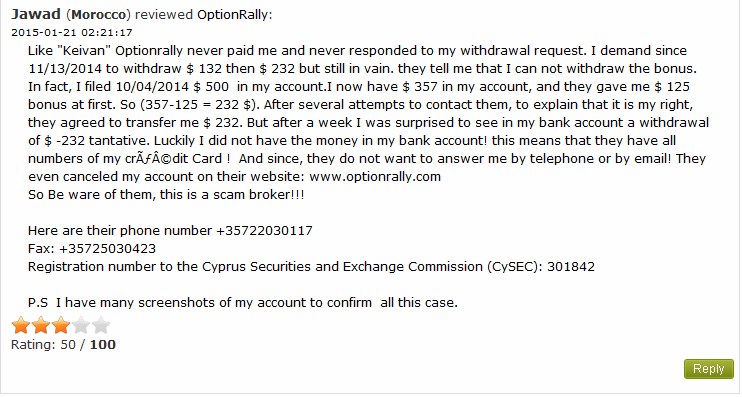 They are regulated by CySEC so maybe you should complain to this authority. Rest assured they don't have your Credit Card info. It's called a reoccurring transaction – the bank gives you a short code of the Credit Card details so the broker/the service provider could charge it again if the client wishes. However if you're no happy with the service, contact your Credit Card company and ask for chargeback.
 Scam Watch Comes Again Soon!
 That's for this week Scam Watch. We'll be here in 2 Weeks time, with more complaints, comments, feedback, or whatever it is you had to tell us, and we had to answer. See you around! Questions? Feedback? Suggestions? Leave a comments below, check in to our forums or contact us on Info(at)BinaryOptionsThatSuck(dot)com!