The Weekly Scam Watch – Because This is What We Do
The Weekly Scam Watch – 11/1-15/2014
Complaints keep coming in from our users and we continue to read them, helping when we can… at least with some advice if nothing else can be done. Here are some new ones:
Darcy Fowler Had a Bad Experience with Option Rally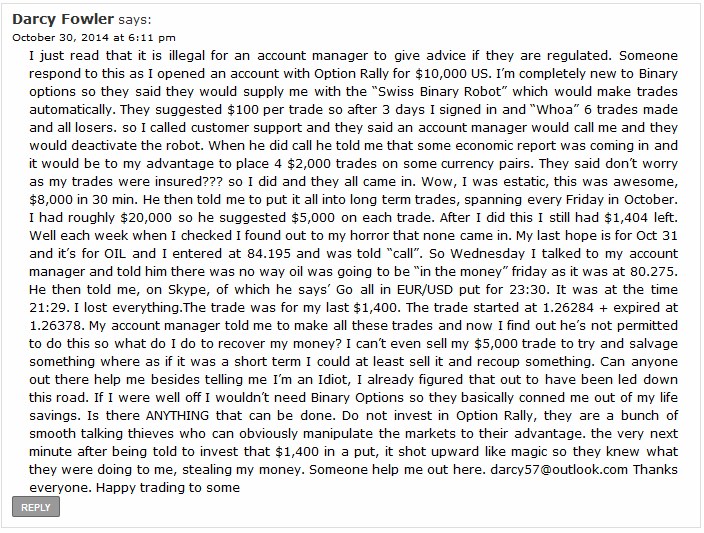 If you've read it's illegal for account managers to give trading advice if they are regulated, it would be good to post a link to the source of this information. I am not familiar with the particular legislation of every country around the world and I cannot say if it's illegal or not. Maybe some of our users can help with this information. Anyway, I don't find it logical for an unregulated broker to be allowed to offer trading advice while a regulated one isn't. However, I don't see what else you could do except complain to their regulatory body about what you consider to be bad conduct. But on the other hand, the line is thin: they made a recommendation, they didn't force you to do anything, and you said yourself that their previous recommendations made you 8,000 bucks in 30 minutes.
Lbinary Is Up To No Good According To Lord Robert And He's Not The Only One Who Had Trouble Withdrawing From This Broker.

Read the entire review here: https://www.thatsucks.com/customer-reviews/lbinary/
Well, I agree with your point of view regarding Scams: a broker that doesn't give you your money can be called Scam until you receive it, assuming you didn't violate any of their rules and you didn't do anything illegal. Unfortunately this type of broker behavior is common… too common if you ask me. And it won't stop until the clients stop giving them money. Clients must start to attribute more value to their money and only invest with regulated and well respected brokers. What you did – asking your account manager about his credential and track record – is actually a very good idea and I commend you for not falling for cheap shenanigans like that $2M account he showed you.
Next We Have A Perfect Example Of How Brokers Put Pressure On Traders To Invest More.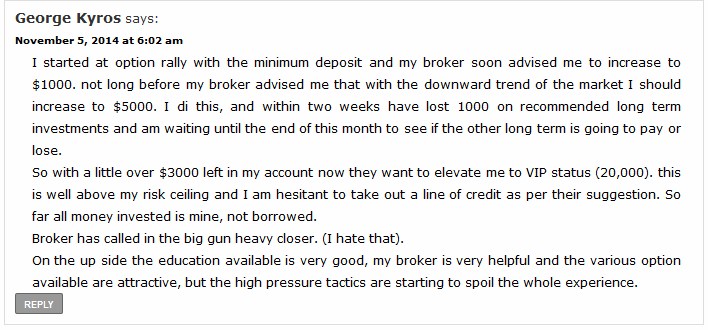 My advice to you is simple: Do not borrow money to deposit with any broker, no matter what they promise. There's a saying around the Internet regarding trading: Do not invest more than you can afford to lose. So ask yourself if you can lose $20,000 of borrowed money and I am sure you will come up with the right answer for your particular situation. Think about something else: you started with the minimum deposit and now you are thinking of investing $20,000… dude, are they really that good?
More Withdrawal Problems Encountered By Our Users… I Still Don't Understand why it's So Hard To Have Your Money Back.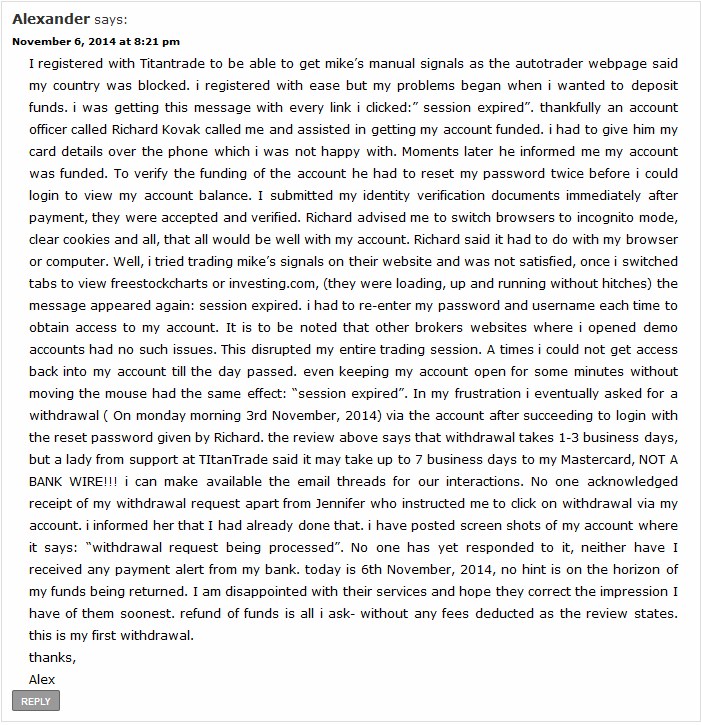 First of all, Alexander, I see you mention twice our review and the information contained there. Although we do our best to bring you accurate information, you must be aware of the fact that brokers can change their Terms and Condition at any time. If yesterday they didn't charge a commission for withdrawals, maybe today they do. We don't have any control over that. On top of that, your bank will probably charge you a transaction fee. Also, we state 5 working days, not 1-3 days. Furthermore, our review clearly reads: "Also, they state on the website that "There is no fee for a credit/debit card withdrawal." But in their Terms and Conditions they clearly say "The Company charges a fee for transfers of funds standing to the credit of a Trading Account from the Company to the Client, currently equivalent to USD 30 per transfer." Please read the review carefully…
Now regarding your problem, I think you should continue to try to get your money back by any means necessary: join our forum and keep discussing the issue there – maybe other users had a similar problem and they can help you by telling you the steps they took to get their withdrawal. Anyway, keep in contact with Titan Trade, email them constantly, call them every day until you get your money back and if all else fails, contact their regulatory agency.
Complaints about Banc de Binary… What Else is New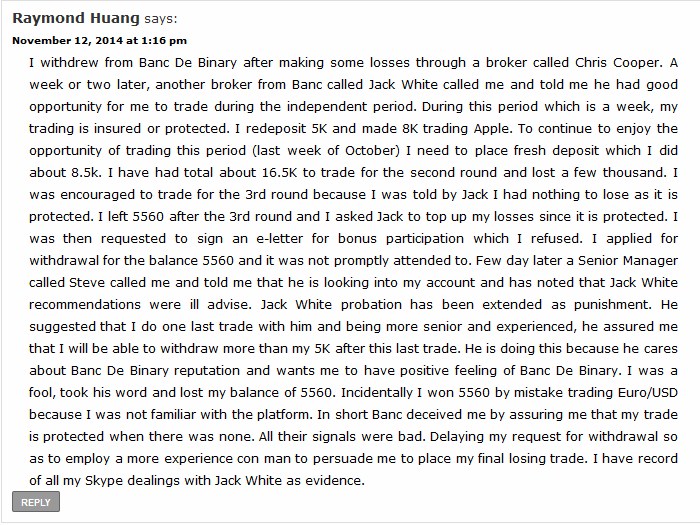 My opinion is that the majority of these so called "account managers" are not traders but salesmen and a "more experienced" account manager is just a better salesman. I am not saying this about Banc de Binary in particular, but about brokers in general…. and their names, LOL they couldn't sound more fake. Anyway, if they said your trades are protected, why didn't they pay your losses back? Because you didn't sign that e-letter? If that is the reason, that's a bad one because the client must be informed about these conditions before depositing. Did they inform you about it? Is it stated anywhere in their terms and conditions?
 Scam Watch Comes Again Soon!
 That's for this week Scam Watch. We'll be here in 2 Weeks time, with more complaints, comments, feedback, or whatever it is you had to tell us, and we had to answer. See you around! Questions? Feedback? Suggestions? Leave a comments below, check in to our forums or contact us on Info(at)BinaryOptionsThatSuck(dot)com!