24Option's New Mobile Trading App Review – Android and IPhone
Full Review of 24Option's New Mobile Trading App
24Option recently released a new trading app for smart phones. If you have read the review of the older version of their app you know it had some issues and room for improvement. One big issue was that the platform was not suitable for short term traders. Choosing expiry could be a bit messy and there were a few bugs as well as the lack of a trading history. Of course there were also well programmed functions that worked just fine. The new platform looks indeed promising but does it deliver?
The following tests were done on a Samsung Galaxy S4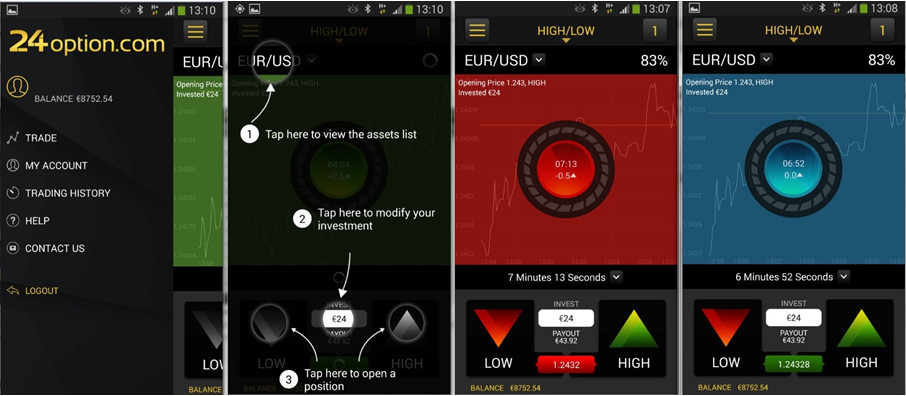 After logging in you can click help to get to picture number two above. It explains how to choose an asset, choose trading amount and direction to trade in. Green shows that your trade is currently ITM, Red indicates an OTM trade and blue means strike. The round circle in the middle initiates a countdown when expiry is near. It also displays the time and pip ITM/OTM amount in the center.
Speed
Signing in is easy and takes no time. I experience that this platform is quicker than the old version. One click on high or low executes a trade immediately and you can thus place multiple trades in a row. Checking history or choosing other assets and expiry times are also hassle free and fast.
Ease of use and Functionality!
In this new version you have a well explained picture describing the functionality of the various buttons on the platform. It can't get much easier, an up arrow illustrating high/call and a down arrow illustrating low/put. Investment amounts are pre-filled to save time and are well-placed. Simply sweep your finger horizontally across from right to left to view your open positions or from left to right to get back to the main menu. From the menu you can select where to go next.
Expiry times and other features
Expiry times are just as good as on the full site or the older app version. However, you can no longer close your positions earlier, before expiry. It seems like this tool was ditched, perhaps because this platform is more focused on rapid trades for short term traders. The feature I like, is being able to trade with only one click. I also like the final countdown where the middle circle starts blinking from right to left like a clock. Furthermore, a trading history is finally added! You can view your latest 50+ trades here. To my surprise however, there is still no deposit or withdrawal function added. What you have available on your account is what you get.
Crashes, bugs, freezes and other annoying stuff
The platform never crashed for me but there was one annoying bug. Suddenly the expiry, investment amount, current price and payout would disappear. Instead I was shown a circle indicating these numbers were being loaded… This is kind of strange as something so simple shouldn't take time to load. My internet speed is quite high on my smart phone so I wasn't expecting that a loading would be required. At least this only happened during a short period of time and only during one occasion.
Availability
The app is available on both Google play and the App Store. Visit 24Options website and then click on either App Store or Google play banner to be redirected to the right, legit version.
Overall look
Unlike 24Option's older app, this one is not dull looking. The nice and easily located buttons makes you wanna trade. The countdown circle is cool and informative as it shows how much you are in the money. I like the green, red and blue colors for ITM, OTM and Strike positions.
Main difference between the computer platform and the mobile app
There are less amount of assets on this app. You can't withdraw nor can you deposit, in fact, there are no banking options here.
The trading alerts, global market report, trader's choice, one touch and boundary are all vacant on this app. You can only trade high/low and short term options.
Conclusion – Better or Worse?
I'm sure you have realized that this new app from 24Option is made for fast executions! Yes the purpose of this platform is to make short term trading and trading in general faster, simpler and more enjoyable. The previous platform was not fast enough for short termers so this is a good improvement of course. I like the fact that a trading history was added but I don't like that I no longer can close my positions before expiry.
I guess you can't have it all? The dull design was improved with a much cooler look and the platform didn't have any major issues. Too bad they didn't add banking functions but who knows, maybe they'll improve on that too one day? I would suggest you install both versions, old one and this one. You can keep the old one for your long term trades where you can close your positions and the assets list is bigger. Use the new one for your short trades and enjoy the action!