Becoming a Famous Binary Options Trader Starts with a Professional Profile!
Become a Famous Trader by Building Your CommuniTraders Profile
Hey you! Yes, you… the Unknown or wannabe trader. Are you a bear or a bull? Perhaps you're a wolf, a loner. Well, trading can certainly seem an "every man for himself business" but that's not entirely true… You are here on ThatSucks.com (former BinaryOptionsThatSuck.com) for a reason, to get information you didn't have or to share a story no one has heard before. Maybe both! Basically, what I'm saying is that you are here for a reason we all share. Sometimes we are the informant ourselves – sometimes we are the seekers of information. Whichever the case, it all starts with a membership on CommuniTraders. The first step is to sign up, after that creating your own personal profile is the way to go. Let's move on to explaining why you should make a profile and how you can make the most of it.
Why Should I Create a Profile & Make Friends?
There are many reasons why you should make friends on CommuniTraders. You might not have the time to make all the mistakes in the book and improve your strategy before you reach success. Maybe you just want to discuss the market or a broker with other traders. All of those are great reasons for creating a profile and introducing yourself to others.
Friends are The Way to Go
Do you want to be known as that super cool trader that everyone wants to learn from or do you want to make friends with a skilled trader like that? Let us know who you are so we can be friends and help each other become better traders. Talking to like-minded people is fun and having a chat with different people could inspire new ideas and lead to interesting discussions. Learn how to use a new and profitable strategy or share one with your friends. Make yourself heard and seen!  And just between you and me your profile can become a source of income.


A small part of my profile. You can share any information you like, not only about trading! 
Trade & Share Platform!
Did I mention you get to use the Trade & Share platform if you create a profile? It works just as good as a demo account? Yes, you can use this amazing platform for practicing purposes and more. All you need to do is becoming a member. Read more about the Trade & Share platform.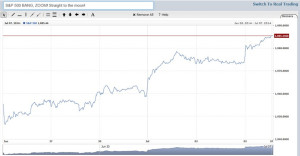 How Do I Join CommuniTraders & Start Making Friends?
Joining is easy. Simply go to the forum section and then… let me make it easier, here just click on this link: register as a new member. Create a profile that presents you and choose an avatar from one of the great pictures on the list. You can even upload pictures of your own strategy setup, recent trades and your beloved pet in your photo album, yes there's an album! Once you have a representable profile, you need some friends. Luckily for you, everyone here is a trader which means we all have at least one thing in common: trading. You can get people to visit your nice looking profile by getting involved in the ongoing discussions in the various forum threads. Hey, why not create your own thread where you can introduce yourself or share your strategy? Use your profile to add other traders as friends and communicate with them. Read this article on how the CommuniTraders forum can be used.
Conclusion – What Happens Next?
What happens after your registration? That's when you have to pay us 500… Just kidding, relax! It's all free of course. What can happen depends on yourself; present yourself in a professional and respectful manner and you'll have plenty of good friends to share information like your favorite asset  or your favorite brand of beer. Your new friends can help you improve your strategy and give you trading tips. Who knows, maybe one day you become that famous trader everyone would love to follow? Perhaps you are already a pro trader, then come on in and prove yourself. In fact, go ahead and show off, let us know who you are and how good you are. We all love winners but we also love to help beginners anyway we can. Okay, I think you are ready to join us now and I'm looking forward to making some new friends from all over the world. See you in the forum!