Binary Options Trading Platforms  – Providers and B2B's
Every Binary Options broker needs a powerful trading platform to succeed. As the Binary Options industry is growing fast, new and existing platforms are reinvented and upgraded to ensure fast and simple trading. All Binary Options platforms have their own unique features and they should not be underestimated while choosing the right Binary Options broker. The following article includes all major platforms with general presentation; for more detailed versions, you can check each platform's specific review.
This Binary Options Platform reviews page is written as a trader and a blogger. I also recommend our readers to check out the professional platform review by our analysts Richard Cox, Michael Hodges and Bogdan. With a combined experience of more than 25 years of Forex and Options trading, their opinions' worth gold for beginners and experienced traders.
Before we get started, I think I need to explain what a binary options trading platform is, because we are going to use this term a lot from now on. Basically, it's a computer software that allows the user to place trades on financial instruments. Additional features include charting packages, news feed and more recently, social trading (this allows you to see how other users are trading). These platforms are offered to clients by the broker but most of the time, the broker gets the trading platform from a third party named a platform provider. In other words, a company develops the trading platform and then sells it to multiple brokerages who then offer it to their clients. Take Spot Option for example: they have developed the most widely used trading platform and because it's so successful and easy to use, a lot of brokerages opt for this product. But enough talk, here's what a trading platform looks like: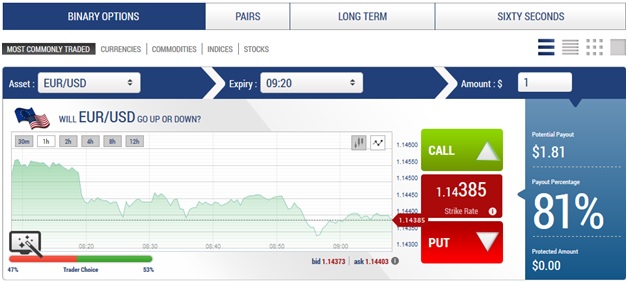 The trading platform in the pic above is developed by Spot Option but you will see it on many binary options broker websites. It's basically your tool to place Calls and Puts, your link with the market. The main advantage of such platforms is that they allow the user to place trades with ease from almost anywhere around the globe (assuming an internet connection is available). Until the 1970s, the largest part of trading was conducted manually between the broker and the client but the advances in technology paved the way for this new way of electronic trading and made it possible for people like you and I to have access to the market from the comfort of our home.
There are many types of trading platforms, developed by different companies and next we are going to focus on the most prolific ones, starting with arguably the biggest: SpotOption.
SpotOption Platform
Check Out SpotOption Platform Review
SpotOption brings a quick and easy way to generate profits through the least amount of efforts from the side of the operator, and claims to offer the best Binary Options solution to investors, internet surfers and traders. Its ease of use, flexibility and power are well known to in the Binary Options industry as they might just be the biggest binary options platforms provider. BBinary, GTOptions, Redwood Options and TradeRush, are among the Binary Options Brokers using SpotOption platform.
Tradologic Platform
Check Out TradoLogic Platform Review
This great platform is not yet fully acknowledged by the Binary Options community. It looks very much like the more popular SpotOption, but provides some unique features of its own, such as the Range and Touch options (which is already well known) and some other trading tools such as rollover and close now options. Tradologic seems like it's on its up, constantly improving the trading platform. Nevertheless, Tradologic approach to binary options is more like the "gambling" approach. They consider this type of trading as gaming, therefore the platform has less analytic tools but more short terms options. OptionBit, CedarFinance and OptionYard are among the Binary Options Brokers using Tradologic platform.
Anyoption™ Platform
Check Out AnyOption Platform Review
Anyoption™ is a 100% web-based binary options trading platform and it is an uncomplicated platform for beginners and its diversity seems to be rare as it reaches out to the European, US, Middle Eastern and the Asian markets as well. Although launched already at 2009, Anyoption™ hasn't sold its platform to any other broker. They decided to keep their innovate technology for themselves only, which makes Anyoption™ a truly one of kind Binary Options trading platform. The technology employed in this platform is quite speedy and it helps in saving time and it is fully secure as well. The platform (and the broker's approach in this case) is more US type binary options with 1-100 options.
StockPair Trading Platform
Check Out StockPair Platform Review
StockPair Trading Platform introduces an exciting new way of trading options – Pair Options Trading. StockPair lets you choose two pairs of assets (Indices, currencies, commodities, stock) from a long list of available pairs, the higher/lower the chosen pair will be in a certain expiry time will generate traders up to 300% from just one trade. Lately more and more brokers started to adopt this type of trading, but StockPair were first. Similar to Anyoption, they developed their platform from the ground up and their website is the only place where you will find it.
TradeSmarter Platform
Check Out TradeSmarter Platform Review
TradeSmarter is the first and only Regulated Australian platform. TradeSmarter offers exclusive binary options trading platforms mostly for Australian clients but also for global investors as well. TradeSmarter has been honored by being regarded the icon of the binary options trading as they are regulated by the ASIC, or the Australian Securities and Investment Commission. 24Bulls and StartOptions are among the Binary Options Brokers using TradeSmarter platform.
MarketsPulse Platform
Check out MarketsPulse Platform Review
This platform stands out for its bigger-than-usual charts and the possibility to trade directly from charts. A good addition if you ask me, but far from being an instrument for performing any form of technical analysis. The platform can be a bit tricky to use sometimes and opening a trade can take longer than with others but overall it's a stable platform. The most well known brokers using this platform are PowerOption and Opteck.
TechFinancials Platform
Check Out TechFinanciels Platform Review
TechFinancials has become a part of the binary options trading market only in the mid of 2010 but since then, they have taken Binary Options trading into higher levels of excitement with a modern and multi functional trading system. In addition, the charts are amazingly clear and modern looking. Overall, it's an extremely friendly trading environment which is definitely worth a look. 24Option, OptionFair and OptionXO are among the Binary Options Brokers using TechFinancials platform.
ParagonEX Platform
Check out ParagonEX Platform Review
Paragon EX is one of the most visually appealing binary options platforms out there. Unfortunately, the most important thing – the chart – is not the "star" of this platform as it's smaller than most smartphone screens these days. Other than that, traders will appreciate the ease of use and high functionality of this platform as well as the security it provides. Ubinary is the most noticeable Binary Options Broker using Paragon EX Platform.
EzTrader Platform
Check Out EZTrader Platform Review
Eztrader have taken a major part on the development of the binary options trading market since October 2008, hence, EzTrader is one of the oldest trading platforms available in this trading domain. EZTrader Platform was marketed under the tagline 'Option trading made easy', and it definitely is one of the most user-friendly platforms available in markets today, maybe even too simple. EZTrader and GlobalOption are among the Binary Options Brokers using EZTrader platform.
KeyStone Binary Options Platform
Check Out KeyStone Platform Review
Keystone platform is one of the smaller white label platforms. It was developed by the folks at Markets.com and operated by SafeCap Investments. The platform has some advanced features that are of great benefit to traders but other limitations may keep you away from this one. Early out, rollover and double up are great tools but when you are limited to short term and day trading then may not be worth it when other great brokers have much more expansive expiry. Brokers using Keystone: TopOption, Winner-Option.com, OptionTime.
PandaTS Binary Options Trading Platform
Check Out PandaTS Platform Review
PandaTS binary options trading platform is relatively new. The platform was developed by Panda Trading Systems, located in Haifa, Israel. The platform is meant to integrate with MT4 as a binary solution for forex brokers but can also be used as a stand alone broker. The platform is geared toward intra day forex traders but also offers something for the active day to day traders and market speculators. At this time expiry are limited to short term, end of day and end of tomorrow for most assets but more are expected to come in the future. Brokers using PandaTS: CTOption, 99Binary
OSystems Binary Options Trading Platform
Check Out OSystems Platform Review
A while ago, OSystems were considered the innovators in the field of Binary Options Social Trading. Since then, a lot of other Platforms recognized the advantages of this type of trading and acted accordingly, joining the Social Trading train. Now OSystems have more experience under their belt and bring a new, improved Social Trading Wall which allows traders to see the success rate of others and automatically copy their trades. On top of that, OSystems introduces a never seen before type of order: Limit Order. Some of the brokers that use the OSystems platform are MarketsKing, Binaryo and 123Binary.
Hello Binary, Binary Options Trading Platform
Check Out HelloBinary Platform Review
This is one of the newest additions to the Binary Options platforms "army". Just like all platforms, Hello Binary is 100% web-based so there's no need for a download and installation but what stands out the most is the simplicity of the platform and the fact that traders will not find on this platform any complicated option types like Touch/No Touch, Boundary or long term investments. Hello Binary visually resembles the SpotOption platform but it cannot compete with it in terms of functionality and features and I believe it still has a long way to go until it can be considered a top-platform. Maybe new traders will be pleased by the fact that only Up/Down (Call or Put) options are offered on this platform but more advanced investors will most likely find it too basic. Some of the brokers who started to use this new platform are Trade Call, Crown Option, Ze Option, 50 Option, Royal De Bank.
Binary Options Platforms Reviews