Approved for Advanced Traders
Forex Candlestick Trend System for Binary Options Trading
Full Review of the Candlestick Trend Trading System
 The candlestick trend trading system is a good system for more advanced traders. It utilizes multiple trading techniques including candlestick trend continuation signals. Read all about it and get links to the full strategy as well as downloads for all the indicators.
Forexstrategiesresources.com is a website I like to visit from time to time. The website is a great resource for forex traders and houses an extensive library of forex strategies. Some of these strategies, most of them really, are easily adaptable to binary options. The Candlestick Trend Trading System is one of those. At first glance I was incredibly hopeful that this strategy was in fact a good strategy. The name alone includes two of my favorite trading techniques, candles and trends. My first glance at the strategy revealed that it also includes several other indicators like MACD and a moving average, two more of my favorite trading techniques.
 What Is The Candlestick Trend Trading System
 The Candlestick Trend Trading System is a forex trading strategy published by Forestrategiesresources.com. It is a trend following strategy that includes all of my favorite and most trusted trading techniques. The strategy utilizes two time frames, daily and 4H charts. It also incorporates MACD and a moving average with Metatrader's Pattern Recognition Master to generate signals. Don't  worry though, the website includes all the neccesary downloads. And, you don't have to have Metatrader to use the system, you just need to be able to recognize candle patterns.
In order to generate a signal you start with the charts of daily bars. If the daily charts are bullish you will be trading calls, if it is bearish you will be trading puts. A bullish chart has a general up trend with MACD bullish and the moving average bullish. If this is the case then you can move down to the 4H charts. On this chart look for a bullish signal which would be bullish MACD, bullish moving average and a bullish candle signal. The same thing is true in reverse. Bearish signals start with a bearish daily chart and are then confirmed by MACD and the moving average on the 4H chart.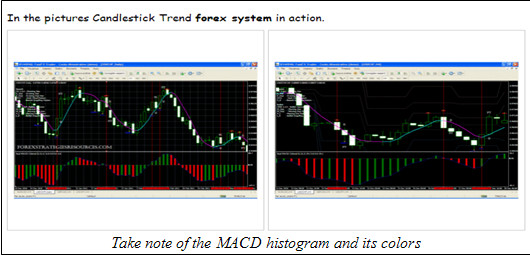 One thing to note is that MACD on this charting system is not the same as what you might be used to. It still displays like the standard histogram but each bar will also change color, green for up days and red for down days. Anytime you are on the 4H chart and the MACD bar turns green it is a bullish signal, each time it turns red it is a bearish signal. Whipsaws and false signals are weeded out by using the daily charts to set trend. More whipsaws and false signals are removed by using the moving average on the 4H charts. Each MACD signal must also be confirmed by the moving average.
Why This Strategy Does Not Suck
 This strategy does not suck because it embraces all that I love in a good trading system. It uses multiple time frames. It is trend following. It uses multiple indicators to confirm signals and it is easy to use. Because it is trend following it provides bullish and bearish signals. It is also highly versatile and can be used with any currency pair, index, stock, commodity or other tradable candle charted asset. On top of all that it is easy to program into trading platforms like MT.
Why This Strategy Sucks
 This strategy sucks because like we say here at BOTS, even the best binary options(fill in the blank) suck sometimes. The strategy is good but the article is incomplete. If there were more there I might be able to recommend this to newbies but as is I will have to limit use to intermediate traders and above. This is why; you have to be able to read between the lines, understand what is expected and how to deploy this strategy. Plus, you need to have a pretty solid foundation with candle charting in order to be successful, or else have the right software to do it for you. As an example of what I mean about reading between the lines consider this; the strategy is called the Candlestick Trend Trading System, where in the description besides the title is trend ever mentioned? For that matter does the article ever mention how to use the daily chart to set trend? It doesn't, I inferred that was what you were supposed to do and if I inferred wrong then the strategy might really suck after all.
My Last Words On The Candlestick Trend Trading System
 This is a good system and one that can be used by intermediate to advanced traders. Even with fancy candlestick recognition software I would still recommend traders to have a good working knowledge of candlestick charting techniques. Other than that it is sound. Of course, based on what the author's have provided, you need to have some experience in order to use the strategy.
Click Here For The Full Strategy And Downloads