High/Low JMO with ATR Strategy – Earn Profits with Ease for Expert Traders
High/low JMO with ATR Strategy – Earn Profits with Ease
We are always looking for the best strategy and the best tricks to use to navigate the binary options waters with profit. After finding a good strategy for trading, most traders think that the trading journey is over and they just have to sit back and see the profits roll. However, the reality is that the constant quest for a better trading system hardly ends—you have to try this and that and see which one perfectly resonates with your personality as well as tastes and preferences. Today, I will review the High/low: JMO with ATR Strategy originally found at http://www.forexstrategiesresources.com/binary-options-trading-strategies/26-binary-options-strategy-high-low-jmo-with-atr to help you understand how you can add it in your trader's toolbox.
How to use the High/Low: JMO with ATR Strategy
If you look at the charts I've provided below, you may probably understand how this strategy works and how it can help you earn profits from trading and achieve your dreams—even for building a castle. The main idea of this binary options strategy is trying to identify short-term reversals or retracements using two main indicators: ATR Ratio indicator (set at 21, 7) and JMO indicator (set at 5, 3, 3) (Find Downloads at the bottom of page). So no rocket science here, as you just need to keep an eye on the two indicators while sipping a glass of water, or should I say wine?
Before opening a trade, you should ensure that some conditions are met. To buy a binary option call, the JMO indicator should cross upward in oversold area and the value of the ATR Ratio volatility indicator should be greater than 0.8 (this level should be set manually). If you observe these conditions, place a buy call and thank the heavens for dropping down binary options.
On the other hand, to buy put, wait for the JMO indicator to cross downward in overbought area and the value of the ATR Ratio indicator to be greater than 0.8. If you observe these conditions, place a put and thank hell for not calling you before knowing binary options.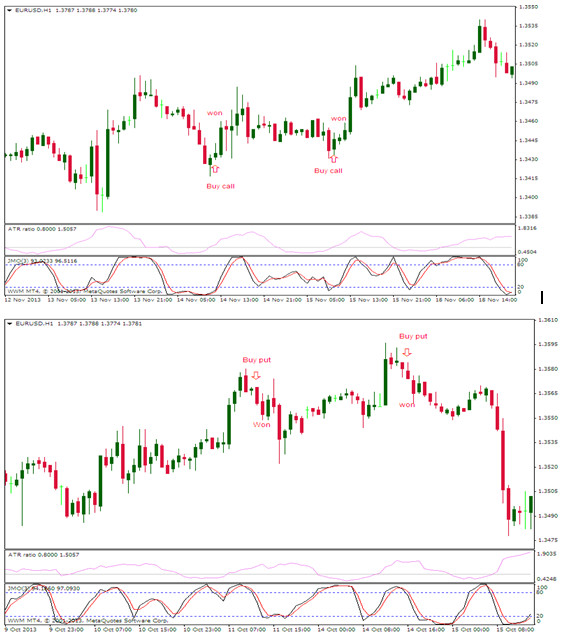 Here's a summary of the conditions that must agree before placing a trade:
Call Entry:
JMO indicator crosses upward in oversold area
ATR Ratio indicator >0.8
Put Entry:
JMO indicator crosses downward in overbought area
ATR Ratio indicator >0.8
The author recommends this strategy to be used in 1-hour time frames with expiry times of 120 minutes or 60 minutes. 
Note that all the indicators required for this strategy to work are available for download. You will copy and paste all the .ex4 indicators in the program files of the trading terminal you are using under the "indicators" folder and apply them to a chart, and they'll appear. The indicators are suited for the Metatrader trading platform, so remember to poke us with your questions in the BOTS Forum if you use a different one. We will gladly offer assistance as the genuine recipients of binary options from the heavens—and not from hell!
You will need to paste the template (.tpl) file into C:\Program Files\YOUR MT4 BROKER NAME\templates. Thereafter, you will have to re-open your trading terminal, right click on a chart, go to "Template" and select "Binary options strategy highlow jmo with atr." Loading this template will magically make your chart appear like the one I've given above, right?
Why does the Strategy Suck?
This strategy will suck big time when the market is trending strongly. For example, in a strong uptrend, the JMO will rise and subsequently cross down in overbought area and ATR will probably be above 0.8 to fulfill the conditions for placing a put entry. If you place a put in a strong uptrend, your account may experience massive damage. So, to get the most out of this strategy, you should identify the trend by using other means and only place trades according to the direction of the trend.
Why this Strategy doesn't Suck?
If you use this strategy and take trades in the direction of the overall trend, you will have high chances of succeeding. The "High/Low: JMO with ATR" Strategy makes you take trades based on oversold and overbought market conditions when the market volatility is high. And, if you adhere to the simple rules, this strategy can be profitable.
My Concluding Words on the High/Low: JMO with ATR Strategy
I can confidently state that this is a good system for trading if you can work around avoiding taking trades during unpredictable market conditions. You need to add some basic trend recognition techniques to minimize the risk of reducing the size of your account because of false signals. If you manage to do that, you can probably use it profitably for trading binary options.
 Downloads Available:
1. JMO + ATR Indicators download