Improving Your Skills at… Complaining About Your Binary Options Broker.
How to Complain About Your Binary Options Broker?
Online trading has two main components: the trader and the broker. Even if the trader puts in the hard hours and masters his craft, a lot of drawbacks can come from the broker we are dealing with and that's when complaining comes into play; but if we want our complaints to be taken seriously, we must follow some guidelines. The next article will show you the exact methods that you can use to post a complaint on our website. Sure, you can do it any way you feel like, but following the recommendations I'll give you, will make it more noticeable and more likely to be taken into consideration by your broker. It will also gain more visibility and thus, it will attract more attention. After all, that's what you want from your complaint, right?
Just like we said on other occasions, we are here to help you with whatever issues you might have with our Recommended Brokers and even if you are not using one of those brokers, your complaint will be heard by other traders and brokers… if it is done correctly. Although we wish you to never have to write a complaint in case you've been scammed by any binary options service, here are the three ways of doing it:
 Posting a Comment – Low Efficiency, Noticeable and Straightforward
The first and most simple way of making your problem public is through the "Comments" section at the bottom of each of our pages. This is the most basic form and also the least efficient because although the comments attract other people's attention, the impact is lower than other ways of submitting a complaint. First of all, you can't add pictures to prove your point and to describe the problem you might be having and second, the text you can enter is short. However, due to its simplicity, this method is still favored by many people and that makes it more important. An advantage of posting a comment is that it attracts lots of attention from readers as they scroll down to the bottom of the page. One last thing: make sure you post your comment on the broker's review page, not on the page of a strategy/tool review, on Home page or in our School section. If for some weird reason you want to post a complaint about your brokerage somewhere else than on its review page, then at least let us know the name of the broker.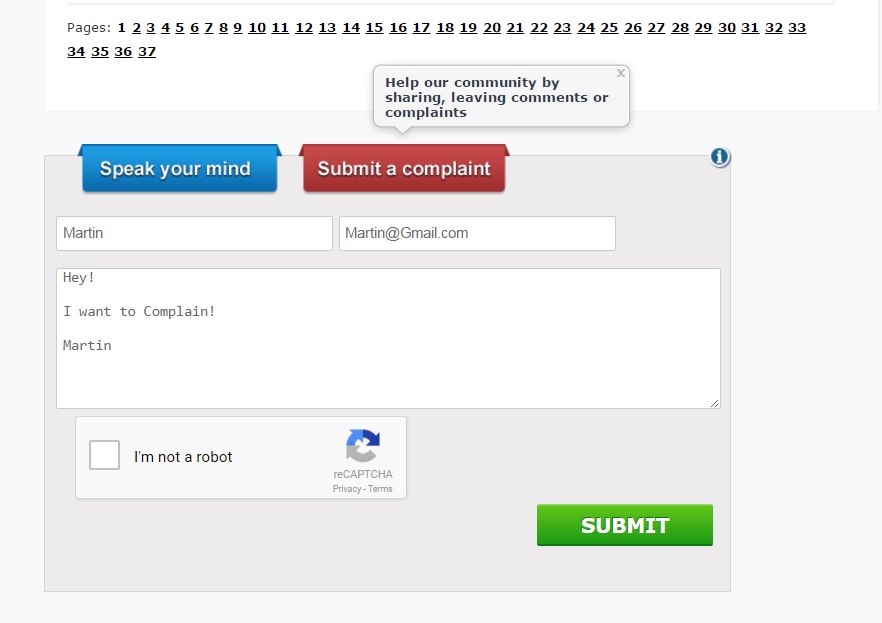 Bottom Line – Not the Best Way to Complain
Submit a Customer Review – Good Efficiency, Highly Noticeable
The second way of posting a complaint is by submitting a "Customer Review". Yes, we have a special section dedicated to this and it is pretty complex, allowing you to rate the broker from 0 to 100 and to enter a long text. The customer review section allows you to choose from three different ratings: "They Suck", "They are Good" or "They are Amazing" and to post a comment describing your problem. When you submit your review/complaint you need to provide us with your real e-mail address so we can get back to you regarding the complaint. Of course, some proof of your claim is needed. For me, if you've something to say and 2 minutes of your time, this is definitely the best way to either complain or give positive feedback to a broker. You can add your review using two different methods. The first one is to click on the "+" (plus) sign near the broker's name in our Reviews & Ratings section and then click on "Read and Submit Customer review":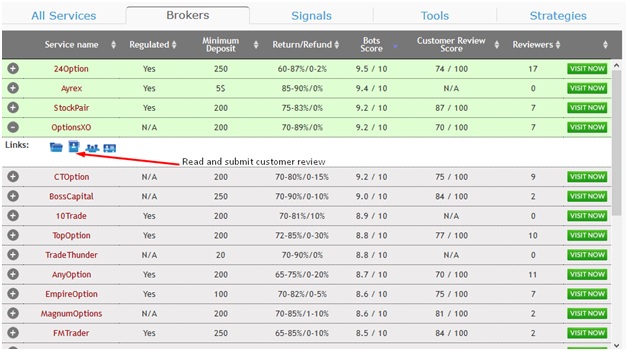 Your next screen will look like that:

Choose the "Submit Review" tab to post your complaint. Remember! It's not a crime to provide a positive feedback if you like your broker!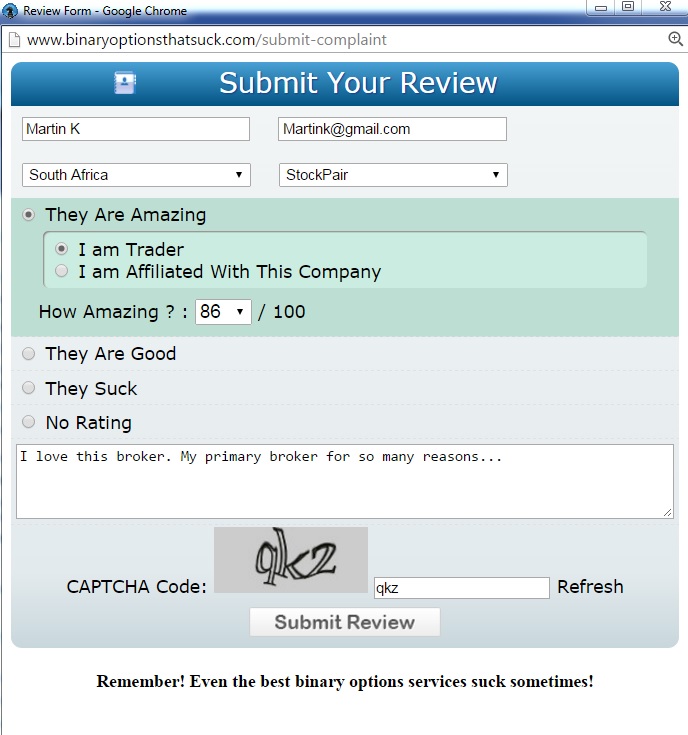 Click "Submit Review" and we'll review your complaint/review within 72 hours!
*The other way to post your review is to go directly to our review of the broker and click on "Read User Reviews". Then you will be directed to the review page (above) and you can add your opinion. Here's the exact location: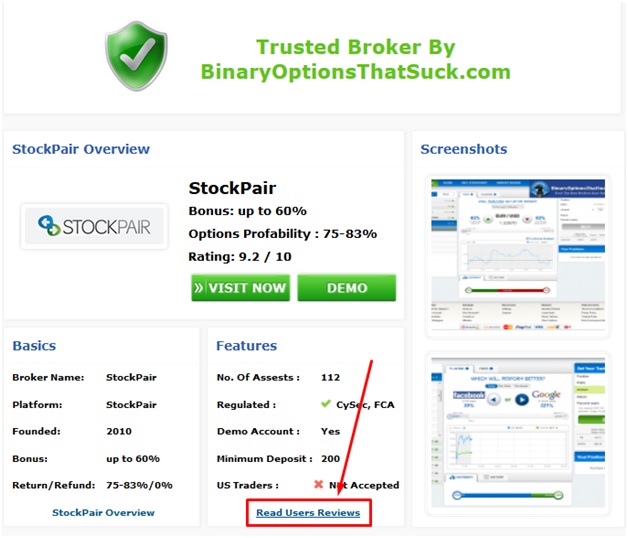 Bottom Line – Better Visibility and Better Way to Complain

Complain on Forum – Great Efficiency, Less Noticeable, Discuss-able
The third and in my opinion the most powerful way of posting a complaint is by using Binary Options That Suck Forum. Once you do that, you can be sure that hundreds of traders will see your problem and this fact hurts the reputation of a scamming broker more than a simple comment on the website. Once you complain on the Forum, more traders who are in the same situation can join and share their problems regarding that broker. There's power in numbers as they say and the Forum is the perfect hub for people to gather and talk about broker issues. This will attract the broker's attention and the problem will have a higher chance of being solved.
Bottom Line – Together we're Stronger!
What Is An Efficient Complaint?
Ok, now you know where and how to post a complaint, but you must remember that a complaint must follow some rules in order to be taken seriously. If you write something like: "Those bustards have me money I need to back now money they scammed me I am very best trader but they take me money arrgghhh and  give my back ours money now!", you will never be taken seriously and your complaint is more likely to make people laugh than to get your money back. So, one of the most important rules is: Be coherent! If you don't know English, ask someone to help you and keep it as simple as possible. Understand that your message must achieve its purpose and in order for this to happen, it needs to be readable. Otherwise, it will just be forgotten in a dark corner of the Internet.
If you have an issue with one of our Trusted Brokers, describe it to us, send pictures and use your real e-mail so we can contact you. If we approve and trust a broker it doesn't mean that mistakes will never be made by that company… but we will do the best we can to solve the problem together with you and the Trusted Broker. One final recommendation is to always read and understand the Terms and Conditions of the broker you are doing business with because if you just accept them without thoroughly checking first, you can't complain later for something they informed you about but you were too lazy to read.
ThatSucks.com (former BinaryOptionsThatSuck.com) is Here to Help
A well made complaint goes a long way and can solve your problem, but you must keep in mind that not all disputes can be settled. We are here to help and we will do our best to solve your issues… but we cannot vouch for some shady broker you deposited with. That's why we have a section for Trusted Brokers and we will join your "quest" only when it comes to our Trusted Brokers.