Approved for Advanced Traders
JMA Ribbon Binary Options Tool – Better Than Average Trend Indicator
Full Review of the JMA Ribbon Indicator for Binary Options Trading

Lately I've been using a rather interesting indicator to help me identify the trend. I found it on forexstrategiesresources.com as part of a complete strategy but I don't use the entire strategy and the indicator I am going to talk about has different settings than the ones originally recommended. It's pretty straightforward, visually easy to follow and doesn't leave a lot of room for interpretation so if you are looking for a good trend indicator, keep reading.
How to use the JMA Ribbon
Have you ever been in a situation where someone explains a strategy, they lay out all the rules and indicators, say the strategy works amazing and they finish by saying something like "Oh and make sure you are in a strong trend, it only works in a trend". Reeeally? Let me tell you, if I know for sure an asset is in a trend and that trend is not going to end exactly when I join in, I can trade it like a superstar, without using any fancy indicators. Unfortunately there's no such thing as "for sure" when it comes to trading and all we can do is presume that price will continue in our direction. This is where the JMA Ribbon comes in and shows us if we are in a downtrend or uptrend. It works on Meta Trader 4 and it is a Multi Time Frame (MTF) indicator, meaning that you can display the value of the JMA Ribbon from a higher time frame to a lower time frame. In other words, you can see the hourly value on the 5 minute chart or any other combination you like. Here is what it looks like: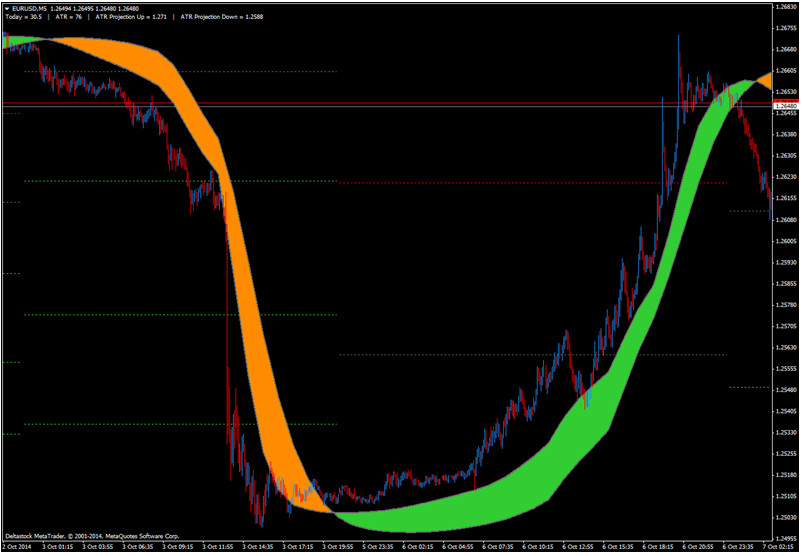 As long as price moves to the downside, the JMA Ribbon stays orange and once price starts to move north, the indicator turns green. You see the initial drop? That's a big one and normally, I would assume the trend is going to continue after a retracement higher, but the JMA Ribbon keeps me out of such bad trade and even better, it tells me I can make money with Calls. Of course, while the JMA Ribbon was orange, I could have made money with Puts. Here's another picture showing how the indicator behaves in another situation: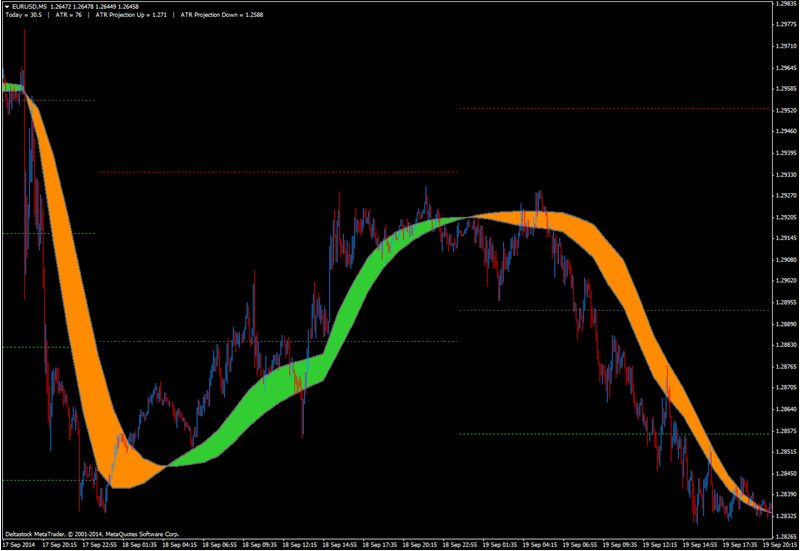 Again, it shows me almost exactly when the market is going to turn. And before you ask me if this repaints because it looks so good, I am going to tell you for sure that it doesn't. It's simply that good! And that's one of the reasons why it has become a very important part of my day to day trading. The charts in the pictures above display the 5 minute chart with a 60 minute JMA Ribbon on them, in other words I trade the 5 minute chart in the direction of the hourly trend (all other settings are default). However, since this article is reserved to the tool itself, I am not going to talk about the exact point of where you should enter a trade. It is up to you what indicators will use for that.
Why does the JMA Ribbon Suck?
In times of low volume and volatility, the indicator will change colors too late so you might encounter situations when price is moving upwards but the JMA Ribbon is still orange. This is because I use it with a 60 minute setting on a 5 minute chart so it's something rather normal and that's where your other indicators come in. Another thing to be aware of is the fact that until the hourly candle is closed, the indicator can adjusts itself. This is not repainting; it's simply a normal thing for all Multiple Time Frame indicators.
Why the JMA Ribbon doesn't Suck?
Of course I can only speak for myself, but I find this indicator extremely useful because it takes second guessing out of the equation. If it's orange I look for Puts, if it's green I look for Calls. It's true that a lot of other indicators show us direction by changing colors (or any other way, it doesn't matter), but this one is better than many. Again, I can only speak for myself, but give it a try on Demo and decide then.
Wrapping it up
Keep in mind that one tool is not enough to be successful – at least, I haven't found it yet – so you will need additional confirmation. This indicator gives you the overall direction but the entry point and the always important expiry time will play a major role in your success. Finally, I'd like to thank the guys who created it and the guys at forexstrategiesresources.com for sharing it free.
 Downloads Available: