Multiple Time Frames Indicators Series – Stochastic is a Big YES!
You wanna know a secret? I have an indicator that is actually called Holy Grail 1.6… yeah that's right, it really exists, but I am not going to give it to you. Not because I'm cold-hearted, but because it's one of the crappiest indicators ever built. What I am going to do instead, is give you what I consider to be the real Holy Grail of trading or at least the closest thing: Multiple Time Frame Indicators (MTF). Trading a single time frame is like driving a car and looking 1 meter ahead, while trading using MTF is like lifting your eyes, looking 100 meters ahead and seeing the bigger picture. Some big players wouldn't like you to have this info so make sure you read this article before it gets taken offline. Just joking… or am I?
What Are MTF Indicators And How To Use The MTF Stoch
Even if today we are going to talk just about the MTF Stochastic, you should know there are many others and those will be discussed in future articles. Ok, the concept of Multiple Time Frame indicators is pretty easy to understand and I will keep it as simple as possible while still giving you all the needed details. Basically a MTF Stochastic allows you to see a higher time frame Stochastic on a lower time frame chart; in other words, you can see a 15 minute, 30 minute or an hourly Stochastic in your 5 minute chart. Check this out: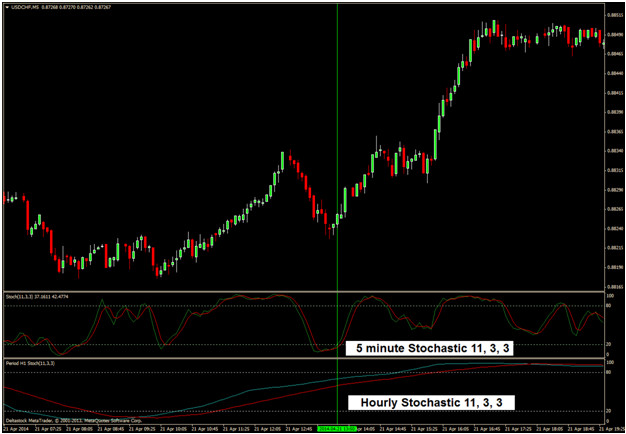 Trading Forex, CFD, Crypto And BO With MTF Stochastic
The chart above is a 5-minute chart and the first Stochastic is a normal one, with settings of 11, 3, 3. The hourly Stoch (the one in the lower window), with the same settings, shows us where the market is headed on a higher time frame (in this case Hourly time frame) so now that we know where the market is headed, we can join that direction once the 5 minute Stochastic reaches an overbought/oversold condition and crosses in the direction of the higher time frame Stochastic. Here's another way of explaining it: Hourly Stoch is moving upwards, with the 2 lines nicely spread apart and the 5 minutes Stoch agrees with its direction and exits oversold, going upwards. If you don't get it, read again and again and again until you do because this may very well be your ticket to giving your boss the finger… if that's what you want. If you still don't get it, look at the picture below which shows a couple of BO trades. Keep in mind, the process of entering the trade is the same for all types of trading (FX, CFD, BO, etc.), just the name is different (Call/Put for BO and Buy/Sell for everything else):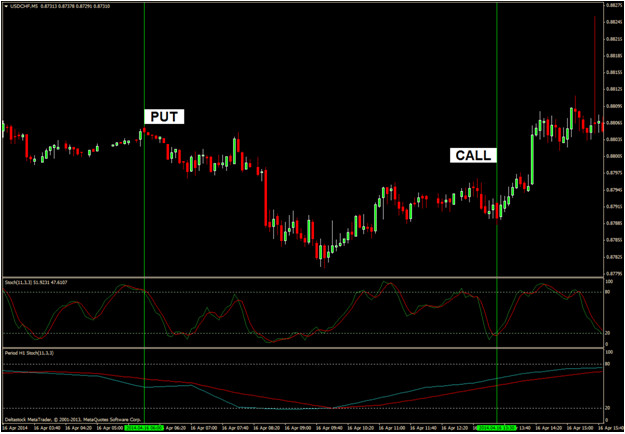 If you are trading BO, use an expiry based on the asset's movement speed, momentum, time of day and overall volatility. Usually, the price will go in the indicated direction within 2 – 5 candles if the trade is successful.
If you are trading Forex, CFD or Crypto the entry conditions are the same but you also have to worry about Stop Loss and Take Profit placement. The MTF Stoch gives a signal after a retracement in a trend and this type of trade requires a small Stop Loss, which should go behind the retracement that created the signal. For Take Profit you can either use a 1:2 or even 1:3 RR, or close when the lower time frame stochastic reaches the opposite side of its range.
Here's another trade example: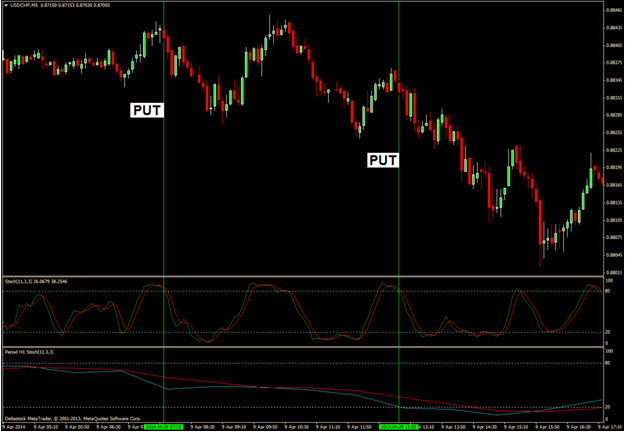 You see how every time the Hourly Stoch shows me where the market is going? Do you SEE THE MONEY? Let the higher time frame Stochastic guide you and only trade in that direction when its lines are clearly spread apart. Piece of cake!
Why Does MTF Stoch Suck?
Tough question… if this tool sucks, I don't know what doesn't. The only problem I know of is this: if you are using an Hourly Stoch, its lines will still move until the hourly candle is finished. That is not repainting; it's just the way MTF indicators work, but it's something you must be aware of. Anyway, once the candle corresponding to your higher stoch is over, the indicator will be locked i.e. its lines will not move anymore (an hourly Stoch will be locked in when the hourly candle closes; a 4H Stoch will be locked in once the 4H candle closes, etc.).
Why MTF Stoch Doesn't Suck?
The entire article so far explains why MTF Stoch doesn't suck but here goes: it shows you the direction of the market according to a higher time frame and allows you to use other tools in order to find a good entry. As long as you know the real direction of the market, finding a good entry is secondary. Just make sure you use the right combination of time frames because a Weekly Stoch displayed on a 1-minute chart is more than useless. Time frame combinations must be carefully selected, but I will let you have the pleasure of finding the best combination… I know nobody wants to be spoon-fed, right?
So Is This The Closest Thing To The Holy Grail? Definitely!
Always keep in mind that this article reflects my opinion, formed over the course of years, but although MTF analysis is a big part of my trading, I don't recommend you to use it just because I like it. What I do recommend is to take a good look at your charts, to think about it and to decide what is best. I also recommend testing this concept, understanding it. It might just be the next best thing since sliced bread… and I'll leave it at that… I already revealed too much. Just joking… or am I?
Downloads Available: