Approved for Advanced Traders
Parabolic SAR Tool for Binary Options – Stop And Reverse
Full Review of the Parabolic SAR Indicator for Binary Options
To be honest my friends, I found out long after I started to use this indicator that its name actually means Stop And Reverse because I always called it SAR or PSAR and never thought about what the abbreviation stands for. The indicator is not a custom one and can be found built in any Meta Trader 4 platform and several others. What is it? Well, I'm just going to say that if you use this indicator you will not be bored and the lack of trades will be the last thing on your minds because you will always find a trade. As soon as you exit a trade you can enter another one. Let's see how this is accomplished.
How to Use the Stop And Reverse Indicator
This indicator comes in the form of small dots placed above or below price. If price is above the dots, the market is bullish and if price is below the dots, the market is…you guessed it: bearish.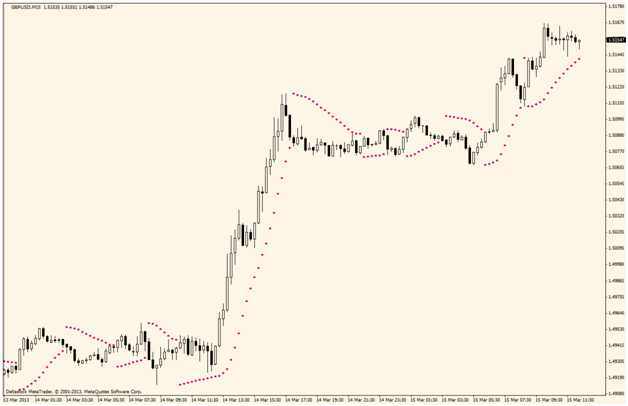 Don't blame me for the choice of color, my mouse landed there and I figured it's as good as any. Besides, this is not about my charts but about the PSAR indicator. So, in my view this is an indicator suited for those guys who need quick trades, in and out of the market and like to ride it up and down. Although the PSAR was originally used for Forex and is regarded as a trend indicator, I think it can be used successfully for Binary Options. For me to explain that, I need you to take a look at this zoomed in picture: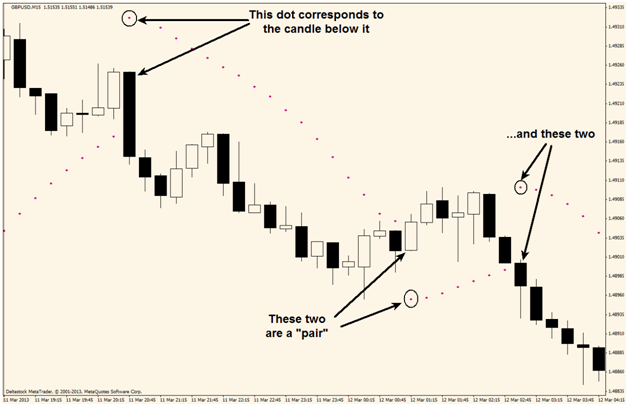 These are cherry picked examples, I agree but if you look closely at your charts you will see that more often than not, when a dot appears, the next candle will go in the direction indicated by the Stop and Reverse indicator. This could be a pretty good way of using it as a signal to place a Call or a Put in the direction indicated by the dots. In Forex you need price to move a hefty amount of pips in your favor for you to make some money, but considering that in Binary options we only need one pip, this sounds like a good strategy. However, you shouldn't mistake this indicator for a strategy because it is not and basing your trading only on its signals could be hazardous to your account.
Why does the Stop And Reverse Indicator Suck?
Unlike the examples in the picture above, a lot of times the indicator seems undecided and prints 2 or 3 dots on one side of price just to change its mind and print 2 or 3 dots on the other side. This can drive a trader crazy and visually it just looks confusing. This kind of behavior can signify a ranging market, low volatility and lack of direction but on second thought, as long as the next candle closes one pip above or below our strike price and in the direction indicated by the PSAR, we finish In The Money.
Why the Stop And Reverse indicator doesn't Suck?
 A trader who wants to trade often can find different uses for this indicator and complementary to the first trade signaled by the first dot, he or she can take additional trades as long as dots keep appearing on the same side of price. When combined with other trend recognition indicators, the Parabolic Stop and Reverse can be the foundation of a good strategy.
My Conclusion on the Stop And Reverse Indicator
I first used it for Forex trading and the results were not amazing to be honest, but the big advantage when using it for Binary Options trading is that one candle that closes in my predicted direction can bring me the whole payout for the Option. Using it on a 5 minute chart can generate a lot of signals and will satisfy the need of some traders to be always in the market. However, you should keep in mind that it is only an indicator and should not be used on its own but rather as part of a strategy.
Continue Talking about the Parabolic SAR Tool for Binary Options on Forum!