Reversal Channel Strategy – Couple of Obstacles to Avoid before Running into your Bank
Full Review of Reversal Channel Binary Options Trading Strategy
The joy of every trader is to earn enough money such that he or she can spend quality time along the sandy beaches of Seychelles or, better still, book a trip to space with Virgin Galactic. However, before success comes, some sweating must take place—I mean real sweating. As such, having a good strategy to successfully use in navigating the binary waters is paramount. A strategy I've found to be simple and profitable is the Reversal Channel Binary Option Strategy originally found here: http://www.forexstrategiesresources.com/binary-options-trading-strategies/28-binary-options-strategy-high-low-reversal-channel/. Let's dig it further to understand how it can help you enjoy your trading experience.
How to use the Reversal Channel Binary Option Strategy
If you take a glance at the chart I've provided below, you may comprehend where the name comes from and possibly how to implement the strategy in your trading decisions. The strength of the strategy revolves around the idea of identifying reversals where channels have formed on charts. The strategy requires only two simple Metatrader indicators: Price Border indicator (TMA channel) and CMA indicator, so you should not crack your head with too much thinking (download at the bottom of page).
The Price Border indicator is used to identify channels and potential places of reversals. The lower bands of this indicator are green in color (indicating bullish conditions) while the higher bands are red in color (indicating bearish conditions). The CMA indicator runs through the charts either showing green or red color—it does behave like a chameleon with two colors depending on the market situation.
In order for us to open a trade, the two indicators have to agree. So to buy Call, we should confirm that price has crossed the Green bands of the Price Border indicator and CMA indicator has changed to green color. Then place a call at the open of the next bar. Away from the other complicated stuffs, I guess this is rather straightforward and a major headache-saver, yah?
 On the other hand, to buy Put, we need to confirm that price has crossed the Red bands of the Price Border indicator and CMA indicator has changed to red color. Then place a put at the open of the next bar. Is ABCD more difficult than this?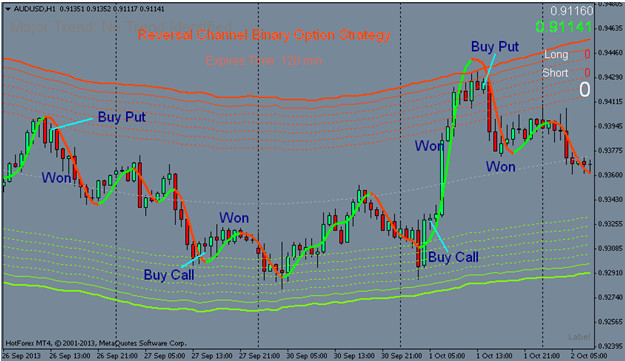 Here's a summary of the conditions that must be fulfilled for a trade to be taken:
Call Entry:
Price must cross the Green bands of the Price Border indicator
The CMA indicator must have changed its color to green
Put Entry:
Price must cross the Red bands of the Price Border indicator
The CMA indicator must have changed its color to red
The author recommends this strategy to be used in 30-minute time frames with expiry time of 120 minutes (4 bars of 30 minutes).
Note that you can download the Reversal Channel Binary Option Strategy archive containing all the indicators needed for this strategy to work. You need to paste all the .ex4 indicators in the program files of your trading platform under the "indicators" folder and apply them to a chart, and they'll appear. The indicators are made for the Metatrader trading platform so be sure to ask us (we don't bite!) in the Forum if you use a different one.
The template (.tpl) file must be pasted into C:\Program Files\YOUR MT4 BROKER NAME\templates. Afterward, you have to re-open your trading platform, right click on a chart, go to "Template" and select "Reversal channel binary options strategy".  Loading this template will make your chart appear as the one I provided above.
Why does the strategy suck?
I hate to burst your bubble, but I have to say it: I've realized that the main weakness of the strategy is showing false reversals. Sure, any indicator gives false signals… but this one repaints. Don't worry, this is not turning into a painting workshop; "repainting" is a term that describes an indicator's behavior and its characteristic of modifying past price action by recalculating its parameters. And this translated into plain English means that if you scroll a loaded chart back, the indicator will look amazing… probably over 85% accuracy or even better. However, in real-time it will give rather poor results and your disappointment levels will soar while your account balance will drop.
Is there a way around that? Well, if you have previous trading knowledge, you can look at the higher time frames to identify the prevailing trend as well as significant support and resistance levels and that will help you limit in a way the repainting issue. Also, adding another indicator as a confirmation might be a good idea but the best one is to test the strategy in a demo account.
Why this strategy doesn't suck?
This strategy doesn't suck since it incorporates all that I love in a good trading system. Besides its ease-of-use, it is well presented and enables the trader to accurately interpret its signals. You can use the Reversal Channel Binary Options Strategy in any market, including forex, commodities, futures, and cfd. The best aspect of this strategy is that it offers the possibility of excellent profitability with 120 minutes expiries. Furthermore, it's easy to install on the Metatrader platform.
My last words on the Reversal Channel Binary Option Strategy
I can confidently state that this is a good system if you can solve the repainting issue. Unfortunately, you cannot back-test it by scrolling your charts back – it will look like the Holy Grail but totally different in live market conditions. In its current form the strategy cannot be used by all traders as some advanced techniques must be employed to minimize the impact of the repainting indicator. But if you manage to do that, you will smile all the way from the bank. You should test and see if it can also send some smiles your way.
 Downloads Available: