The May Scam Watch – OneTwoTrade, OptionsXO and BigOption
Monthly Scam Watch – May 2015 Complaint Report
As long as people are still getting scammed we will help make their voices heard. Maybe this won't get their money back but hopefully we will expose the scams and less people will fall for such traps. Here are some of May's complaints made by our users:
Laura is using more than one broker and she is not happy with either one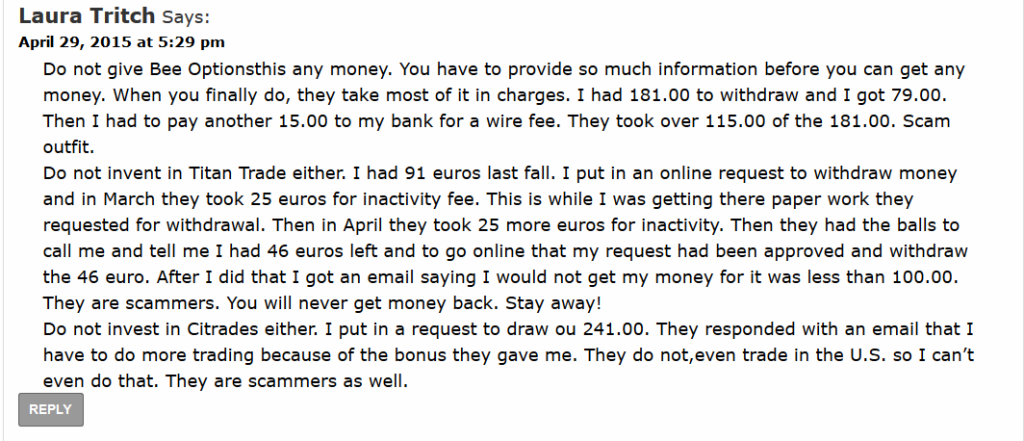 Talk about not putting all your eggs in one basket… spreading risk is good but are you sure you are using the best brokers? Just because you invest small doesn't mean you shouldn't check the broker thoroughly before you invest. I am not taking the brokers' side (I am talking about your Titan comment) but an account that has no activity from fall till next March could be considered "inactive", don't you think? Terms and Conditions anyone?
Onetwotrade up to the old, old tricks… and it's gone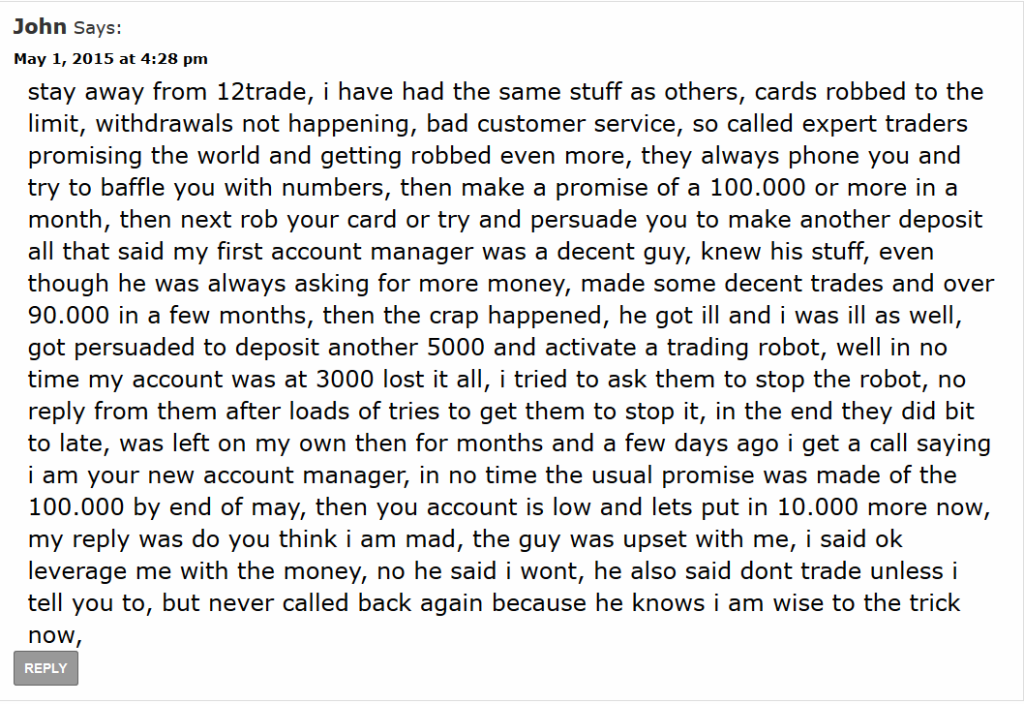 Really?! I cannot believe that you guys still fall for all the stuff you mentioned, John. You give them your credit card details, you believe they can make you hundreds of thousands of dollars, you believe that trading robots will make you rich… dudes, stop believing everything you hear. It's that simple.
This is the point where you stop and think. Really stop and really think hard about what you are doing.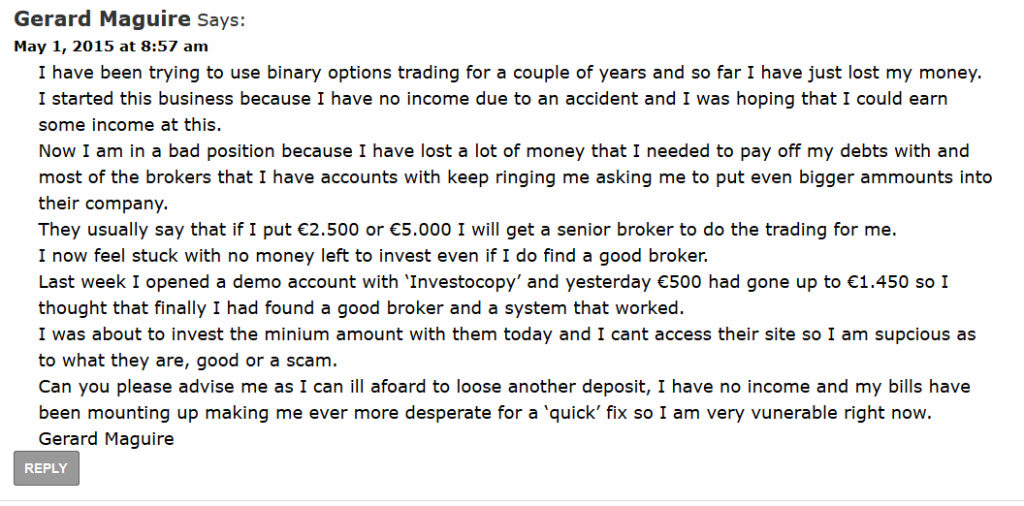 You want advice… well I am no financial advisor but guy to guy I can tell you that: you shouldn't invest money you cannot afford to lose. This doesn't apply to binary options alone, but to almost any other type of investment. If you want to be a trader – learn to trade. Nobody will make money for you. You say you have been trying for a couple of years to make money with binaries… but have you been REALLY trying? Have you spent countless hours in front of your computer, learning and studying? No? Then you haven't been really trying.
OptionsXO in the bad spotlight again:
Mariusz Nowak – I couldn't find this comment, that's why there's no pic
Maybe you can get a chargeback, you should check with your credit card company. The brokerage is not regulated, and as a UK citizen, I suggest you to trade only with regulated brokers. Last thing – you should never a let a broker/ account manager to trade for you. Never.
BigOption equals Big Money? I'd say it doesn't.

Another complaint about BigOptions… what a surprise. We've had one on the forums lately as well. Anyway, I think it's better that they didn't give you the autotrader yet. With that software your money would have been already gone… probably, but what do I know. And about 20% to 30% service charge… ummm… Terms and Conditions anyone? Is this service charge mentioned there? It isn't? Do you have any idea?
This next comment is not a complaint but still, someone needs a little help so why not give it

If you are really committed to learning as you say, then your chances of making money will increase. However, the answer to your question "how hard is it" is relative to say the least. Hard and Easy are relative notions. "Does it work?" Well… yea, for some.
Again, not a complaint, but I like it

Yea, I'd also like to thank people who post their experience here because this helps others avoid being scammed. And about the guy who said he'll cancel your registration… meh, don't worry, you are probably better off that way.
And now Option Rally goes from bad to worse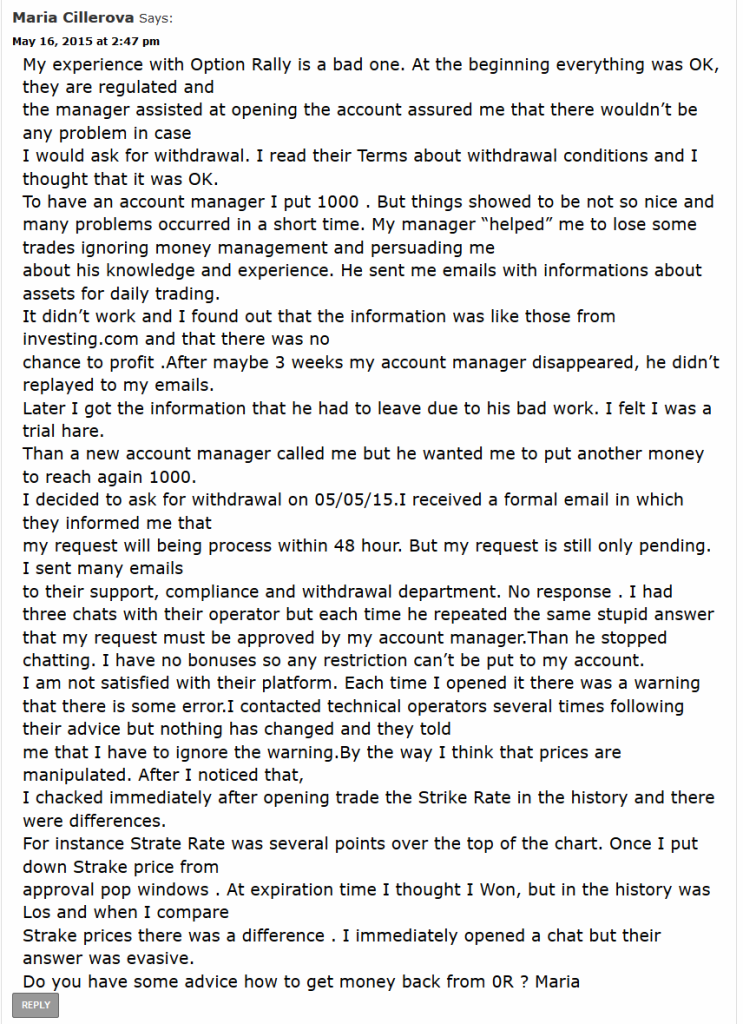 I still cannot understand why account managers give advice. This is wrong and probably illegal. Anyway, Option Rally is regulated by CySec – post a complaint there (cysec.gov.cy). Also, if you've made your deposit through Credit Card – try getting a chargeback. If that doesn't work, try sending your account manager (or another Option Rally representative) a link to this page, try getting them involved.
BigOption… ah come on, not again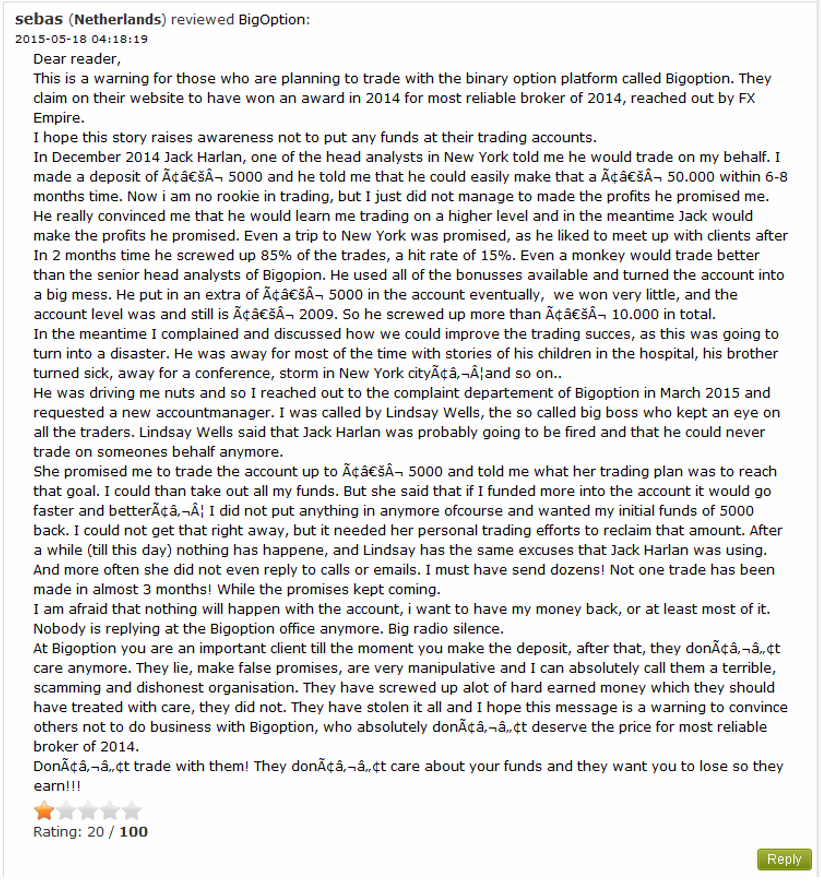 About these online awards: I think you can set up your own "financial magazine" and award yourself the top spot in the "article of the year" category. And about BigOption: man, that sounds like a Michael Bay movie. Explosions all over the place, storms in Ney York, his children are sick… then his boss comes along and says she'll fire him… sure and I am Batman.
Opteck get their share of unsatisfied customers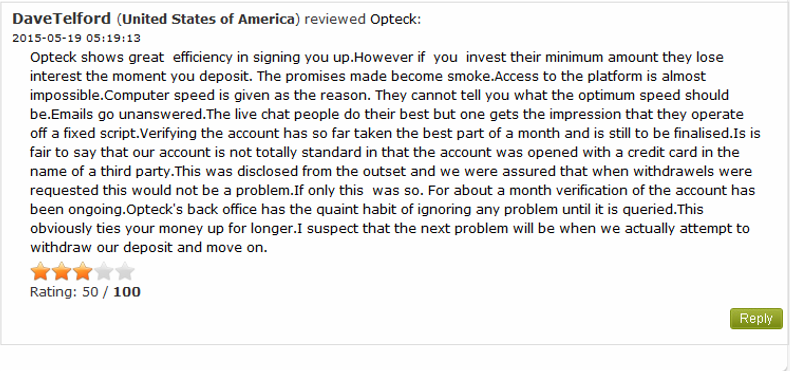 If I were a betting man, I'd bet a fortune on the fact that your last sentence is true. But I don't gamble.
Stockpair makes our Scam Watch for the first time… but read the comment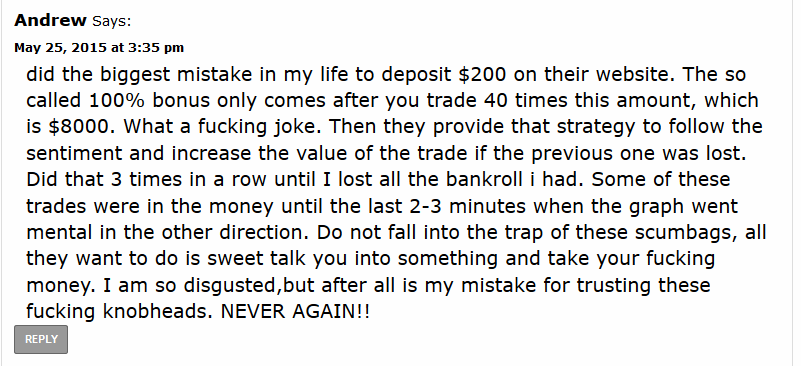 Hey dude, if you had been paying attention – at least a bit – you would have known that certain turnover must be reached if you want the bonus. We've said this countless times, the brokers say it and everyone but you, knows it. Also, it's not their fault they say "double your position size every time you lose" and you actually do it. LOL. Ever heard of news announcements? Those can make a chart go haywire so YES, your trade can be ITM and seconds after OTM. It's called THE EFFING MARKET and that's how it works! But I guess you wouldn't know that because you are not a trader, just a gambler who calls his trading account a "bankroll"… ?!? All the best to you, but don't trade anymore. Or do it, it's your choice.
Trading is not EZ but reading is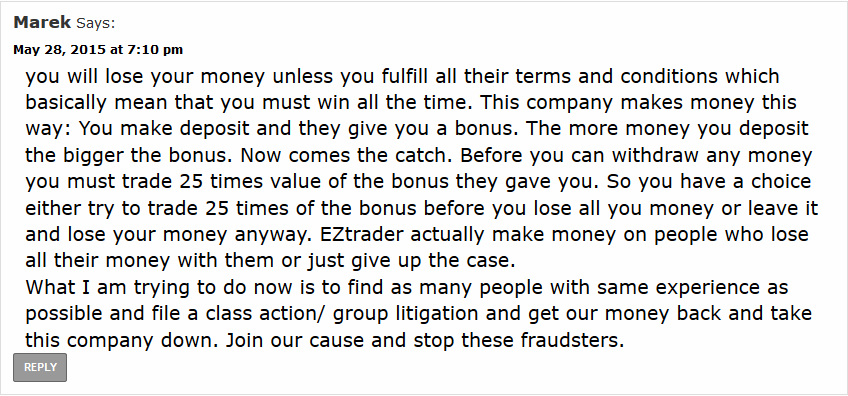 WOW… just WOW. So they give you a Bonus and then they want you to trade a certain amount before you can withdraw??!? So they don't give away free money?!? Hmmm, never heard of such thing before.
 Scam Watch Comes Again Soon!
 That's for this week Scam Watch. We'll be here in 2 Weeks time, with more complaints, comments, feedback, or whatever it is you had to tell us, and we had to answer. See you around! Questions? Feedback? Suggestions? Leave a comments below, check in to our forums or contact us on Info(at)BinaryOptionsThatSuck(dot)com!