Approved for Advanced Traders
Uncovering the Mystery of the Binary Options Unnamed Strategy
Full Review of the Unnamed Strategy for Binary Options Trading

We had a Binary Options Strategy developed by a German trader, many developed by Americans and some developed by unknown traders. Today I will review a strategy developed by Italians. Of course… fast cars – Ferrari – fast bikes – Ducati – why not fast Binary Options trading. I say fast because this strategy uses the fastest time frame available (1 minute) to analyze the charts and just 2 minutes for expiry time. The strategy is simply referred to as "Binary Options Strategy with Bollinger Bands and ADX Indicator" and that doesn't really qualify like a name so at the moment we'll stick to "Unnamed". The Italian website where it was first posted is www.opzionibinarie60.com.
How to use the Unnamed strategy?
First of all, you will need a charting package that allows you to use Bollinger Bands and ADX indicator. Both are explained in our School section so if you want to know more about them, I strongly recommend going through the Binary Options School. For this strategy we will use Bollinger Bands with period 20 and deviation 2 (the default settings) and ADX with a level set manually at 20. Once you have placed the indicators on your charts, switch to one minute chart and you should have something similar to this: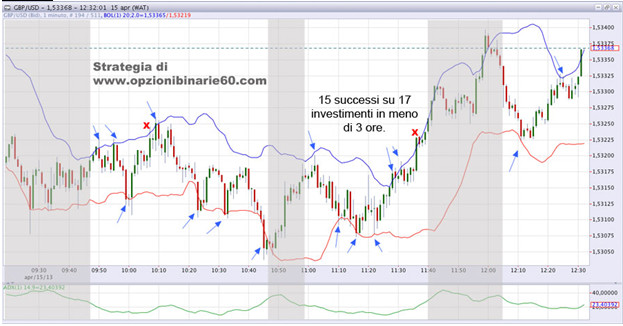 The blue arrows show profitable, In the Money trades and the red X shows an unprofitable trade. A quick count gives me 15 winners and just 2 losers which, I must say…. it's very impressive. The grey areas indicate when the ADX was above the 20 level and we don't take any trades when that happens. The original developer suggests that you shouldn't trade before 08:00 am and after 12:45 pm Italian time (approximate times).
Once price touches the upper Bollinger Band and ADX is below 30, preferably below 20, a Put is placed with a 120 seconds expiry time. Do the opposite for a Call and it looks like you have a winning strategy. The role of the ADX is to show you when the pair is trending and that's not a good time to trade reversals. An ADX value above 30 or 20 suggests that a trend may be developing and probably price will push through the Bollinger Band without reversing. Here's a summary of the rules:
Call entry:
Price touches the lower Bollinger Band
ADX is below 30, preferably below 20
Put entry:
Price touches the upper Bollinger Band
ADX is below 30, preferably below 20
Time Frame: 1 minute
Expiry Time: 2 minutes
Why does the Unnamed Strategy Suck?
After seeing the excellent results it's pretty hard for me to find a reason why it sucks but let me try anyway. First of all, not a lot of brokers offer Binary Options with a 2 minute expiry so it will be pretty difficult to find one that does and has a good reputation on top of that. Secondly, the value of the ADX is not exactly defined and leaves room for subjectivity because I am not sure what should I do if the ADX shows 28. Can I enter a trade or not? Anyway, I believe this is a small drawback which can be easily solved with some testing.
Why the Unnamed Strategy doesn't Suck?
The answer to that is simple: because out of the many strategies I've seen, this one seems to be the best one. I am talking about 60 second strategies which are just too fast for me and I consider them to be closer to gambling than trading. But apparently, this binary options strategy has some value and produces profitable trades. On the Italian website I mentioned you can find more pictures showing you how good the strategy is or you can do what I did: open your charts and test it. See if you like it.
Wrapping it up – Good strategy… Now let's find it a Name!
After spending some time understanding the strategy, I believe you will find it much more profitable than other 60 second strategies. The Bollinger Bands are known to offer good dynamic support and resistance especially when the market is not trending. The ADX helps you see that non-trending state of the market and profit from it. You should never forget that a few pictures of good entries are not a guarantee that you will get the same results. A strategy's success depends a lot on the trader who uses it. I want to say thanks to the guy who developed and shared it. Ah, almost forgot: what about the name? Come on, let's find a better one ;) Join the Unnamed Strategy Discussion on Forum!