Binary Signals App Review – Technical Analysis At Its Finest?
If you know me, you know I'm not the biggest fan of trading signals. I believe traders should do their homework and learn to trade, not rely on others. That being said, what follows may come as a surprise: I think I like these guys. Damn, maybe I'm going soft… or maybe they are actually good. I don't know but I guess we'll find out by the end of this review.
What Is Binary Signals App And How To Use It
First of all, please find a better name for your service. Come on, just because you are offering binary signals, you don't have to call yourselves Binary Signals. But then again, if your signals are profitable, I couldn't care less about the name. Ok, with that out of the way, let's move on: Binary Signals App is… guess what… an app for binary signals. It is available for iOS, Android, Desktop and it's pretty easy to use, with a straightforward interface and not much fluff. What I really like about them is that you won't find anywhere on their site stuff like "You always wanted a yacht? We're the best and if you take our signals, you'll buy it by next week".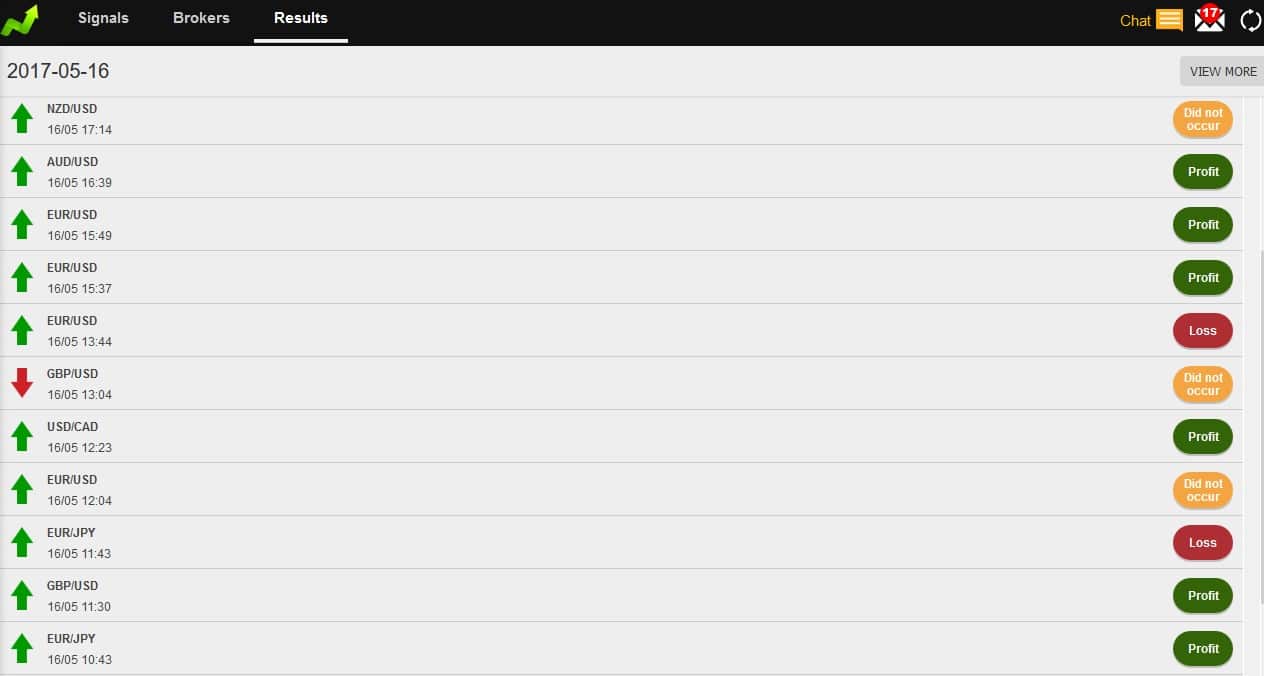 What you see in the picture above are the results of past signals. If you click on any of them, you will see the details of the trade:

As you can see, everything is simple and the instructions are clear. You know when to open the trade, in which direction and the recommended expiry. There's a big difference between Binary Signals and other binary signal providers: history. They show a full month of results (last 30 days) and the average accuracy. You can also see all the signals sent out in a particular day, the exact time and price. Being a non-believer, I checked several of their past signals on my charts to see if at the time indicated by them, price was where they said it was… and it was. See, that's why I like them: their signals are verifiable, they don't just say they have good accuracy, they prove it.
How Are The Signals Generated
Technical Analysis! That's how. No mumbo jumbo about algorithms, secret techniques or some Wall Street trader who decided to dish out signals for binary options. From what I can tell their bread and butter is breakout trading, meaning that when a Support or Resistance level is broken, they send out a signal to trade in the direction of the break.
This may seem easy but it's not, because identifying correct Support and Resistance is the key for successful breakout trading… well, one of the keys because this type of trading has other locks that need to be opened. Seeing their past performance makes me think they possess the other keys as well.
Accuracy
At the time of writing, Binary Signals had an accuracy of 70% for the last 30 days, with 246 winning trades out of 350 signals. Let me tell you, 70% accuracy is MONEY! Forget about stupid claims of 98% accuracy made by most autotraders and scams out there. That is unreal and they never show the history of their trades – or if they do, it's just a doctored picture with all the bad trades erased. On the other hand, the guys from Binary Signal App actually show a day with 43% accuracy and another with 50%, so they are not afraid to let you know that sometimes the market cannot be predicted very well. That's trading, deal with it.
Costs
This is not a free service and it shouldn't be. I am perfectly fine with paying for something that can help me make money. And besides, the price of a whole month of subscription can be easily covered by only one trade: it's $29.99. If you buy three months of signals, you will pay $19.99 per month (that's $59.97 for the whole three months) and if you buy a whole year's subscription you will get $9.99 per month (that's $119.88 for the whole year).
They also offer 2 weeks free trial and considering that during one day you receive between 15 and 25 signals, maybe you will manage to pay for your subscription with the profits made in those 2 weeks.
Is Binary Signals App A Scam?
Look, from what I saw during my visit and tests, I believe they are technical analysts with good grasp of Support, Resistance and breakout trading, not scammers. Their track record so far seems profitable but past performance shouldn't be considered 100% guarantee that you will profit in the future. Take everything with a pinch of salt and use your own judgement when investing money.
Wrapping It Up: Should You Subscribe To Binary Signals App
If you pay them, you will do that with your own money, not mine, so I cannot tell you what to do. I like their approach and I like they don't promise you the Moon and Stars, just simple, straightforward signals based on technical analysis not black box, magical indicators. If you need a helping hand, these guys will extend it, but always remember that you are putting your money at risk whenever you are trading. Even if Warren Buffett would give you trading signals, you would still be at risk. That's the game, so if you choose to play it, make sure you know its rules.