Memories from 2012: Binary Options Fraudster Pleads Guilty
On a gloomy day in L.A., another case of binary options is coming to an end. Jason B. Scharf pleaded guilty in defrauding US and international investors out of $8.3 million. In a serious of events, Jason and his co-conspiracies managed to tempt innocent investors into depositing their hard-earned money into so-called binary options "robots", promising mind-blowing returns in a very short spend.
ThatSucks.com first encounter with Jason Scharf took place in 2012. It was a very short email: "I am interested in being promoted on your site. I want to know what we can do to work with each other. Please let me know when a good time is ". The mail was sent from Jason Scharf, Director of Operations, Cititrader.com, Email: [email protected]. For us, it was just another broker trying to make it into our fast-growing website "binaryoptionsthatsuck.com". we had tons of phishy brokers contacting us, but as the name implies we were all about the dark side of the moon, or in this case, the binary options industry.
First Impression – Something Smells Bad Here
Challenge was accepted. I personally took charge of the review. (Guess what? It's still out there – here!) If I recall it well, the first thing that came to my mind was "wow, they really try to make it look like they're CitiBank". It was a time of beginnings for the binary options industry, and the scam level was on the rise. The resemblance between "Citi" and "Citi", the colors, and the logos made it clear that there's something very shady about that broker. We wrote all about it in the review. I tried to make it as clear as possible that if you're joining Cititrader, you must be aware that there's a big red flag blowing, and I would personally not recommend it.


cititrader vs citibank – can you spot the difference?

6 months later, we've received a second email: "if you want some money from us to change the way we are presented please let me know. I hate it when someone presents us as you have, especially someone with suck little knowledge of the space.
Please give me a price and I will gladly pay it to correct not only terrible english, but facts as well."
Fight or Flight
Thumb rule #14 – when someone offers you money to "fix" a review, you know it's a scam. Now there are 2 choices – flight, or fight. You can take the money and run, or you can stay true to yourself and to your followers, and fight. Now we know it, but back then, I guess we were a bit naïve… and that was our answer: "If you feel there's something incorrect on the article please let me know and I'll change it if I feel it's necessary. I want the info on the site to be correct."
How cute are we? We don't want to fight, and we don't want to flight. What we now know is not what we knew back then. There's no middle road in this case. And so, Jason continues with no less than 1200 words long email. I'll not bother you with all the information, only a few gems:
"I am more than happy to send you a check to change your attitude towards us if I thought it would help because this is not journalism. It is not clean and extremely prejudiced and biased. Sometimes in life you have to buy problems away. "
"I am giving you the chance to fix these factual errors and if you don't I have your contact now and I have seen the website and I will have legal look deeper into this which you really don't want trust me. Slander even on an international basis is still a serious crime, beware."
That last paragraph, you can already smell the threats. That's what gangsters do; in the words of Pablo Escobar, Plata o Plomo.
When You're an Anti-Scam Fish in the Scam Ocean
Maintaining an Anti-Scam community is an ungrateful work. It is true – we made mistakes in the past, we might not have been 100% right every time we wrote something bad about a broker, or something good when the case was on the opposite, eventually. The real problem is when scammers target you. They have the resources to shut you down. Just follow the money trail. We had our share of threats and learned how to be more discreet, while still being true. In the binary options industry, we were odd birds. I told Jason we're not for sale, being as polite as I could, and promised him that we'll update wrong information, but we still have the right to say that personally, we're not fans of his brand. We're not saying it a scam; we're saying that this broker is one broker to avoid. I ended my letter in these words:
"P.s. branding yourselves as CitiTrader, very similar to CitiBank, could be considered as illegal copywriting. I think you should look after your legal matters instead of interfering with mine."
His answer was pretty much expected: "our comment about us being similar to Citigroup is erroneous. We have trademarked cititrader.com and it should really not concern you.
You are misrepresenting us and illegally using our logo and our brand explicitly without our permission. I could care less who you shall be aligning yourself with with in the future.
The name itself binary options that suck sounds like a website for a 2 year old."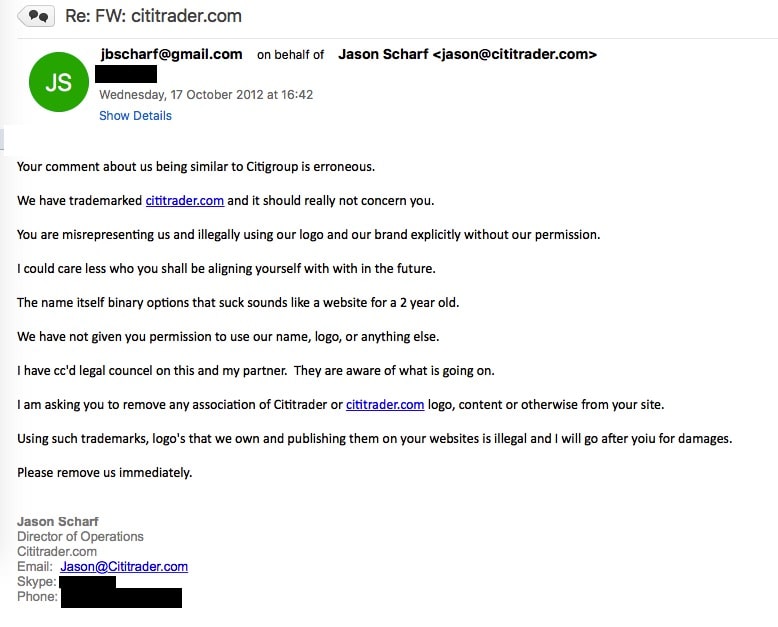 And that concluded our email discussion. We've removed the logo and trademarks of CitiTrader, corrected wrong information, and made it clear that we don't really trust this broker. You can still read the original review on our website.
ThatSucks.com, We're Still Here.
6 years later and I'm happy to see Jason pleads guilty. But with this happiness comes great sadness – we knew it all along but couldn't do anything about it. Real fraud-busters today don't have the resources to blow the whistle. Scammers, on the other hand, have quite a few options: Legal threats, personal threats (not too common, fortunately), Negative SEO attacks, DDOS attacks, and hacks. So many ways of trying to get down a website.

But guess what. It's almost 2019 and we're still alive and kicking (: