Michael Hodges AKA The Geek Presents: Free Signals
The Search For Free Binary Options Signals Ends Here

The search for reliable, free, signals is something I do just about every week. Part of what I do is look for signal providers and then review and rate their services, trust me, free signals are not usually as free as the providers would like you to believe. There always seems to be a catch, a catch that usually means you shelling out some money to deposit with a "recommended broker" so you can get those so-called free signals. What I typically find is that the SSP (signal service provider) is a marketer which means they are making money whenever you click on their ads and deposit money with their "trusted and recommended brokers".
What does free really mean? One definition says that free is a state of being without restriction or encumbrance. Another definition states that free means without cost or payment. This means that any SSP that requires you to deposit, or even to register, with a certain broker is not really free because a deposit is a cost you must bear, and depositing with a shady broker is certainly an encumbrance.
The fact that an SSP is a marketer doesn't make them a bad service but it is often a warning sign of scams and something I think that the average trader should know; free binary options services are rarely truly free. Some providers are upfront about it and will tell you that you have to register and deposit in order to get the free signals. Others are not so forthcoming, using convoluted bait&switch advertising tactics that lead traders deep inside a crappy sales funnel before pulling the "deposit here" card.
I understand the need to make money and believe in marketing. I use it on my own website; it's used here on BOTS and is one way we bloggers can make money doing what we do. The point is, if a site is going to offer free signals make them truly free and don't use shady tactics, they might just get more followers.
Are There Any Truly Free Signal Services?
Believe it or not there is at least one place to get reliable signals that are free of cost, but not totally free in the technical sense. ThatSucks.com (former BinaryOptionsThatSuck.com) is the place, more specifically CommuniTraders. CommuniTraders is a free to join social and copy trading platform that has no cost, it only requires a simple registration that allows you to create and build a profile, participate in the forums, use the demo platform, follow and copy other traders. . CommuniTraders is not a broker and is not associated with any broker; there are no requirements to sign up with any broker much less make any deposit. If you don't want to deposit with a broker you can use it like a demo account for fun. If you already have an account with a broker that's OK too, you can follow and copy any trades you like and the best part is you can use CT as much as you want for as long as you want, no strings attached (once you sign up of course!)
There are a couple of ways to get signals when using CommuniTraders. The first is finding trades in the CommuniTraders forum as they happen. Each time a traders places a trade they have the opportunity to "trade & share". If they share the trades are displayed for all to see. You can make comments, copy the trade or respond to their post with a trade of their own. Another way is to us the "live signals" feature. This list all trades made on the platform and can be filtered by expiry and asset. The third way to get signals is to use the leader board. All traders on CommuniTraders are ranked based on a point system which uses the number of trades, the win ratio and amount of profits to create a point ranking. Pick a trader you like and then follow the trades that they make!

Michael Hodges And The Geek Account – Free Signals Every Week
Hi, my name is Michael Hodges and I write Tips From The Geek each week here on BOTS. Along with my tips I also maintain what I call the Geek Account over on CT (CommuniTraders). The Geek Account includes all the trades I recommend each week in my column and a few other spontaneous trades I make as my signals and opportunity arise. The best thing about my tips, well, one of the best things about my tips is that they are totally and completely free. I post the tips in the forum each week on Monday, usually by lunchtime, so that you, the trading public can see what I'm doing and participate along with me. I make all my trades at the time I write the article so you can also follow me directly on CT . Trades can be placed directly into your own CT account or even into a live account if you want. To date my success rate is about 67% and I have years of data to back it up. I can also be found on the leader board where I command one of the top rankings.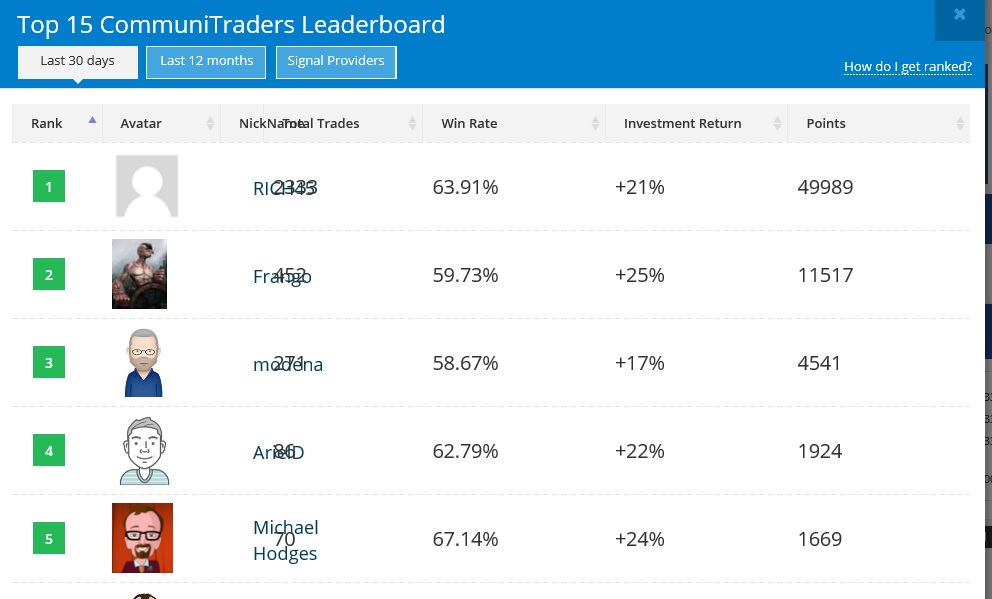 The other best thing about the Geek Account is that it is profitable. And I am not giving you any BS. You can go onto CT any time you want to check my profile. It's generally accepted that a binary trader needs to be 53-54% accurate in order to be profitable long term. To date I am 58% profitable from account inception and more than 70% correct trading calls. This means a trader could choose to follow all my trades or just the calls.
So, are There Truly Free Binary Options Signals?
I have to say yes, there are truly free binary signals and they can be found at CommuniTraders. It is free to sign up, it requires no deposit and you have access to trades and signals from every member of the community. The best part, besides being free, is that CT is a true social trading platform, not just a demo or copy trading platform. We have an active forum with thousands of active members dedicated to trading, analysis and helping others become successful. If this sounds like something you want then waste no time and sign up!