Posting Charts on Your Forums Trading Diary? We Need The Info!
They say a picture is worth a thousand words. As a writer, I can relate to that. A picture captures a moment in a way that transcends words. Likewise, a good trading chart can capture more than just random price action. It provides a window into what you are doing in a way that can help other traders, or help other traders help you. As an educational and learning tool, a good chart can literally be worth $1000. Nowhere is this truer than in the forums at Communitraders. We've gone to great lengths to build a community of binary options traders and the community has responded by creating a host of trading journals filled with valuable information. Now it's time to take it to the next level.
Posting A Good Chart Is Worth $1000
If you are not already aware, it is very simple to post a chart in the forum. All it takes is a good screenshot and a quick upload. The screenshot program we recommend is called LightShot and it is free for all and comes with a lot of features such as drawing and labeling tools. The thing to remember that simply taking a screenshot is not enough. Charts are subjective things, the way one person reads it will not be the same as another person, and when you upload a chart along with commentary on a trade set up it is all too easy to leave the reader more confused than when they started. This is why I am here today, to lay out some ground rules and list some basic information any chart intended for educational purposes should have.
Use Charts!
The number one rule when talking about a trade set up, especially if you want to share knowledge or get some help is to add a chart. Writing a post that says I was watching the XXX pair this morning and saw stochastic move up, RSI above 50, MACD turn bullish and so I made a trade that then failed is not enough. The chart will illustrate the set up you are talking about and provide a basis from which a worthwhile discussion can ensue. To upload a chart all you have to do is click on the image icon in the new post window and either upload it from your computer or from the web (Lightshot allows you to upload to their servers, to post it in the forum paste the link into the upload bar).
Show your indicator
If you trade naked, not using indicators, that is OK. Most people use at least one or two so it is a good idea to include those on any chart you post in the forum. It may turn out that you are using it wrong, or that the way you use it is exceptionally good… we won't know unless we can see for ourselves. One problem that lots of newbies have is using too many indicators if that is the case rest assured someone will let you know.
Give us lots of details
Often times screenshots are hard to read, the words and numbers too small to read easily. Be sure to let us know in your post what time frame the charts are, what length the candles are and even if you use multiple time frame analysis. Multiple time frame analysis is great, all you need to do is say something like "I use daily charts/candlesticks to determine my trend, then move down to this chart of 5 minute (or whatever you use) to look for entry signals". Other details to include are the price at which the trade was entered and the expiry period.
Mark Relevant Information
Lightshot has some great tools including text and drawing tools. Once you make your screenshot I suggest you use them to be sure we all know what you are talking about. Use arrows to point to the important signals you are following, use lines to market trends and support/resistance and circles to mark exactly where the trade was entered. The biggest criticism I have for charts posted in the forum is a failure to indicate EXACTLY where the signal was entered. Without this knowledge, the chart and post are just about worthless. Saying that you entered a put when the price hit your resistance level is not enough, especially when the price has hit that level more than once.
I am sure by now it is easy to understand how to make a great chart and why it is important. The thing to do now is to get a screenshot program, if you don't already have one, and to practice making charts and uploading them. It may seem like a silly exercise but trust me, it isn't. Not only will you increase the value of your posts and help to forward binary options education you will also improve your computer skills, something just about everybody can benefit from. Finally, making a good chart will help you learn. If you are wondering why a trade didn't work out make a chart of it while doing so you are likely to gain a new perspective and may even see your own mistakes.
To wrap things up I will leave you with a series of images I've taken from the forum to help illustrate my point. This shot includes some information but it is so small and hard to read it may as well not have. This trader took the time to write the post "put option 5 min" but nothing else. We need more detail.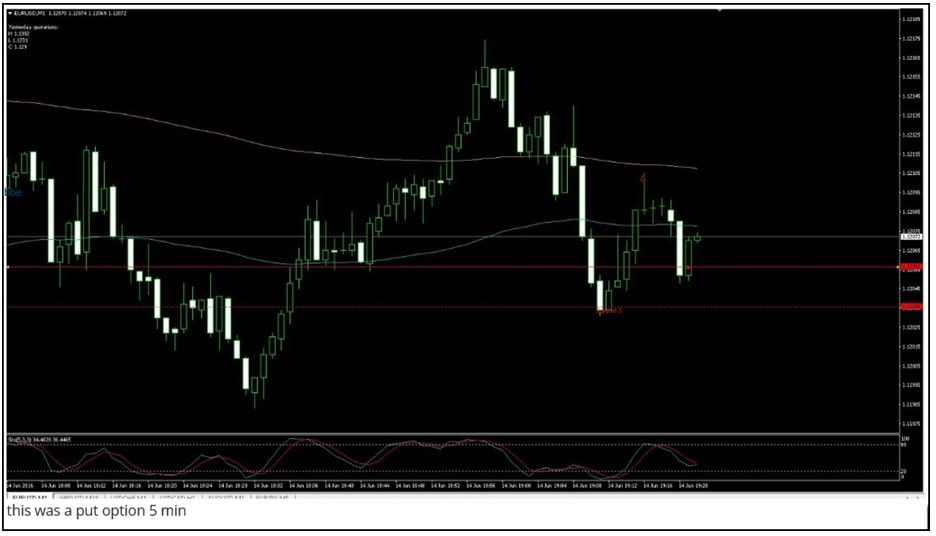 Here is how it could look, see the difference?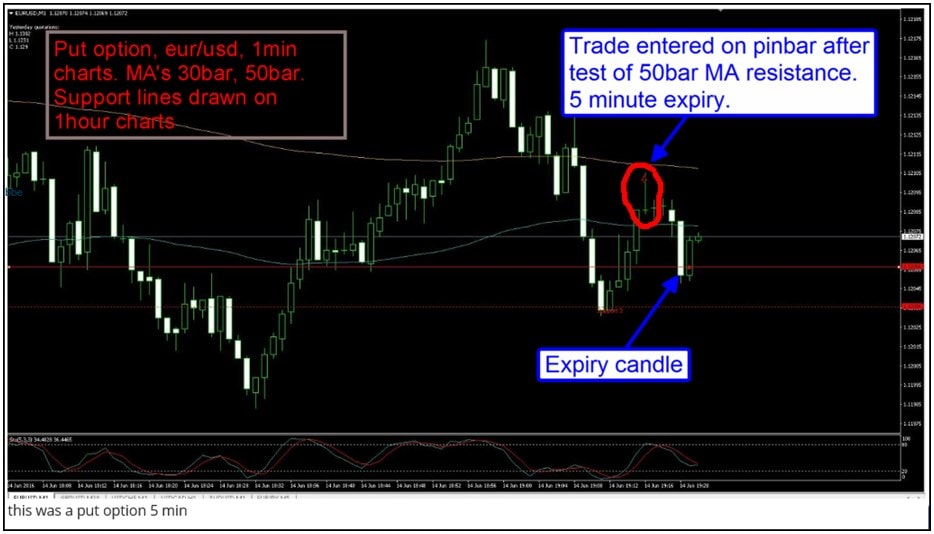 This next chart and post are better. It clearly shows the entry point and comes with a much more detailed explanation…. "Took this PUT trade on EUR/USD , Reason for Trade: Euro in a downtrend and is weak against the Dollar due to recent Brexit vote. The market broke through the 1.1000 level, and retraced back, just above the 1.1000 level was 1.10052 support which had previously acted as resistance, so took 15 minute trade at the touch of this level. As it turned out taking the trade at either 1.1000 or 1.10052 would have resulted in a win, I just felt that 1.0052 was a better level. Stochastic was overbought on M1 and M5, but oversold on M15, M30 and H2 Further reason for taking a PUT was market touched the 100 EMA on the M1 chart"