Strategy Tester – Get in Shape with Your Personal Trading Gym
Full Review of the Strategy Tester for Binary Options Trading

We talked many times before about the importance of testing an indicator or a strategy before putting your money on the line and trusting that indicator in real market conditions. After all, if you invest in shoes, you try them out first, right? So why not do the same with an indicator or strategy? Even if that indicator is free, you are still risking your money when you trade Binary Options based on its signals.
One way to test a strategy is to paper trade by scrolling back your charts and looking for signals according to whatever indicator or strategy you want to test. But this way is sometimes subjective because you can see the whole chart and you can be influenced by that: you may bend the rules a little because by seeing the chart you know the outcome of a trade taken at that particular moment. What I am going to explain today is a way of testing strategies as if you were trading in real time. It is the most accurate type of testing you will ever come across and it's a perfect training ground for new and seasoned traders. It is also Free. But you have to pay something though – Attention. Because it can be tricky to set up.
How to use the Strategy Tester
First of all, this is a tool available in the Meta Trader 4 platform so your first step should be to get your hands on one of those (MT4 demo platforms are easily and freely available from Forex brokers). To use the Strategy Tester, you will need to open a chart of the pair you want to test on and attach to it one of the default EAs (Expert Advisors) available in the MT4 platform. These default EAs are usually called "MACD Sample" or "Moving Average". Drag and drop (or double click) any one of those on the chart I spoke of. Clear so far? Here's a pic: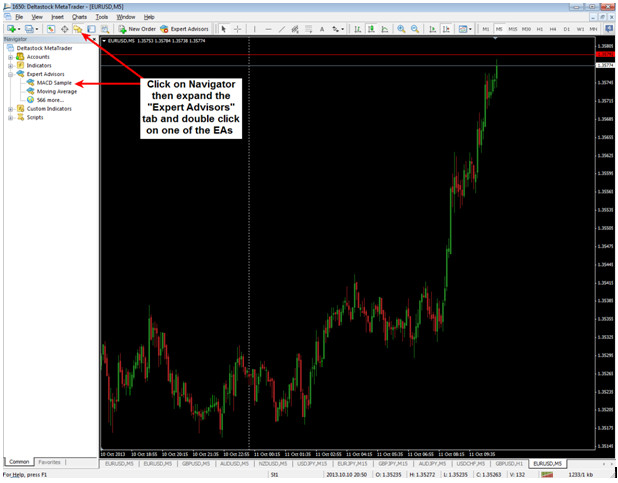 A small window will open, allowing you to choose the settings for the EA. It has zero importance because you won't be testing the EA itself so don't change anything and click "OK". Get your coffee, the hard part is just beginning.
Next, you will have to click on the "Strategy Tester" button which should be close to the "Navigator", to the right, but some platforms don't have it there by default so you won't see it. Don't hit the Panic Button! Just press F6 and you will see the Strategy Tester window finally pop out. It's either a window similar to the one in my picture below or it will be attached to the bottom of your platform.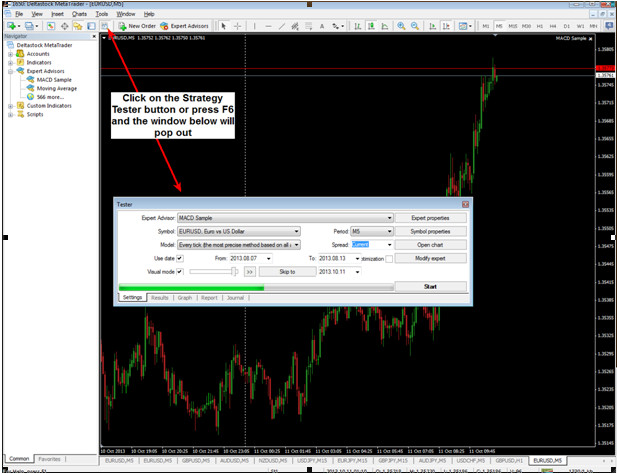 Now you will see a lot of settings which you can adjust: Looking from top down, left to right, we have the following tabs:
Expert Advisor:  the EA you used to get the Strategy Tester working. You don't have to make any modifications.
Symbol: the name of the pair the test will run on. Choose which one you like or just leave unchanged if you initially opened the chart of your desired pair.
Method: By default it is set to "Every tick". You should use this setting because it's the most accurate and reproduces almost exactly the market conditions.
Use date: Check it and select the period you want to test (starting date and ending date)
Visual mode: Check it.
Moving to the middle column, you will see:
Period: Choose the time frame you want to test
Spread: Not important – leave unchanged
Optimization: Must be unchecked.
On the right column you don't have to change anything and the only important button there is the "Start". Make sure everything is set up correctly and hit it. Once you do that, a new chart of the chosen pair will open starting from the date you selected. Now you will see that price is moving exactly as it does in normal market conditions. You have just gone back in time and now you control the market… well, not really, but you can adjust the speed of the movement and you can hit "pause" if you need to go get beer and peanuts. The last thing you have to do is to add your desired indicators or template if you have one.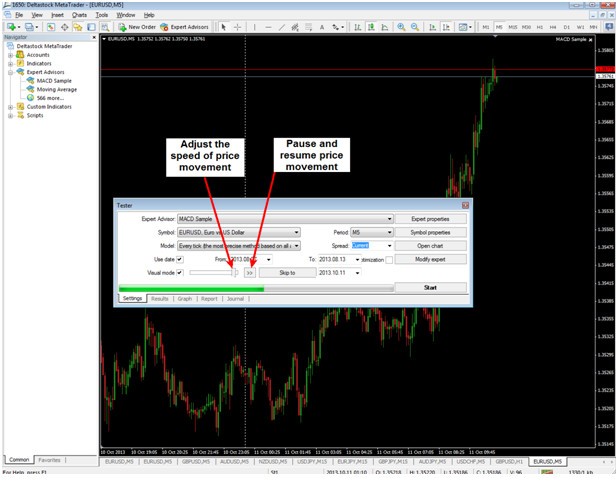 Why does the Strategy Tester Suck?
The whole process of setting it up is pretty complicated as I am sure you noticed, but after you've done it once, it gets easier. So I have a clear answer to the question "Why it Sucks": It Doesn't. What could suck about being able to test your strategy using real data, without being influenced by the fact that you see the candles on the right?
Why the Strategy tester doesn't Suck?
It's the closest you can get to real market trading. Call it Demo trading on steroids, call it whatever, but it's one of the best ways to train yourself and see how good your strategy really is… without losing money. The data used for the simulation comes from the history of your MT4 so it is the same data you would have used if you were trading at the time; in other words, the most accurate available.
Simulators are used everywhere so why shouldn't we?
If you had the patience to read the whole article, by now you probably know my opinion about this tool: it's very useful and of great help. Maybe you will encounter some problems you can't solve when trying to set up the Strategy Tester for the first time, but you can always ask me for help in our Forum. Of course, you could choose not to use it and start to trade for real without any form of testing. That's your decision and your money, but I strongly advise against it. Good luck if you need it (:
To learn more about the Strategy Tester, check out the MetaTrader Q&A on our Forum.