Wall Street Trading Software Review – Another Day, Another Disappointment
Every week some new software sees the light of the internet and a new guru is trying to make us all rich without asking anything in return. Guess what: this week's no different. Just in case you didn't make a gazillion or more using the Copy Buffett robot or any other magic trick, here's your chance again, with Wall Street Trading Software. And in case you miss it, don't worry, another one will come next week. However, there's a twist with this one (but don't expect fireworks)  – www.wallstreettradingsoftware.com.
What is "Wall Street Trading Software" And How Does It Work?
I have no clue! Here I am, reviewing it, giving my opinion on it but I have no clue on how it works… maybe I didn't do my homework and my research or maybe, just maybe they don't offer any of that information. Here's what they have to say about their software: it provides "high quality Binary Option signals based on market trends"; also the signals are based on "past performance of the position prices calculated to predict future movement in prices". That's a lot of nothing! Based on market trends… well, all trading is based somehow on trends, whether it's trend following, counter trend or range trading, it all has to do with market trends so the notion is way too general to be of any importance in the context of explaining how a trading system/software works.
The second part is just as puzzling if not more. What is "past performance of position prices"? Past performance of an asset, of a market, of a currency – that I can understand but position prices… nope. To me it seems like they are throwing in some terms that may sound familiar to the less experienced, when in fact the information provided is not relevant. They talk a lot but say nothing.
Anyway, I'll give them one thing (and this is the twist I was talking about earlier): they are more honest than others… or they lie less. The guy talking on their sales video says right from the start he is a spokesperson for Wall Street Trading Software, so he admits he doesn't have anything to do with creating the robot. The support staff confirm this in one of their comments, saying that indeed the guy talking is a marketing person that is simply explaining how their system works (you can find him on Fiverr using this link). Well, he is not explaining it very well, but at least I appreciate they don't try to sell me that crap where a guy shows off his cars and house and then tells me he is using Solar satellites to make 10 million bucks per second.

As far as performance goes, I am used to see claims of 97% accuracy or higher but Wall Street Trading Software "aims to get a 75%* winning ratio on complete Auto Pilot". On the same page they mention that the winning ratio may fluctuate depending on trading times, assets and market volatility. As far as money goes, they say you will make 100 USD per hour, not thousands like others claim. I like this approach, I like that they acknowledge the fact that market factors can have an impact on trading accuracy but please don't understand that I am rooting for them. I still don't believe that someone can hit a button on a trading app and make 100 bucks each hour.
Think about it: you can make 100 bucks without touching your charts, on complete autopilot (and this is when using the lowest amount per trade of just $25), so why would you want to share this software for free with others? Just leave it on for 24 hours, 5 days a week and you'll be FILTHY rich in one year… not to mention that after a year you can probably start trading $250 on each trade. Now we're talking! And something else: if you are making so much money, why does your website look so cheap and why does the video look so amateurish? I don't have anything against that actor, but the video is clearly shot using a green screen. Why not a real set?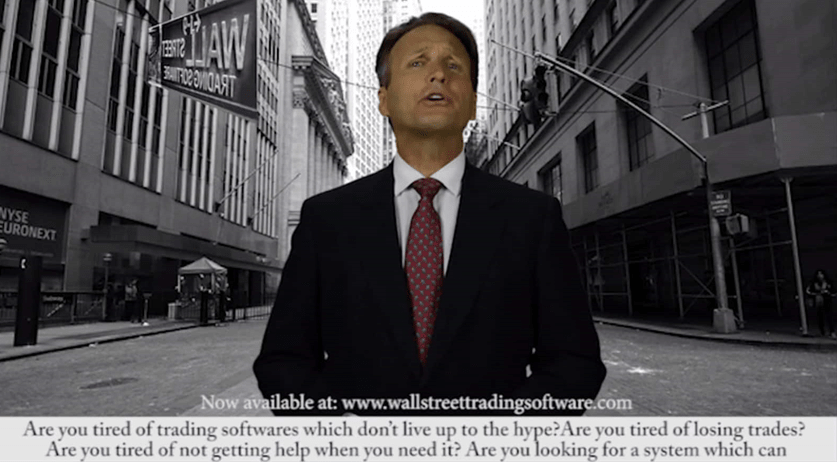 Manual Signals are Also Available
I mentioned above they offer the software for free. That's because they will make money from the broker you deposit to, but just in case you don't want to use their recommended broker, you can opt for their Signals and use them to trade manually with your desired broker. Of course, if you do that, they won't get any commission from the broker so they have to charge you. Hey, they have to make money somehow (it's not like they could use the software to make tons of money, duh).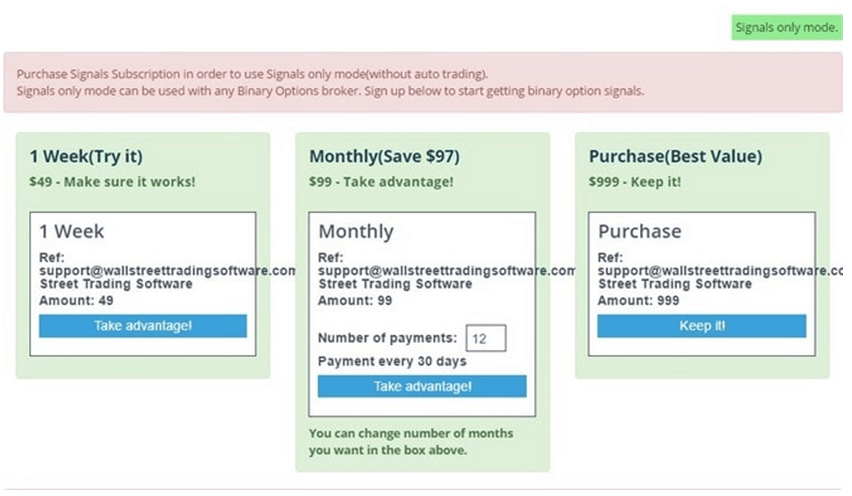 As you can see from the pic above, they will charge you $99 per month for their Manual Signals… so they make 100 bucks each month from each client but their software could bring them 100 bucks per HOUR (that's $12,000 per week and $48,000 per month!!!) at the minimum trade size. Hmmm… I have to say it again: why are they not using the miraculous software?
The Conclusion: We Can All Be Rich… Again
The Wall Street Trading Software (don't even get me started on that stupid name) is a cheap, gimmicky attempt to part you from your money. They don't claim 99% accuracy and they admit they've used an actor but that doesn't mean they are the answer to your financial troubles. That's just my personal opinion and of course, I could be wrong, but… have I been wrong yet?